Monnaie
"We can't imagine to enter the Information Age without changing the fundamental and most used communication tool: Money"- Bernard Lietaer τῆς μάτα μέρος οἰκονομίας [...] ἤν τοῖς ἰδιωτικοῖς βιοῖςdisposition in relation to the parts of great aid in the private life- Diodoro Siculo P2P currency software suite SCHUMPETER is WATCHING YOU!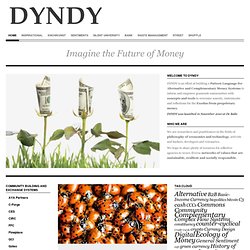 Imagine the Future of Money : DYNDY
Tim et Matt, les co-fondateurs de CommunityForge | CommunityForge.net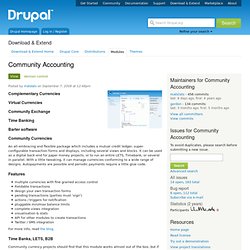 Community Accounting
Complementary Currencies Virtual Currencies Community Exchange
Veblen Institute
Sortie le 17 avril Dumping Fiscal, enquête sur un chantage qui ruine nos Etats Les bonnes feuilles sont disponibles sur le site de Médiapart. Pourquoi de plus en plus de films français sont-ils tournés en Belgique ? En raison d'une mesure fiscale très attractive incitant les entreprises à investir dans le cinéma belge.
RES fonctionne comme un système de fidélisation pour inciter les commerçants affiliés à effectuer leurs achats les uns chez les autres. Les grandes chaînes et les multi-nationales sont exclues. Ce nouveau concept de marketing représente un soutient marquant pour les P.M.E. et les commerçants affiliés.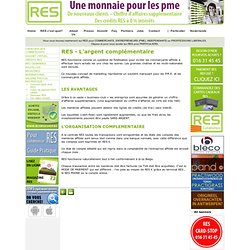 Plus de business? Pensez RES.
Objectifs - Monnaies en débat
Quels échanges la monnaie complémentaire a-t-elle vocation à développer ? Monnaies d'échanges de services et d'entraide, à base temps Favoriser les échanges de services entre personnes, échanges de temps et de savoirs. Renforcer la solidarité, le lien social : favoriser l'entraide et la solidarité, favoriser l'intergénérationel, l'inclusion de tous, développer une culture du vivre ensemble, ....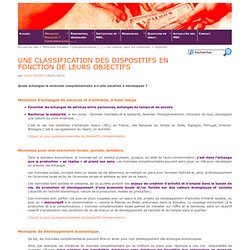 i-WAT
Partage, P2P… bienvenue dans l'économie collaborative! » OWNI, News,
Boostés par les outils web et la crise, la consommation collaborative émerge comme une véritable alternative à une société propriétaire. De la voiture partagée au booksurfing, Antonin Léonard dissèque les nouvelles tendances. Un jour, nous regarderons le XXe siècle et nous nous demanderons pourquoi nous possédions autant de choses affirmait récemment Bryan Walsh dans TIME Magazine qui consacrait la Consommation Collaborative comme l'une des dix idées amenées à changer le monde. L'économie du partage se propage : du transport aux voyages en passant par l'alimentation, le financement de projets et la distribution, tous les secteurs ou presque voient cette nouvelle économie émerger.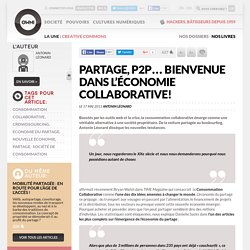 Alternative currencies / monnaies alternatives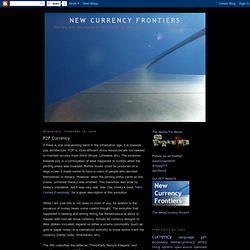 If there is one over-arching trend in the information age, it is towards p2p architecture. P2P is more efficient since resources are not needed to maintain access hubs (think Skype, Limewire, etc). The evolution towards p2p is a continuation of what happened to scribes when the printing press was invented. Before books could be produced on a large scale, it made sense to have a class of people who devoted themselves to literacy.
New Currency Frontiers: P2P Currency
Kachingle - Social cents for the Open Web
Kachingle is a monetization, distribution, discovery, billing and co-marketing platform for apps and content. Kachingle utilizes network effect and allows users to customize their own bundles or select from pre-built bundles. Unique to Kachingle is the ability for partners to co-market with one another with just a simple API call. This, and our exclusive usage-based revenue sharing technology built on our proven micro-payment engine make Kachingle the monetization platform of the future. Kachingle - Different From Other App Revenue Models Many app vendors and content providers are not converting as many free and trial users to paying customers as they would like.
If the next economy is going to facilitate healthy flows of resources and information which support people, society and the planet, we have a lot of changes to make. Because that's certainly not what the current economy does. We are building the means (technology platforms and protocols) for this kind of healthy economy to exist. Just as people can create value, we believe communities of people should be able to decide what they value and how that will be measured and acknowledged. This means they have to be able to create their own currencies.
Welcome to the Metacurrency Project | The MetaCurrency Project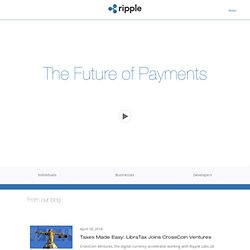 RippleWiki | Main / HomePage
Ripple Debuts on "TV's No. 1 New Show" – NBC's The Blacklist Ripple is finding mainstream recognition as the fastest cross-currency exchange network, appearing last night on NBC's hit TV show The Blacklist. In a climactic scene, James Spader's character, Red, puts a suspected mole in the FBI to a high-pressure test: he must make a $5 million transfer before Red takes apart and reassembles his gun. […] New Year, New Team Members Ushering in 2014, Ripple Labs has welcomed three new faces to our business development, technology and product teams.
Ripple Project
The Ripple logo Ripple is a payment system, currency exchange and remittance network by Ripple Labs. It is built upon a distributed, open source internet protocol, consensus ledger and native currency called ripples (XRP). The Ripple network purports to enable "secure, instant and nearly free global financial transactions of any size with no chargebacks". It supports any fiat currency (dollars, yen, etc.), cryptocurrency (bitcoin, litecoin, etc.), commodity or other unit of value (frequent flier miles, mobile minutes, etc.).[1][2]
Ripple monetary system
Ripple
= a standard protocol for routing payments through arbitrary currency networks URL = http://en.wikipedia.org/wiki/Ripple_monetary_system "Ripple is a payment system, which enables global financial transactions of any size with no chargebacks. It is built upon a distributed, open source internet protocol, consensus ledger and native currency called ripples. The Ripple network supports any fiat currency, cryptocurrency, commodity or other unit of value."
mardi 10 décembre 2013 par websel ADHERER à l'association TRANSVERSEL L'association Transversel est une association d'expérimentation et de publication. Elle existe depuis 2003. Nous nous tenons à votre disposition pour toute question et bien entendu tout partage d'initiatives ou de création personnelle.
TransverSel
JEU Jardin d'Echange Universel J.E.U.
La Nef .: Accueil :. Votre partenaire financier pour une économie plus humaine