Infographic
Bed Intruder Infographic on Vimeo
One Trillion Dollars Visualized from Mint.com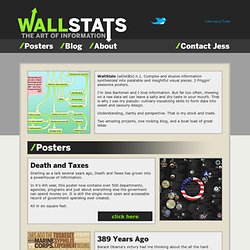 WallStats (wôlstăts) n.1. Complex and elusive information synthesized into palatable and insightful visual pieces. 2 Friggin' awesome posters. I'm Jess Bachman and I love information.
WallStats - The Art of Information
The New Mediators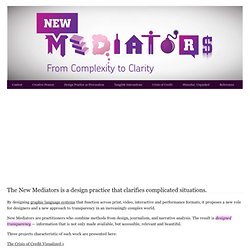 The New Mediators is a design practice that clarifies complicated situations. By designing graphic language systems that function across print, video, interactive and performance formats, it proposes a new role for designers and a new approach to transparency in an increasingly complex world. New Mediators are practitioners who combine methods from design, journalism, and narrative analysis. The result is designed transparency — information that is not only made available, but accessible, relevant and beautiful.
Butter & Marge: A Tale of Two Spreads on Vimeo
We live in a complex world, with complex ideas, concepts and issues. As such, sometimes a complex issue can be better understood with the use of creatively designed infographics rather than using the written word or spoken language. The most popular type of infographic is the simple flat image, I am sure you have seen them, they allow the user to follow and soak up the graphical information in an easy and formulaic manner. Other designers have taken things a little bit further by creating video infographics. These combine animated storytelling, visual text and an engrossing voice-over to make to make there complex issues understandable, memorable and to highlight certain points explicitly.
10 Creative and Inspiring Video Infographics | Speckyboy Design Magazine