Facebook
The 7 Biggest Fan Page Marketing Mistakes. After working with many companies on Facebook marketing, teaching many students, and speaking with many audiences, I've discovered some common mistakes that hold companies back from getting results.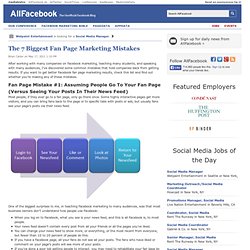 If you want to get better Facebook fan page marketing results, check this list and find out whether you're making any of these mistakes. Fan Page Mistake #1: Assuming People Go To Your Fan Page (Versus Seeing Your Posts In Their News Feed) Most people, if they ever go to a fan page, only go there once. Some highly interactive pages get more visitors, and you can bring fans back to the page or to specific tabs with posts or ads, but usually fans see your page's posts via their news feed. One of the biggest surprises to me, in teaching Facebook marketing to many audiences, was that most business owners don't understand how people use Facebook:
Facebook vu par la presse étrangère. Rétrospective sur les 3 dernières années de Facebook. Souvenez-vous, en 2007 je publiais un article plutôt provocateur : Pourquoi je ne crois plus en Facebook.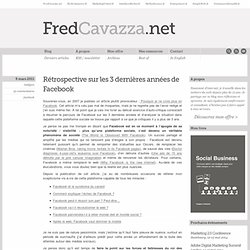 Cet article m'a valu pas mal de moqueries, mais je ne regrette pas de l'avoir rédigé et j'en suis même fier. À tel point que je vais me livrer au délicat exercice d'auto-critique consistant à résumer le parcours de Facebook sur les 3 dernières années et d'analyser la situation dans laquelle cette plateforme sociale se trouve par rapport à ce que je critiquais il y a plus de 3 ans.
---