WRT54G
WRT54G Forum. Help..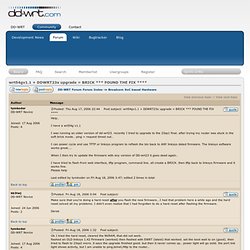 I have a wrt54g v1.1 I was running an older version of dd-wrt23. recently I tried to upgrade to the 23sp1 final. after trying my router was stuck in the soft brick mode.. ping = request timed out.. I can power cycle and use TFTP or linksys program to reflash the bin back to ANY linksys dated firmware. WRT54G Story wifi. Linksys gave wireless home network tweakers a gift in its Linux based router.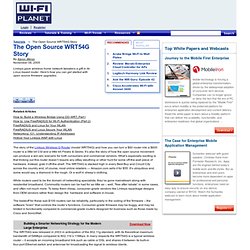 Here's how you can get started with open source firmware upgrades. The story of the Linksys Wireless-G Router (model WRT54G) and how you can turn a $60 router into a $600 router is a little bit CSI and a little bit Freaks & Geeks. It's also the story of how the open source movement can produce a win-win scenario for both consumers and commercial vendors. What's especially exciting is that tricking out this router doesn't require any eBay sleuthing or other hunt for some off-the-wall piece of hardware. Instead, grab it off-the-shelf. Flash your WRT54G or WRT54GS v5 series (v5, v5.1, v6) From DD-WRT Wiki [edit] For the WRT54G v5, v5.1, and v6 ONLY [edit] For the WRT54GS v5, v5.1 and v6 ONLY SERIOUS WARNING -- NO REVERSION TO VXWORKS ON THESE UNITS: At the moment for WRT54GS units this is a one way operation.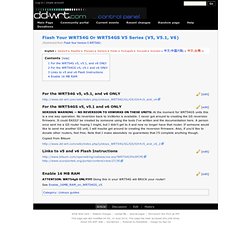 DD-WRT running on WRT54G version 5. HOWTO: Use Linksys WRT54G as a wireless ethernet bridge. Forum. The single most solid and stable repeater in my home is on a Buffalo running the "snowflake" build from back in december by EKO.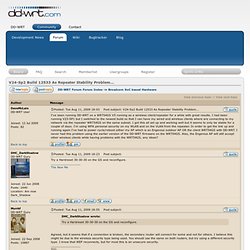 Aside from the "am i on my repeater....OH LOOK Snowflakes" it works fantastic. I am using WPA secured with the "mixed" setting (for some reason when i set it to "G" Only the windows laptops wont connect). Anyways it may sound like a huge downgrade, but that build in particular seems to work fantastic as a repeater and a repeater/bridge. Hacking your Linksys WRT54G Wireless-G Router with DD-WRT firmware ... I have a Linksys WRT54G Wireless-G router that runs Linux.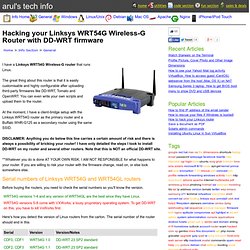 The great thing about this router is that it is easily customisable and highly configurable after uploading third-party firmwares like DD-WRT, Tomato and OpenWRT. You can even write your own scripts and upload them to the router. At the moment, I have a client-bridge setup with the Linksys WRT54G router as the primary router and a Buffalo WHR-G125 as a secondary router using the same SSID. DD-WRT Tutorial 3: Building a Wireless Bridge - www.wi-fiplanet.com. You can connect a wired device to a wireless network by turning an old Linux router into an Ethernet-to-wireless adapter.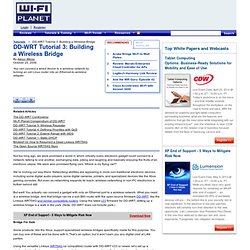 Not too long ago, we were promised a world in which virtually every electronic gadget could connect to a network, talking to one another, exchanging data, joking and laughing and basically enjoying the fruits of an electronic utopia. We were also promised flying cars. Where is my flying car!? We're inching our way there.
Networking abilities are appearing in more non-traditional electronic devices, including some digital audio players, some digital cameras, printers, and specialized devices like the Xbox gaming consoles. Port_forwarding router. How To Open a Port on your Router If you need an open port on your router then you need to create a port forward.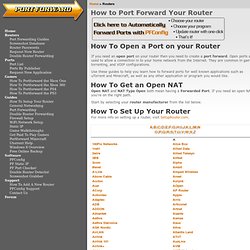 Open ports are used to allow a connection in to your home network from the Internet. They are common in gaming, torrenting, and VOIP configurations. Use these guides to help you learn how to forward ports for well known applications such as uTorrent and Minecraft, as well as any other application or program you would like.
---