SOA
Mais uma alternativa ao Java
Objectives After working through the examples in this article, you should be able to do the following: Install NetBeans IDE and the GlassFish ESB Create a simple Business Process Execution Language (BPEL) 2.0 project Use the following BPEL nodes in designing a process: Process Start, Receive, Reply, Invoke, Assign, PartnerLink, Process End Use the Mapper feature of the Assign node Create a simple Composite Application Project Create a simple Composite Application Service Assembly (CASA) Create a Composite Application Test Case within NetBeans IDE Deploy a Composite Application (JBI and BPEL modules) to GlassFish ESB Background Confession: I am a pragmatist.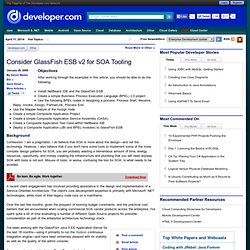 Consider-GlassFish-ESB-v2-for-SOA-Tooling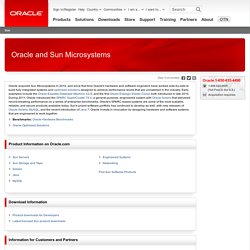 Oracle acquired Sun in 2010, and since that time Oracle's hardware and software engineers have worked side-by-side to build fully integrated systems and optimized solutions designed to achieve performance levels that are unmatched in the industry. Early examples include the Oracle Exadata Database Machine X2-8 , and the first Oracle Exalogic Elastic Cloud , both introduced in late 2010. During 2011, Oracle introduced the SPARC SuperCluster T4-4 , a general-purpose, engineered system with Oracle Solaris that delivered record-breaking performance on a series of enterprise benchmarks. Oracle's SPARC-based systems are some of the most scalable, reliable, and secure products available today. Sun's prized software portfolio has continued to develop as well, with new releases of Oracle Solaris , MySQL , and the recent introduction of Java 7 .
Note: The technologies contained in the SDKs are based on Java Specification Requests (JSRs) listed on the Java EE 6 Standards page. The What's in the SDKs page shows the differences between Java EE 6 SDK and Java EE 6 Web Profile SDK. Support: Develop and deploy efficiently with Oracle GlassFish Server with advanced monitoring features. Oracle offers flexible pricing to suit your needs. » Purchase . The Java EE Tutorial, Java EE 6 Samples, Java API Documentation, and Your First Cup: An Introduction to the Java EE Platform are available via Oracle GlassFish Server Update Center .
Java Platform, Enterprise Edition (Java EE) Downloads: GlassFish and ...