SEO
How Organized Spam is Taking Control of Google's Search Results
Will Google Voice Search Change SEO?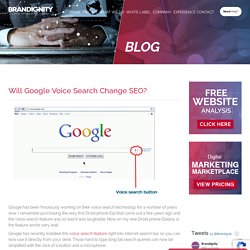 in Share Share by Email Google has been frivolously working on their voice search technology for a number of years now. I remember purchasing the very first Droid phone (G1) that came out a few years ago and the voice search feature was so bad it was laughable. Now on my new Droid phone (Galaxy s) the feature works very well.
SEO Is Dead, And The New King Is 'SMO'
Ben Elowitz (@elowitz) is co-founder and CEO of Wetpaint , a web publisher, and author of the Digital Quarters blog. Prior to Wetpaint, Elowitz co-founded Blue Nile , the online retailer of luxury goods. He is also an angel investor in various media and e-commerce companies. Over the past five years, Web publishing has been so heavily dominated by search engine optimization (SEO) that, to many publishing executives, the right keywords have become far more important than their sites
No, these aren't "myths" disguised as "common mistakes." I've already beaten the SEO myths theme to death with my previous three articles . What follows are innocent mistakes that many SEOs make. Some of these things catch even the best of us…
25 Super Common SEO Mistakes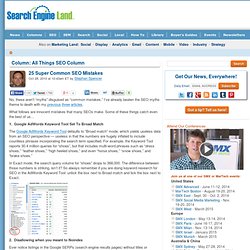 Why Social Media Is a Better Investment than SEO
New to SEO? Need to polish up your knowledge? The Beginner's Guide to SEO has been read over 1 million times and provides comprehensive information you need to get on the road to professional quality SEO. What is Search Engine Optimization (SEO)? SEO is the practice of improving and promoting a web site in order to increase the number of visitors the site receives from search engines.