Monopoly
IIA - International Intelligence Agency. Technology | Taking democracy to the stars. In Eve Online all players inhabit the same virtual Universe.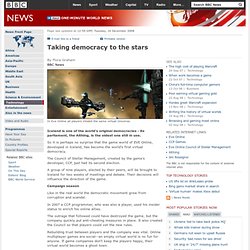 Iceland is one of the world's original democracies - its parliament, the Althing, is the oldest one still in use. So it is perhaps no surprise that the game world of EVE Online, developed in Iceland, has become the world's first virtual democracy. Technology | Monopoly game launches on Google. A massive multi-player version of the popular property game Monopoly has been launched online.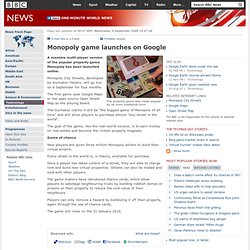 Monopoly City Streets, developed by toymaker Hasbro, will go live on 9 September for four months. The free game uses Google Maps or the open source Open Street Map as the playing board. The toymaker claims it will be "the biggest game of Monopoly of all time" and will allow players to purchase almost "any street in the world". The goal of the game, like the real-world version, is to earn money on real estate and become the richest property magnate.
Jogo da Bolsa - Invertia. Bem-vindo ao Jogo da Bolsa do Invertia.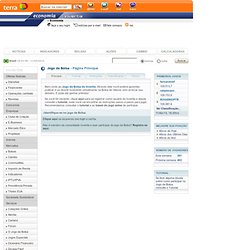 Através dele você poderá aprender, praticar e se divertir investindo virtualmente na Bolsa de Valores sem arriscar seu dinheiro. E pode até ganhar prêmios! Se você for iniciante, clique aqui para se registrar como usuário do Invertia e depois consulte o tutorial, onde você vai encontrar as instruções passo a passo para jogar. Recomendamos consultar o tutorial e as bases do jogo antes de participar.
---