Livro
Tradicionalmente, os departamentos de TI têm um controle de gastos fraco, e também lidam com dificuldades para explicar o custo às áreas de negócio. Por que é tão difícil gerir gastos de TI? Normalmente, isso se deve a: 1 - A natureza fragmentada da TI.
Gerencie gastos em TI com maior eficiência e retorno
Oni (folklore)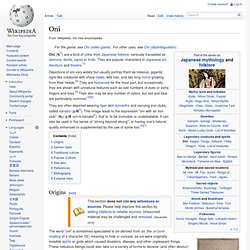 ( 鬼 ? ) are creatures from Japanese folklore , variously translated as demons , devils , ogres or trolls . They are popular characters in Japanese art , literature and theatre . [ 1 ] Depictions of oni vary widely but usually portray them as hideous, gigantic ogre-like creatures with sharp claws , wild hair, and two long horns growing from their heads. [ 2 ] They are humanoid for the most part, but occasionally, they are shown with unnatural features such as odd numbers of eyes or extra fingers and toes. [ 3 ] Their skin may be any number of colors, but red and blue are particularly common. [ 4 ] [ 5 ] [ edit ] Origins The word " " is sometimes speculated to be derived from , the reading of a character ( 隠 ) meaning to hide or conceal, as were originally invisible spirits or gods which caused disasters, disease, and other unpleasant things.
Gana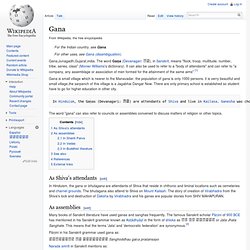 The word Gaṇa (Devanagari: गण), in Sanskrit, means "flock, troop, multitude, number, tribe, series, class" (Monier Williams's dictionary). It can also be used to refer to a "body of attendants" and can refer to "a company, any assemblage or association of men formed for the attainment of the same aims".[1] In Hinduism, the Gaṇas (Devanagari: गण) are attendants of Shiva and live in Kailasa. Ganesha was chosen as their leader by Shiva, hence Ganesha's title gaṇa-īśa or gaṇa-pati, "lord of the gaṇas".[2] The word "gana" can also refer to councils or assemblies convened to discuss matters of religion or other topics.
Agrat bat Mahlat (אגרת בת מחלת) is a demon in Jewish mythology.
Agrat Bat Mahlat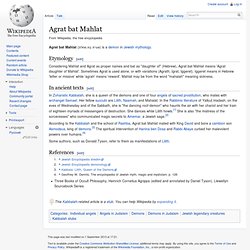 13 July 2010Last updated at 05:02 ET By Michael Fitzpatrick BBC News Tokyo is viewed as a high-tech hub Police stations without computers, 30-year-old "on hold" tapes grinding out tinny renditions of Greensleeves, ATMs that close when the bank does, suspect car engineering, and kerosene heaters but no central heating. A dystopian vision of a nation with technology stuck in an Orwellian time warp? Not at all.
Revealing Japan's low-tech belly