Livro
Pdf
Gerencie gastos em TI com maior eficiência e retorno. Tradicionalmente, os departamentos de TI têm um controle de gastos fraco, e também lidam com dificuldades para explicar o custo às áreas de negócio.
Por que é tão difícil gerir gastos de TI? Normalmente, isso se deve a: 1 - A natureza fragmentada da TI. LibriVox. Oni (folklore) Oni (鬼?)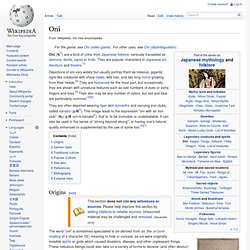 Are a kind of yōkai from Japanese folklore, variously translated as demons, devils, ogres or trolls. They are popular characters in Japanese art, literature and theatre.[1] They are often depicted wearing tiger-skin loincloths and carrying iron clubs, called kanabō (金棒?). This image leads to the expression "oni with an iron club" (鬼に金棒, oni-ni-kanabō?) , that is, to be invincible or undefeatable.
Gana. For the Indian country, see Gana.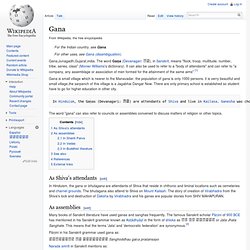 Gana,Junagadh,Gujarat,india. The word Gaṇa (Devanagari: गण), in Sanskrit, means "flock, troop, multitude, number, tribe, series, class" (Monier Williams's dictionary). It can also be used to refer to a "body of attendants" and can refer to "a company, any assemblage or association of men formed for the attainment of the same aims".[1] Gana is small village which is nearer to the Manavadar. the population of gana is only 1000 persons. it is verry beautiful and small village,the sarpanch of this village is a Jagabhai Dangar Now. Agrat Bat Mahlat. Agrat bat Mahlat (אגרת בת מחלת) is a demon in Jewish mythology.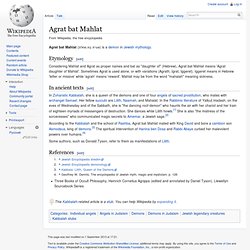 Etymology[edit] Considering Mahlat and Agrat as proper names and bat as "daughter of" (Hebrew), Agrat bat Mahlat means 'Agrat daughter of Mahlat'. Sometimes Agrat is used alone, or with variations (Agrath, Igrat, Iggeret). Revealing Japan's low-tech belly. 13 July 2010Last updated at 10:02 By Michael Fitzpatrick BBC News Tokyo is viewed as a high-tech hub Police stations without computers, 30-year-old "on hold" tapes grinding out tinny renditions of Greensleeves, ATMs that close when the bank does, suspect car engineering, and kerosene heaters but no central heating.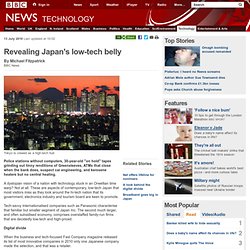 A dystopian vision of a nation with technology stuck in an Orwellian time warp? Not at all.
---