linux
Get flash to fully experience Pearltrees
Here is our guide to the top 10 post-install must-do's that will help ensure you get off to a marvellous start with the Maverick Meerkat. 1. Run Update Manager Just because you've installed the latest version of Ubuntu doesn't mean that there won't be some updates and patches waiting for you. Make sure you run the update manager (if it doesn't update you first) so that you're benefitting from the latest fixes and features.
Over on the RedMonk blog, there's an entertaining post by James Governor on the subject of forks, prompted by the imminent arrival of a major new version of Android, version 3.0, code-named "Honeycomb", designed with tablets in mind: conventional wisdom states that developers don't want to target multiple environments. Yeah - that was the wisdom that got us a decade of Java uber alles thinking, and a 20 years of Oracle-for-everything architectural decision making. The truth is Android so far has been been pretty decent on phones. I really like my HTC Desire.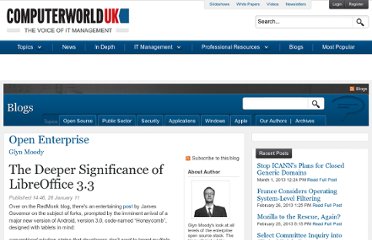 Comunicar erro Home page do UOL Se você encontrou erro neste texto ou nesta página, por favor preencha os campos abaixo. O link da página será enviado automaticamente ao UOL.
Version 1.2 Author: Falko Timme <ft [at] falkotimme [dot] com> Follow me on Twitter Last edited 01/17/2011 This tutorial shows how to prepare an Ubuntu 10.10 (Maverick Meerkat) server for the installation of ISPConfig 3 , and how to install ISPConfig 3.
Composição de um processo - Proprietário do processo; - Estado do processo (em espera, em execução, etc); - Prioridade de execução; PID e PPID Um PID ( P rocess Id Os sistemas baseados em Unix precisam que um processo já existente se duplique para que a cópia possa ser atribuída a uma tarefa nova.
Hi there. I will briefly explain my situation, maybe someone can help. Objective: install XBMC in some form, that works with HD content AND wifi . Situation: 1. I have an Acer Revo and NO USB DVD/CD, only a firewire DVD (which I'm telling about just for the kicks). 2.