GoogleEarth
Google Earth Builder Allows Companies To Process And Store ... Google Maps and Earth are both massively popular consumer products produced by Google.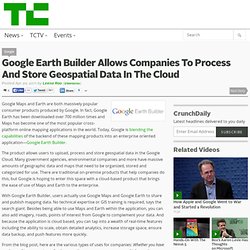 In fact, Google Earth has been downloaded over 700 million times and Maps has become one of the most popular cross-platform online mapping applications in the world. Today, Google is blending the capabilities of the backend of these mapping products into an enterprise oriented application—Google Earth Builder.
Earth Builder Allows Companies To Process And Store Geospatial Data In The Cloud. Amazon unveils cloud music player. 29 March 2011Last updated at 08:47 Cloud Player users get 5Gb of storage, but can buy up to 1Tb Amazon has unveiled an online music service that lets users upload songs and play them from a range of devices.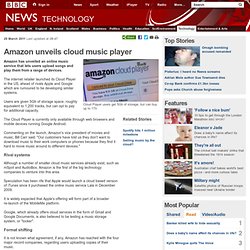 How To Build a Cheap Petabyte Server: Lessons Learned. Wed, 09 Sep 2009 11:43 Tim Higgins Introduction Many SmallNetBuilder readers realize that the prices that companies like NETGEAR, QNAP, Synology, Thecus and others charge for their high-end "business class" NASes are significantly more than the cost of equivalent NASes that they could build themselves.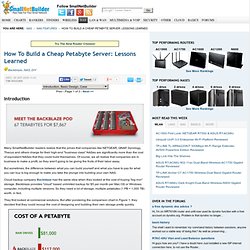 Of course, we all realize that companies are in business to make a profit, so they aren't going to be giving the fruits of their labor away. But sometimes, the difference between what you can build yourself and what you have to pay for what you can buy is big enough to make you take the plunge into building your own NAS. Petabytes on a budget: How to build cheap cloud storage ... At Backblaze, we provide unlimited storage to our customers for only $5 per month, so we had to figure out how to store hundreds of petabytes of customer data in a reliable, scalable way—and keep our costs low.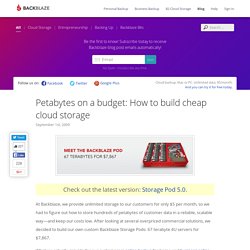 After looking at several overpriced commercial solutions, we decided to build our own custom Backblaze Storage Pods: 67 terabyte 4U servers for $7,867. What we actually provide for our customers is online backup for home and business online backup for work. However, in this post, we'll share how to make one of these storage pods, and you're welcome to use this design.
Our hope is that by sharing, others can benefit and, ultimately, refine this concept and send improvements back to us.
---