Formatacao
Livro digital: oportunidade ou ameaça para editores brasileiros?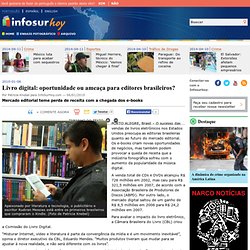 PORTO ALEGRE, Brasil – O sucesso das vendas de livros eletrônicos nos Estados Unidos preocupa as editoras brasileiras quanto ao futuro do mercado editorial. Os e-books criam novas oportunidades de negócios, mas também podem provocar a queda de receita que a indústria fonográfica sofreu com o aumento da popularidade da música digital. A venda total de CDs e DVDs alcançou R$ 726 milhões em 2002, mas caiu para R$ 321,5 milhões em 2007, de acordo com a Associação Brasileira de Produtores de Discos (ABPD). Por outro lado, o mercado digital saltou de um ganho de R$ 8,5 milhões em 2006 para R$ 24,2 milhões em 2007.
Tips On Self-Publishing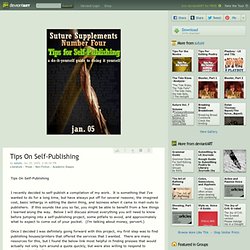 Tips On Self-Publishing I recently decided to self-publish a compilation of my work. It is something that I've wanted to do for a long time, but have always put off for several reasons; the imagined cost, basic lethargy in editing the damn thing, and laziness when it came to mail-outs to publishers. If this sounds like you so far, you might be able to benefit from a few things I learned along the way. Below I will discuss almost everything you will need to know before jumping into a self-publishing project, some pitfalls to avoid, and approximately what to expect to come out of your pocket.
Note to readers: I originally published the article back in 2008 and have updated it a few times, most recently on June 13, 2012. This article primarily addresses self-publishing a print book, though many of the tips apply to e-books as well. For specific information about publishing an e-book, see my companion article, " How to self-publish an ebook ."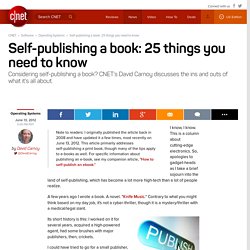 Deploy Google Apps: google-apps-tips-and-tricks
14 Types of Stories You Can Tell On Your Blog