Biobrick
Gen
CRE143 Biohacking - Chaosradio Podcast Network. Auf der Suche nach Hacks und Exploits in Molekülen und Gensträngen Biohacking ist noch eine recht neue Disziplin bei der alternativen Erforschung unserer Welt.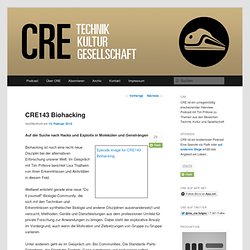 Im Gespräch mit Tim Pritlove berichtet Lisa Thalheim von ihren Erkenntnissen und Aktivitäten in diesem Feld. Weltweit entsteht gerade eine neue "Do it yourself"-Biologie-Community, die sich mit den Techniken und Erkenntnissen synthetischer Biologie und anderer Disziplinen auseinandersetzt und versucht, Methoden, Geräte und Dienstleistungen aus dem professionen Umfeld für private Forschung zur Anwendungen zu bringen.
Harvard scientists to make LSD factory from microbes. Students on a bread making course.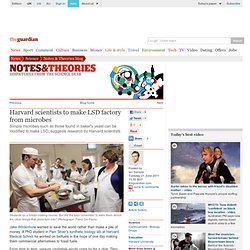 But did the tutor remember to warn them about the other things that yeast turn into? Photograph: Fabio De Paola Jake Wintermute wanted to save the world rather than make a pile of money. A PhD student in Pam Silver's synthetic biology lab at Harvard Medical School he worked on biofuels in the hope of one day making them commercial alternatives to fossil fuels. New Blueprint Proposes How to Grow Biotech Jobs. TechConnectWV, in conjunction with the Battelle Technology Partnership Practice has released its Biotechnology Blueprint, a detailed strategy for growing the bioscience industry in West Virginia.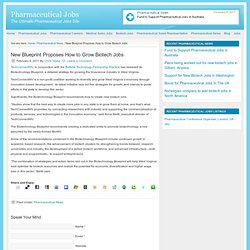 TechConnectWV is a non-profit coalition working to diversify and grow West Virginia's economy through innovation-based development. Its latest initiative lays out five strategies for growth, and intends to guide efforts in the state to develop this sector. Cathalgarvey/Books/A Beginner's Guide to Biotechnology. Genome Alberta| Blog - Biohacking 101: Tools of the Biopunk Trade. The Biopunk Directory [DIYbio] As a comprehensive directory of biopunk and DIYbio resources, this list is continiously updated.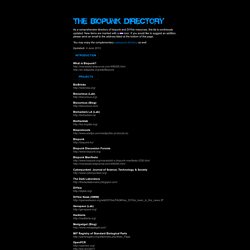 New items are marked with a icon. Main Page - partsregistry.org. Ginkgo BioWorks. Using the kit The BioBrick Assembly Manual provides step-by-step instructions for assembling BioBrick parts using the BioBrick Assembly Kit.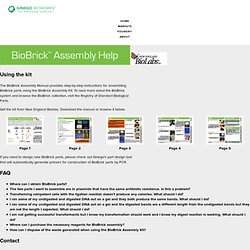 To read more about the BioBrick system and browse the BioBrick collection, visit the Registry of Standard Biological Parts. Get the kit from New England Biolabs. Download the manual or browse it below. If you need to design new BioBrick parts, please check out Ginkgo's part design tool that will automatically generate primers for construction of BioBrick parts by PCR. Manipulation génétique à la maison, le Biohacking et ces Biopunks. Après la récente création par l'homme, d'un chromosome synthétique introduit dans une cellule bactérienne (voir article du monde), Je me suis intéressé à un courant qui existe déjà depuis un certain nombres d'années et qui concernent les manipulations génétiques faites à la maison, le biohacking et ces Biopunk , le "Do It Yourself" (fais le toi même) de la génétique, à ne pas confondre avec Bio terroriste.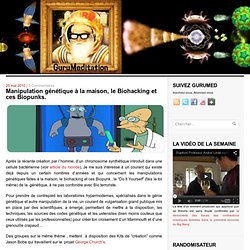 Pour prendre de contrepied les laboratoires hypermodernes, spécialisés dans le génie génétique et autre manipulation de la vie, un courant de vulgarisation grand publique mis en place par des scientifiques, a émergé, permettant de mettre à ta disposition, les techniques, les sources des codes génétique et les ustensiles (bien moins couteux que ceux utilisés par les professionnelles) pour créer ton croisement d'un Mammouth et d'une grenouille crapaud… Die Open-Source-Bewegung der Biotechnik | Technology Review. Blog | DIYbio | An Institution for the Amateur Biologist. The International Genetically Engineered Machines Competition (iGEM) is opening to DIY teams next year.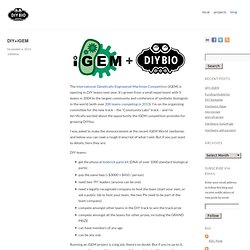 It's grown from a small experiment with 5 teams in 2004 to the largest community and conference of synthetic biologists in the world (with over 200 teams competing in 2013). I'm on the organizing committee for the new track – the "Community Labs" track – and I'm terrifically excited about the opportunity the iGEM competition provides for growing DIYbio. I was asked to make the announcement at the recent iGEM World Jamboree, and below you can read a rough transcript of what I said.
But if you just want to details, here they are: BioBricks Foundation | Biotechnology in the Public Interest. Map Viewer provides a wide variety of genome mapping and sequencing data. Can Hobbyists and Hackers Transform Biotechnology? For most of us, managing our health means visiting a doctor.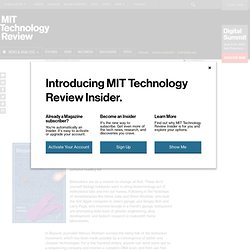 The more serious our concerns, the more specialized a medical expert we seek. Our bodies often feel like foreign and frightening lands, and we are happy to let someone with an MD serve as our tour guide. For most of us, our own DNA never makes it onto our personal reading list. Biohackers are on a mission to change all that. Biopunk: DIY Scientists Hack the Software of Life. Has covered startup culture, the maker scene, and the marijuana industry as a reporter in the San Francisco bureau of The Associated Press.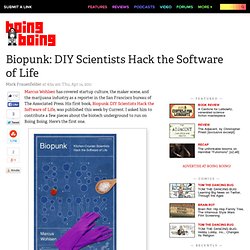 His first book, , was published this week by Current. I asked him to contribute a few pieces about the biotech underground to run on Boing Boing. Here's the first one. OpenWetWare. OpenWetWare logo, designed by Jennifer Cook-Chrysos OpenWetWare is a wiki whose mission is "to support open research, education, publication, and discussion in biological sciences and engineering.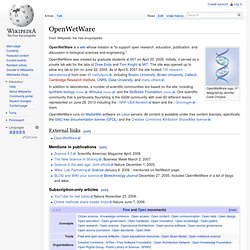 " In addition to laboratories, a number of scientific communities are based on the site, including synthetic biology (home), Mimulus (home), and the BioBricks Foundation (home). One scientific community that is particularly flourishing is the iGEM community with over 60 different teams represented on June 28, 2013 including the | NRP-UEA-Norwich team and the | Groningen team. OpenWetWare runs on MediaWiki software on Linux servers. Biopunk. Biohacking is the practice of engaging biology with the hacker ethic.[1] Biohacking encompasses a wide spectrum of practices and movements ranging from Grinders who design and install DIY body-enhancements such as magnetic implants to DIY biologists who conduct at-home gene sequencing.[2][3][4][5] Biohacking emerged in a growing trend of non-institutional science and technology development.[1][6][7] Many biohacking activists, or biohackers, identify with the biopunk movement as well as transhumanism and techno-progressivism.[2][8][9] "Biohacking" can also refer to managing one's own biology using a combination of medical, nutritional and electronic techniques.
This may include the use of nootropics and/or cybernetic devices for recording biometric data.[5][10] Ideology[edit] Full text | Engineering BioBrick vectors from BioBrick parts. The BioBricks Foundation - OpenWetWare.
---