To Do
Get flash to fully experience Pearltrees
UPDATE: This post originally ran on March 23 2011, but with summer winding down we wanted to bring it back up for some late summer inspiration! a fellow fp girl sent this to me a couple weeks back and i've been thinking about it ever since! i can think of a million reasons why these would be awesome… as apartment décor, as outdoor party décor, and – wouldn't they be the best thing EVER for camping in general or at a festival? just let them sit in the sun all day, and they'll last all night!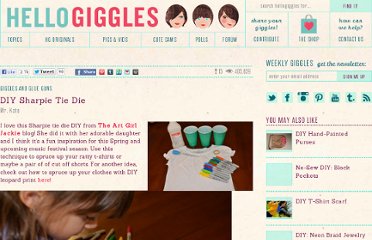 I love this Sharpie tie die DIY from The Art Girl Jackie blog! She did it with her adorable daughter and I think it's a fun inspiration for this Spring and upcoming music festival season. Use this technique to spruce up your ratty t-shirts or maybe a pair of of cut off shorts. For another idea, check out how to spruce up your clothes with DIY leopard print here!
Blanket stitch and whip stitch are used in many projects as visible seam stitches. You'll see them used on plushies, blankets, appliqué, etc. You can use them to connect two pieces of fabric or on a single piece of fabric as edging. This stitches are shown on felt. The stitches themselves are black embroidery floss (all six strands.) and they're done using an embroidery needle. As I mentioned before, you thread an embroidery needle the single thread way.
they are all over pinterest.... (i still am not signed up for pinterest because i don't have time for one more thing but browsing is fun!) so we made one. i took a box of 64 crayons and took out the blacks and browns. i used another small box and doubled up on the good colors i liked and hot glued them to the top of our canvas. then we turned our blow dryer to hot on high.
Hello U-Create readers! I am so excited to be guest posting here today. It just so happens to be my first guest post and I'm still a little shocked that it's here at Ucreate, one of my favorite blogs! A little bit about me..
Growing up by the beach in Southern California, the ability to knot a macrame bracelet was practically a right of passage. Although those days are long behind us, we've never forgotten the ever-so-simple square knot technique. This time, however, we're replacing hemp and wooden beads for more updated elements like colorful nylon cord and glossy metal charms. Happy knotting!
My sewing skills are pretty much limited to making my machine go forwards and backwards with a straight stitch. If you can do that (and also handle a pair of scissors), you can make this skirt. This lesson plan comes largely thanks to Susan of freshly picked , whose incredible and much more lucid elastic-waist skirt pattern you can find here . The first several steps are hers, and are much easier to understand on her blog. Thanks also to Kendi , who told me that I could add text using Picasa and contributed to any clarity this lesson plan has. P.S.