Now-1
25 Stunning Skylines Around the World. Mar 8, 2011 New York City – Photograph by DIGITALFREAKART Following up from the Sifter's first skyline post, here are 25 more stunning skylines around the world.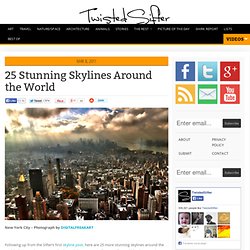 These are by no means the 'best' skylines, just a collection of incredible photographs taken by some amazing photographers around the world. 20 Clever Logos with Hidden Symbolism. In the world of advertising, logo design & branding is one of the key pillars of a company's identity.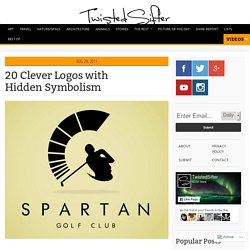 The amount of thought and work that goes behind the seemingly simplest of logos would boggle the mind of any advertising outsider. Below we will review 20 clever logos that have hidden symbolism you may have not noticed before. Some are obvious, others are subtle, but all of them are interesting to examine. Enjoy! The FedEx Logo. 25 Haunting Shipwrecks Around the World. Apr 7, 2011 Turks & Caicos – Photograph by IPWNNOOBS Fellow blogger Tom Moran from Urban Ghosts inspired this post.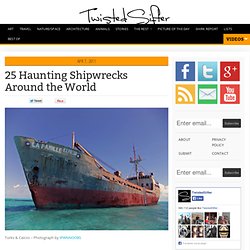 Google Taps Kleiner-Backed Inrix To Provide Real Time Traffic Data For Maps And Navigation Apps. Realtime car traffic data company Inrix has been selected by Google to provide traffic data to help power the search giant's navigation and mapping applications.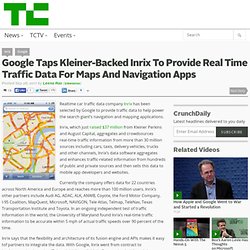 Inrix, which just raised $37 million from Kleiner Perkins and August Capital, aggregates and crowdsources real-time traffic information from more than 30 million sources including cars, taxis, delivery vehicles, trucks and other channels, Inrix's data software aggregates and enhances traffic-related information from hundreds of public and private sources and then sells this data to mobile app developers and websites.
Currently the company offers data for 22 countries across North America and Europe and reaches more than 100 million users. Inrix's other partners include Audi AG, ADAC, ALK, ANWB, Coyote, the Ford Motor Company, I-95 Coalition, MapQuest, Microsoft, NAVIGON, Tele Atlas, Telmap, TeleNav, Texas Transportation Institute and Toyota. SOMA Magazine » Archive » Street Pulse: New York City. 1.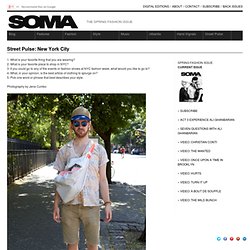 What is your favorite thing that you are wearing? 2. What is your favorite place to shop in NYC? 3. If you could go to any of the events or fashion shows at NYC fashion week, what would you like to go to? TV. The Future Of Books: A Dystopian Timeline. With the launch of the Kindle Fire tomorrow, I thought it would be fun to write a little bit sci-fi and imagine what the publishing market will look like in the next ten or so years.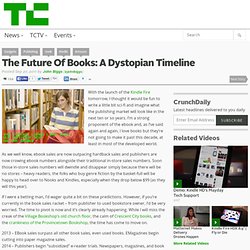 I'm a strong proponent of the ebook and, as I've said again and again, I love books but they're not going to make it past this decade, at least in most of the developed world. As we well know, ebook sales are now outpacing hardback sales and publishers are now crowing ebook numbers alongside their traditional in-store sales numbers. TV. TV. TV. TV. (Founder Stories) Eric Ries: How Lean Was The Google+ Launch? In the final episode of Chris Dixon's interview with The Lean Startup author Eric Ries, Dixon asks him whether Google was "lean" when it rolled out Google+?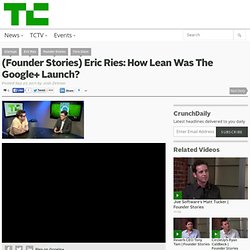 Dixon says in some ways it appeared so, as Google was slowly "rolling out a bunch of different things, experimenting, versus let's say Buzz and Wave." Ries partially agrees but also replies "I still think they did a lot of unnecessary hype at the beginning and they kept reporting on their vanity metrics: 'Now we've got 10 million users on Google+.' That makes me really nervous. Don Draper Pitches The Facebook Timeline. "This makes me happy on a lot of levels," tweets Facebook Product manager Sam Lessin, about this Mad Men homage to Facebook's recently unveiled profile Timeline.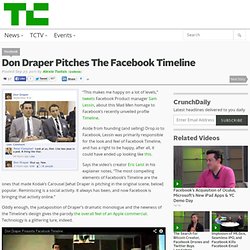 Aside from founding (and selling) Drop.io to Facebook, Lessin was primarily responsible for the look and feel of Facebook Timeline, and has a right to be happy, after all, it could have ended up looking like this. Says the video's creator Eric Leist in his explainer notes, "The most compelling elements of Facebook's Timeline are the ones that made Kodak's Carousel [what Draper is pitching in the original scene, below] popular.
Reminiscing is a social activity. It always has been, and now Facebook is bringing that activity online." Oddly enough, the juxtaposition of Draper's dramatic monologue and the newness of the Timeline's design gives the parody the overall feel of an Apple commercial. Toshiba Announces Updated Kid-Friendly Laptop. If ever there was an audience for a silver and neon green laptop, kids would be it (and also maybe people who like lime green a lot).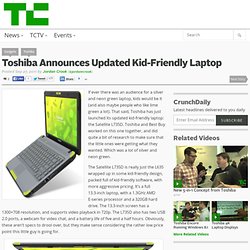 That said, Toshiba has just launched its updated kid-friendly laptop: the Satellite L735D. Toshiba and Best Buy worked on this one together, and did quite a bit of research to make sure that the little ones were getting what they wanted. Which was a lot of silver and neon green. The Satellite L735D is really just the L635 wrapped up in some kid-friendly design, packed full of kid-friendly software, with more aggressive pricing. Video: Simple Personal Assistant Robot Follows You, Carries Stuff For You. We covered quite a few personal assistant robots from Japan in the past, but none of them were labeled as "personal porters".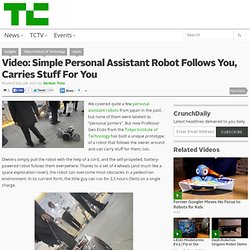 But now Professor Gen Endo from the Tokyo Institute of Technology has built a unique prototype of a robot that follows the owner around and can carry stuff for them, too. Owners simply pull the robot with the help of a cord, and the self-propelled, battery-powered robot follows them everywhere. Thanks to a set of 4 wheels (and much like a space exploration rover), the robot can overcome most obstacles in a pedestrian environment. Google Secures Seven Floor Building To Tap London Talent. Since 2008 we've been covering the gradual emergence of a cluster of technology startups in East London.
Hell, we've even made films about so-called Silicon Roundabout. But it wasn't until the Prime Minister suddenly appeared in the area to declare it a focus for government policy that larger tech companies started to take notice of what some random policy advisor decided to brand "Tech City". Since then there has been a litany of pledges pledged by corporates like Cisco, BT and Facebook to keep Number 10 Downing Street happy, but not a huge amount of, well, action. Amazon Just Won The Android Tablet Wars With The $199 Kindle Fire. The Android tablet electoral races are done. There's a new mayor in Droidville. But this guy didn't roll into town with pomp and circumstance.
He strolled down Main Street and simply offered more than any other candidate, extolling a plan based on down-to-earth sensibility and affordability. Meet the Kindle Fire. Wheelz: Automotive Veterans Launch P2P Campus Car Sharing Platform Backed By Former Facebook VP. Kicking it into fifth gear and zooming out of stealth and into the public sphere today is Wheelz, a new person-to-person car sharing platform for campuses — designed to connect students who have cars with student who need 'em. Granted, when I first heard the basics on Wheelz, I immediately thought, "gadzooks, another car sharing platform!?"
What about RelayRides, GetAround, Zimride, and Zipcar? These are all by and large great young businesses, adding value to the space; sure they're not all targeting campuses, but I wasn't so sure we needed another one. Whether you feel the same way or not, Wheelz begs to differ. Zenprise Launches New Product To Lock Down iPhones And iPads In Enterprise. Mobile device management company Zenprise is today introducing its new enterprise-grade mobile DLP (Data Leakage Prevention) that aims to help I.T. departments with the growing "bring your own device" to work trend. The Zenprise Enterprise Mobile DLP will be offered as an optional add-on to the company's larger solution, the Zenprise Mobile Enterprise Security Framework, when it launches later this fall.
At first, the new product will specifically target iOS devices, including the Apple iPad, but an Android version is in the works. The problem with I.T.'s lack of control over end user devices is that they're starting to create a blind spot for companies with sensitive data. Executives are emailing themselves documents and viewing them on their iPads. Google Buys Motorola Mobility For $12.5B, Says "Android Will Stay Open" Google just announced that it is acquiring Motorola Mobility.
The search and online advertising company is buying the company for approximately $12.5 billion (or $40 per share), in cash. The price represents a premium of 63 percent to the closing price of Motorola Mobility shares last Friday. Google had about $39 billion in cash at last count. Here's the other important part of the PR (the why, and what happens to Android now): The acquisition of Motorola Mobility, a dedicated Android partner, will enable Google to supercharge the Android ecosystem and will enhance competition in mobile computing.
Advise.me. Seedcamp. Jesta Labs Hatches Gush: Fetch, Store And Organize All Your Digital Photos. Video: Anonymous Calls On Protestors To "Occupy The Planet" Cloud Storage Platform Box.net Raises $50 Million From Salesforce And Others. Google On Microsoft's Android Patent Tactics: It's Extortion. Source: Google In Talks To Acquire Katango. Self-Service Ad Platform isocket Grabs More Funding; Partners With Google; Steals Rubicon Exec. Can Twitter's Self-Serve Ad Product Meet Rosy Expectations To Drive Revenues To $400M By 2013? Video: Jeff Bezos Demos The Kindle Fire. Android Ice Cream Sandwich stars in two-minute leaked video. BetterLesson: Share What Works | Free K-12 Lesson Plans, materials and resources. CSS: Taking control of the cascade. Setting up a new machine for Ruby development.
50 Most Influential Designers in America. Interesting finds. Mind Mapping & Diagrams. Video - Breaking News Videos. BBC Speechless As Trader Tells Truth: "The Collapse Is Coming...And Goldman Rules The World" The Man Who Would Stop Time. Richie Hawtin (Minus, Berlin) - Fireside Chat. Introducing Google Scribe in Blogger. Marketing of the placebo: Everyone gets their own belief. Commission on Presidential Debates" I do not fear death - Memoirs. Quant trading: How mathematicians rule the markets. Resurrected ancient protein is a potent antibiotic - health - 24 September 2011. 6 Ways the Rich Are Waging a Class War Against the American People | Economy. It is easier and more satisfying to buy experiences than to buy stuff.
QlzFi.jpg (650×472) Justice for Sal. Visually impaired man plays Zelda. Fk17i.jpg (580×614) Fans mourn, opponents cheer Barcelona's last bullfight. From the desert to the web: bringing the Dead Sea Scrolls online. Boeing 787 Dreamliner. Motor City Mojo: The Startup Renaissance In Detroit. Twentysomething: Why I regret getting straight A's in college. Request for Lie Detector Test for Davis Is DeniedTroy Davis. Star Wars If Dr. Seuss Had Created It! The poverty crisis is devastating young Americans. Here's what the president can do about it. - By Eliot Spitzer.
Personality Tests. Your Complete Guide to HIV – What Are The REAL Risks From Sleeping With Girls? Magazine > Tom Gallant - Can Porn be Art? | Tom tells us where he buys his. 1% rule (Internet culture) Car fumes 'raise heart attack risk for six-hour window' Gay Survivor Speaks Out. Palestine's Strongest UN Ally? Google Is Not Making You Stupid : 13.7: Cosmos And Culture. An Archaeologist Watches the History Channel and Questions the Part About the Aliens.
Chris Norris Words and Music. US survey: 1 in 5 telecommuters work an hour or less a day. Italy Proposes Law That Will Ban People From The Internet Based On Single Accusation Of Infringement From Anyone. Dunning–Kruger effect. Krulwich Wonders... Eternal September. Economic Bleeding Cure. Breaching the blood-brain barrier: Researchers may have solved 100-year-old puzzle. Don't Just See, Observe: What Sherlock Holmes Can Teach Us About Mindful Decisions | Guest Blog. Breaking News: 60,000 people stood up against nuclear. The Search for Apollo 10's 'Snoopy' Evaporation-based Water Purifier Cone. U.S. Gamers Crack Puzzle In AIDS Research That Stumped Scientists For Years. Hibernation (computing) Situational leadership theory. HTML5. The Social Psychology of Burning Man | Guest Blog. Major discovery: a purpose of the war in Afghanistan - Glenn Greenwald. Scientists take first step towards creating 'inorganic life'
My Family's Experiment in Extreme Schooling. Milk expiration dates, courtesy of Al Capone | Times News Online. China to 'liquidate' US Treasuries, not dollars. College has become meaningless. Reading List. Musical cryptogram. Trust Issues.
---