12/6/28 - 12/7/2
Anxiety: We worry. A gallery of contributors count the ways. If you live in America in the 21st century you've probably had to listen to a lot of people tell you how busy they are. It's become the default response when you ask anyone how they're doing: "Busy!"
The 'Busy' Trap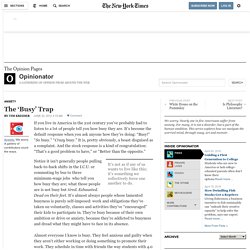 Flash mob in the Copenhagen Metro. Copenhagen Phil playing Peer Gynt.
Hate E-mails with Richard Dawkins
GAY MARRIAGE - Darcy Michael's One Skinny Bitch Stand Up Comedy DVD Preview
Darcy Michael - A Letter From Martha
Church drum and bass rave
"Carmina Burana" Westbahnhof Wien
Oatmeal v. FunnyJunk Update: Charles Carreon files restraining order to keep donated funds from being distributed to charities : technology
Som Sabadell flashmob
Mission Control: Celebrating NASA and Space Explorers everywhere
Runescape (dunkview)
▶ Stacey Pullen - Essential Mix [2011-08-20] by D2Techno
LINK presents Troy Pierce at Treehouse Oct 28 2011 by troypierce on SoundCloud
If Betelgeuse goes Supernova, how will it affect Earths ecosystems? : askscience
Summertime And The Livin's Easy - Biww by DubStompin on SoundCloud
Sublime Text 2 is one of the fastest and most incredible code editors to be released in a long time! With a community and plugin ecosystem as passionate as this one, it just might be impossible for any other editor to catch up. I'll show you my favorite tips and tricks today. Sublime Text 2 is currently available for all major platforms: OS X, Linux and Windows. 1 – Bleeding Edge Versions Sublime is in active development.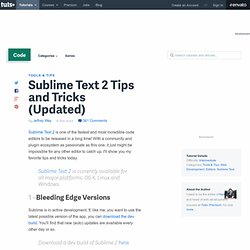 Sublime Text 2 Tips and Tricks (Updated)
Aerobie AeroPress Coffee and Espresso Maker: Kitchen & Dining
I've been searching for the perfect cup of coffee for some time. A local coffee shop has achieved it with the Clover (sadly now owned by Starbucks and not for sale: [www.starbucks.com]) but how to achieve similar quality at home? French press comes incredibly close, but is too muddy. The bottom 1/3-1/4 of the cup is more like Turkish coffee, it's so thick. My solution is to brew like a french press, letting the coffee steep for 4 minutes or so, but then running it through a paper or mesh filter in a manual coffee pot ([www.amazon.com]). Brew the Best Possible Coffee Without Breaking the Bank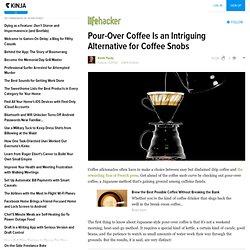 Pour-Over Coffee Is an Intriguing Alternative for Coffee Snobs
I don't get it. I need a $60 imported japanese 'goose-neck fra-la-la' to pour water? The basic idea is great - pour a cup at a time, use not-too-hot water, pour it slowly and precisely into the grounds, and use good filters. I do that every weekend with a $2 cone, and my beat up old kettle, in a 5-minute ritual that gives me peace and provides great coffee. When she beats me to it, my wife throws a mug full of scalding water into the cone, and 15 seconds later I have a cup of acrid, watery coffee. What you use to grind - important.
Student files lawsuit against Human Sexuality professor who required students to masturbate 3 times and keep a sex journal to pass his class : sex
For the old school runescapers : gaming
130892] | RuneScape
How To Tell People They Sound Racist
10 Shocking Secrets of Flight Attendants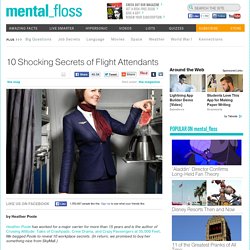 by Heather Poole
Josh Derock on Mill Avenue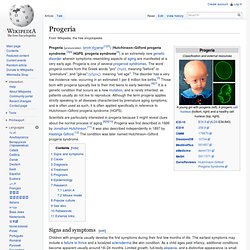 Progeria
Progeria (pronunciation: /proʊˈdʒɪəriə/[1][2]) (Hutchinson-Gilford Progeria Syndrome,[3][4] HGPS, Progeria syndrome[4]) is an extremely rare genetic disease wherein symptoms resembling aspects of aging are manifested at a very early age. Progeria is one of several progeroid syndromes. The word progeria comes from the Greek words "pro" (πρό), meaning "before" or "premature", and "gēras" (γῆρας), meaning "old age". The disorder has a very low incident rate, occurring in an estimated 1 per 8 million live births.[5] Those born with progeria typically live to their mid teens to early twenties.[6][7] It is a genetic condition that occurs as a new mutation, and is rarely inherited, as patients usually do not live to reproduce. Although the term progeria applies strictly speaking to all diseases characterized by premature aging symptoms, and is often used as such, it is often applied specifically in reference to Hutchinson-Gilford Progeria Syndrome (HGPS).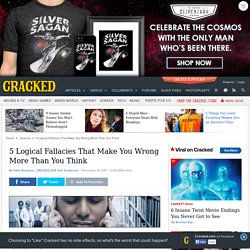 The Internet has introduced a golden age of ill-informed arguments. You can't post a video of an adorable kitten without a raging debate about pet issues spawning in the comment section. These days, everyone is a pundit. But with all those different perspectives on important issues flying around, you'd think we'd be getting smarter and more informed. Unfortunately, the very wiring of our brains ensures that all these lively debates only make us dumber and more narrow-minded. For instance ...
5 Logical Fallacies That Make You Wrong More Than You Think
Tips from your local black guy. Ep. 1 - Wicker Park Visitors... : chicago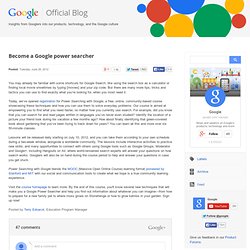 You may already be familiar with some shortcuts for Google Search, like using the search box as a calculator or finding local movie showtimes by typing [movies] and your zip code. But there are many more tips, tricks and tactics you can use to find exactly what you're looking for, when you most need it. Today, we've opened registration for Power Searching with Google, a free, online, community-based course showcasing these techniques and how you can use them to solve everyday problems.
Become a Google power searcher
Supporting entrepreneurship in France at Le Camping
Entrepreneurs all around the world are building technologies that empower their communities and address both local and global audiences. Last week, a team of Googlers from 10 countries gathered in Paris to spend time with entrepreneurs and startups at Le Camping, an accelerator program that's part of Silicon Sentier, an association focused on supporting promising digital projects in the Ile de France region. We celebrated the results of the first two seasons of the program and welcomed the new startups for season three. Le Camping's program selects 12 new startups each season (one season lasts six months).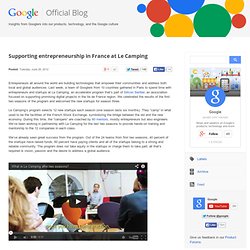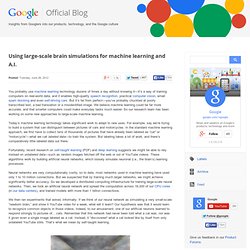 You probably use machine learning technology dozens of times a day without knowing it—it's a way of training computers on real-world data, and it enables high-quality speech recognition, practical computer vision, email spam blocking and even self-driving cars. But it's far from perfect—you've probably chuckled at poorly transcribed text, a bad translation or a misidentified image. We believe machine learning could be far more accurate, and that smarter computers could make everyday tasks much easier. So our research team has been working on some new approaches to large-scale machine learning.
Using large-scale brain simulations for machine learning and A.I.
Launching Google +1 Recommendations Across the Web
UPDATE (7/9/12): After a few productive weeks in platform preview, we're rolling out +1 recommendations to all users today. Thanks for your feedback at Google I/O, in the discussion forums, and on our Google+ page. We're always eager to hear from you -- so keep it coming. Working on +1, we often hear people say they want to see more of what their friends recommend. Likewise, when we talk to site owners, they ask us to help them show more relevant content to their users. Today, we are rolling out a new feature of the +1 button in platform preview: when users hover over a +1 button, they will see recommendations for other great content on your site.
(Cross-posted on the Official Android Blog) Last year at Google I/O, we talked about momentum, mobile and more. This year, we're picking up right where we left off.
the playground is open
Chrome for Android out of Beta!
+1
For our international readers, this post is also available in French, German, Italian, Japanese, Portuguese and Spanish (Latin America, Spain). - Ed. A year ago we started a small project called Google+—to bring friends and family closer together, and to inspire new connections through meaningful conversation. Today more than 250 million people have upgraded to Google+, and we want to give thanks. To you.
Posted by Michelle Chen, Software Engineer Today at Google I/O, we announced Google+ Events, a new way to create, capture and share public and private events. Google+ Events are seamlessly integrated with Google Calendar to simplify the planning process, so you'll always know when you have something coming up.
Google+ Events in Google Calendar | Official Gmail Blog
Introducing Chrome for iPhone and iPad!
Android 4.1 Jelly Bean coming in July with Project Butter UI, Google Now, richer notifications
The next major upgrade to Android will be version 4.1 Jelly Bean, it has been announced at Google I/O today. Project Butter is the major new innovation in Android 4.1, focused on making the entire UI "fast, fluid and smooth." That includes triple buffering in the graphics pipeline, to ensure consistent frame rates with interface animations. Google's I/O demo showed two Galaxy Nexus devices side by side, one running Ice Cream Sandwich and the other on Jelly Bean, with the latter offering a significantly higher frame rate when navigating the Android UI. Google Now is a big addition from the Android team, introducing a sort of self-aware quality to Android phones — automatically updating you on your favorite sports teams in real time, learning your commute route and checking traffic, and also providing public transit information when it senses you're close to a transport station.
Live from Google I/O 2012, day one - The Verge
Google I/O 2012: everything you need to know
NOISIA - Devil May Cry Soundtrack Sample
11 Months, 3000 pictures and a lot of coffee.
11 Months, 3000 pictures and a lot of coffee. I wish I had this much patience when rebuilding engines. : videos
Terrestrial Planet Surfaces Compared to Earth's
Live from Google I/O 2012, day two - The Verge
Wasted years instrument change
offline document editing and Drive for iOS | Docs Blog
17 Things We've Loved in Web Design This Year
Home › Todd Walden
7 Things I Wish I Knew Before the First Round
Helping to Create Better Websites: Introducing Content Experiments - Analytics Blog
Create Better Websites: Introducing Content Experiments
Route | Humanity.TV
Humanity.TV Is the Connected Generation's Travel Channel
Infographic essay on the meaning of life
SuperBetter
The Chrome Story
Your Chrome, Everywhere
Your web, everywhere
Celebrating Pride 2012
Dev Channel Update
Google Analytics Adds "Content Experiments"
How To Cash In On Government As A Platform
Education is undergoing a startling revolution: Let's support it!
Pareto principle
Work Less and Do More by Applying the Pareto Principle to Your Task List
Two Lists You Should Look at Every Morning - Peter Bregman
"Cookie Monster" Explains Occupy Wall St. « FETISHISM OF THE MONOTONY
Two Lists You Should Look at Every Morning
Influence Yourself With a "Why-Do" List
Home | Chicago Critical Mass
type_socmedia_infographic.jpeg (1056×6240)
How to Not Give a Fuck about Pickup Line Rejections
Die Antwoord - Fatty Boom Boom
M.I.A. - "Bad Girls" (Official Behind the Scenes): Noisey Specials #08
DIE ANTWOORD - BABY'S ON FIRE (OFFICIAL)
Die Antwoord - Evil Boy (Explicit Version)
Jerri tearing along on the Forty inch wheeled beast, Trampoline Whymsy #118 . Pedal-less SPEED!
▶ Stacey Pullen - Essential Mix - 19-08-2011 by R_co
Stacey Pullen, Get Up
Compute Engine v. Azure: Is Google's offering really 50% cheaper?
Hacker sentenced to 3 years in prison for selling cable modem hacking tools
Sascha Dive tour dates
Make your own game using JavaScript | Projects | Mozilla Webmaker
Learn HTML fast by making your own web page | Projects | Mozilla Webmaker
Alejandro Jodorowsky
Nike Better World
Live Blog: Google I/O Keynote Day Two
Stacey Pullen
Stacey Pullen
Stacey Pullen
Terence Blanchard Group - Byus
sg92i comments on Hidden History: According to Benjamin Franklin, the real reason for the Revolutionary War has been hid from you
Kimchi
The agony and the ecstasy of Chrome on iOS
Hands on with the Nexus 7 Android tablet
Google's Nexus 7 starts a whole new tablet war (hands-on)
How Playing Games Makes You Live Longer
Google Maps will be on your iOS devices after all, says Google VP
Wait, What? No Update For Google TV?