Interviews
Job Bank USA: Employment, Job Search, Careers, Computer Jobs. Job Interview Weakness. Mental fear of the unknown is often what produces the physical symptoms of nervousness.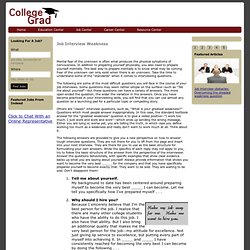 In addition to preparing yourself physically, you also need to prepare yourself mentally. The best way to prepare mentally is to know what may be coming. What are your strengths. Find your positive attributes Your strengths are a mixture of your talents, knowledge and skills.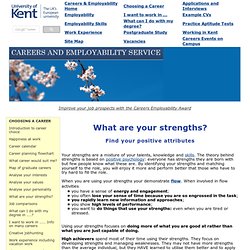 The theory behind strengths is based on positive psychology: everyone has strengths they are born with but few people know what these are. By identifying your strengths and matching yourself to the role, you will enjoy it more and perform better that those who have to try hard to fill the role. When you are using your strengths your demonstrate flow. When involved in flow activities you have a sense of energy and engagement; you often lose your sense of time because you are so engrossed in the task; you rapidly learn new information and approaches; you show high levels of performance; you want to do things that use your strengths: even when you are tired or stressed.
Interview Questions You Must Ask. In many ways, moving ahead in our careers depends on our bosses: the people who can motivate us, advise us, challenge us, or — on the other hand — make our lives miserable.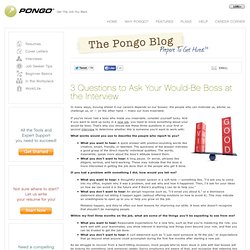 If you've never had a boss who made you miserable, consider yourself lucky. And if you want to wind up lucky in a new job, you need to know something about your would-be boss. That's why you should ask these three questions in your first or second interview to determine whether this is someone you'd want to work with: The 10 Best Questions to Ask at a Job Interview. 10 Killer Interview Tactics You Ought to Know. Job interviews can be a mystery.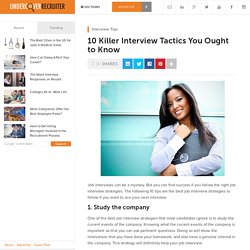 But you can find success if you follow the right job interview strategies. The following 10 tips are the best job interview strategies to follow if you want to ace your next interview. 1. Study the company One of the best job interview strategies that most candidates ignore is to study the current events of the company. How to Get a Job Without Experience - Larry Stybel - HBR Now. By Larry Stybel | 2:15 PM August 12, 2009 You know the Catch-22: "You can't get a job without experience, and you can't get experience without a job."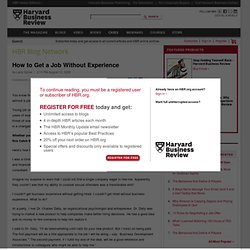 Young job seekers have always faced this dilemma. 10 Answers You Should Know Before Your Job Interview. With the competition keener than ever and the economy in a slump, you need to prepare for your job interview thoroughly.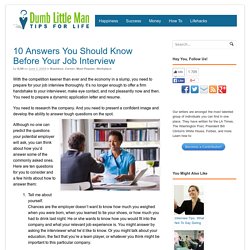 It's no longer enough to offer a firm handshake to your interviewer, make eye contact, and nod pleasantly now and then. You need to prepare a dynamic application letter and resume. The 10 Best Questions to Ask at a Job Interview. You're interviewing for a job.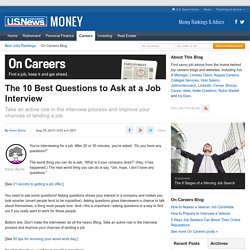 After 20 or 30 minutes, you're asked: "Do you have any questions?" The worst thing you can do is ask, "What is it your company does?" (Hey, it has happened.) The next worst thing you can do is say, "Um, nope, I don't have any questions." [See 21 secrets to getting a job offer.] How not to start your cover letter. This was one of our most popular blog posts this year, and we think the advice is so good it should be repeated!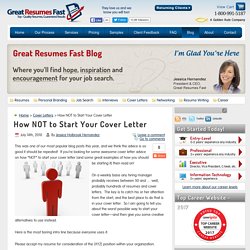 If you're looking for some awesome cover letter advice on how *NOT* to start your cover letter (and some great examples of how you should be starting it) then read on! Twenty something? Job seeker? How to dramatically increase your chances of getting the job. Face it: the job market sucks.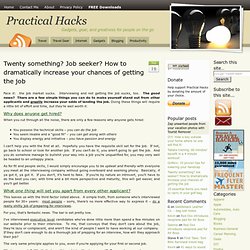 Interviewing and not getting the job sucks, too. The good news? There are a few simple things you can do to make yourself stand out from other applicants and greatly increase your odds of landing the job. Doing these things will require a little bit of effort and time, but they're well worth it.
---