Wordpress
Bookitme
Showcase » Tag » Business
occupancyplan
WP Plugin Belegungsplan (Occupancy Plan) für WordPress Occupancy Plan ist ein einfaches Plugin für WordPress , das eine Übersicht von z.B. belegten Ferienwohnungen oder Ferienhäuser kalendarisch anzeigt. Viele graphische Einstellungen für Farbe und Formen, sowie das Eintragen der belegten Tage im Kalender können ganz leicht und Benutzerfreundlich vom Admin vorgenommen werden. Des weiteren können – unabhängig von einander – mehrere Übersichten im Blog dargestellt werden.
WP Plugin Belegungsplan « Wordpress – Belegungsplan – Plugin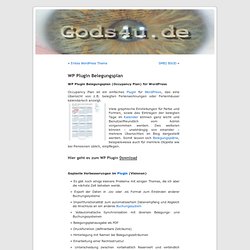 Booking Calendar
Languages Right now plugin is support languages: English Italian Spanish French German Danish Dutch Belarusian Russian Polish Croatian Slovak Many languages are partially translated, so please recheck your language before use of plugin. We are open for your help in new translations or correcting exist ones.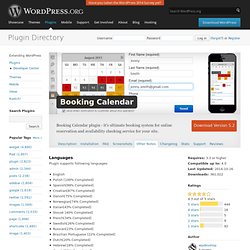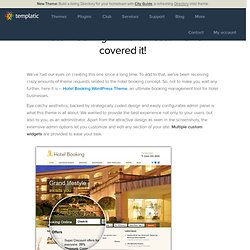 We've had our eyes on creating this one since a long time. To add to that, we've been receiving crazy amounts of theme requests related to the hotel booking concept. So, not to make you wait any further, here it is – Hotel Booking WordPress Theme , an ultimate booking management tool for hotel businesses. Eye catchy aesthetics, backed by strategically coded design and easily configurable admin panel is what this theme is all about. We wanted to provide the best experience not only to your users, but also to you, as an administrator. Apart from the attractive design as seen in the screenshots, the extensive admin options let you customize and edit any section of your site.
Hotel Booking in WordPress? We've covered it!
WP-Reservation
This WordPress plugin allows for the creation of own sites with a booking system. It can apply to their sites hostels and hotels. Your users accessing the site, will fill a special order form and place your reservation. During the checkout process automatically register the user in WordPress. To order management created an administrative part. You can always see the true information about orders and customers, to confirm payment of your reservation, as well as a book by hand.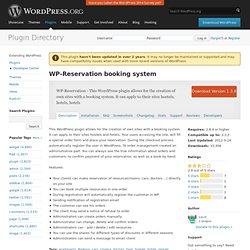 Showcase » Aqua Hotels and Resorts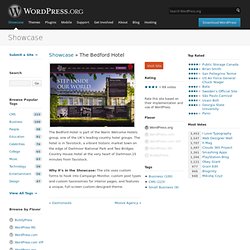 Showcase » The Bedford Hotel The Bedford Hotel is part of the Warm Welcome Hotels group, one of the UK's leading country hotel groups. The hotel is in Tavistock, a vibrant historic market town on the edge of Dartmoor National Park and Two Bridges Country House Hotel at the very heart of Dartmoor,15 minutes from Tavistock. Why it's in the Showcase: The site uses custom forms to hook into Campaign Monitor, custom post types and custom taxonomies for interior pages, and features a unique, full-screen custom-designed theme.
Showcase » The Bedford Hotel
How To Create Custom WordPress Content Types
Function Reference/register post type
Function Reference/register post type Languages : English • 中文(简体) • 日本語 • ( Add your language ) Description Create or modify a post type . Do not use register_post_type before init. Taxonomies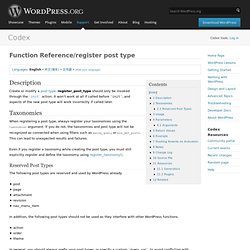 Post Types Languages : English • 日本語 • Português do Brasil • Slovenčina • ( Add your language ) WordPress can hold and display many different types of content. A single item of such a content is generally called a post, although post is also a specific post type . Internally, all the post types are stored in the same place, in the wp_posts database table, but are differentiated by a column called post_type . WordPress 3.0 gives you the capability to add your own custom post types and to use them in different ways.
cc licensed flickr photo shared by TakenByTina My previous post just outlined the kinds of things I put into a new site created with a beta version of WordPress 3 (I started with the first beta and honestly, it had more polish than most finished products) – I actually did not tell you much. Now it's time to get out and start hacking. In this post, I'll detail what I did to create three content types on the MIDEA site .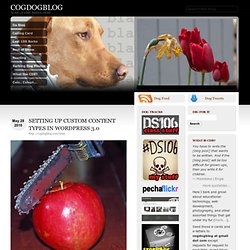 Setting up Custom Content Types in WordPress 3.0
The Custom Content Type Manager requires WordPress 3.3. It allows users to create custom content types (also known as post types) and standardized custom fields for each, including dropdowns, checkboxes, and images. This gives WordPress CMS functionality: Break out of your Blog! You can select multiple images, posts, or media items to be stored in a single field making it easy for you to store a gallery of images or long lists of values.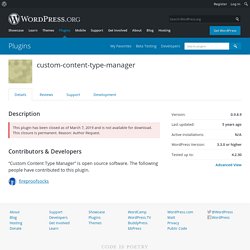 Custom Content Type Manager
WP e-Commerce
WooCommerce – excelling eCommerce
Dynamic Widgets gives you full control on which pages your widgets will appear. It lets you dynamically show or hide widgets on WordPress pages by setting conditional logic rules with just a few mouse clicks. No knowledge of PHP required.
Dynamic Widgets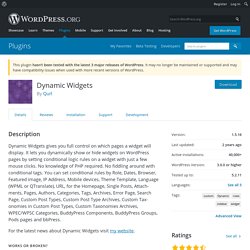 Site Layout Customizer
This new WordPress plugin allows you to create a custom front page and other pages. It will allow you to display your posts with different custom layouts. As an example it can make the posts on the front page look similar to a magazine or news website. The uses for it are many.
WordPress Download Manager
WordPress Download Manager is a Files and Document Management plugin for your WordPress Site. WordPress Download Manager plugin will help you to manage, track and control file downloads from your wordpress site. You can set password and set access level any of your downloadable files from your wordpress site.
MapPress adds an interactive map to the wordpress editing screens. When editing a post or page just enter any addresses you'd like to map. The plugin will automatically insert a great-looking interactive map into your blog. Your readers can get directions right in your blog and you can even create custom HTML for the map markers (including pictures, links, etc.)! For even more features, try the MapPress Pro Version Key Features
Plugin Central
Plugin Central is a comprehensive WordPress plugin solution. Main features are: Install plugins directly by typing the name of plugin or the URL to zip file! Multiple-plugin install feature allows you to move your plugins from one blog to another Displays status of plugins in need of update on the Dashboard Displays latest information form the plugin changelog Update all plugins at once with a single click Related plugins:
Options Framework
List category posts
eShop
WP-Table Reloaded
Disable Comments
Exclude Pages
Lightbox Plus
Advanced Custom Fields