Video in html
CSS3 Animation für Webkit-Browser | visuelleGedanken.de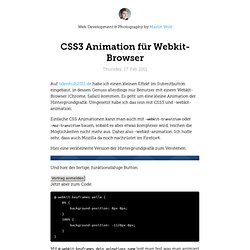 Thursday, 17. Feb 2011 Auf tidenhub2011.de habe ich einen kleinen Effekt im Submitbutton eingebaut, in dessen Genuss allerdings nur Benutzer mit einem Webkit-Browser (Chrome, Safari) kommen.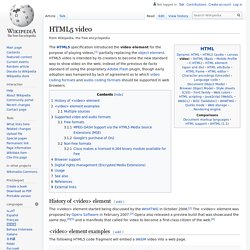 The HTML5 draft specification introduced the video element for the purpose of playing videos or movies,[1] partially replacing the object element. HTML5 video is intended by its creators to become the new standard way to show video on the web without plugins, but has been hampered by lack of agreement as to which video formats should be supported in web browsers. History of <video> element[edit] The <video> element was proposed by Opera Software in February 2007.[2] Opera also released a preview build that was showcased the same day,[3][4] and a manifesto that called for video to become a first-class citizen of the web.[5] <video> element examples[edit] The following HTML5 code fragment will embed a WebM video into a web page.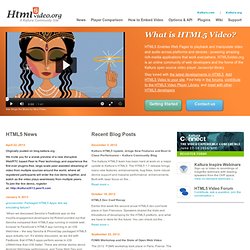 Ubuntus Quixotic Mobile War: HTML5 – Not Linux – Is The Key "Making the Web a first-class citizen on mobile devices? That would be a Very Big Deal, and it's one that Canonical has already started to deliver on, as Shuttleworth rightly notes. It's a potentially winning strategy because it's disruptive. Shuttleworth stresses that being late to the mobile party is a virtue, but I can't agree. Except…he might be right insofar as HTML5 is concerned.
Einführung: Videos einbinden mit HTML 5 | www.video-flash.de
Der <video>-Tag ist eine Neuerung von HTML 5 und dient dazu, Filme und Videos abzuspielen. Videos können — wie Bilder mit dem <img>-Tag — direkt in eine HTML-Seite eingebettet werden. Selbstverständlich können die Videos deshalb auch mit CSS und JavaScript kombiniert werden. Nach den ersten Video-Tag Demos mit HTML 5 wird in diesem Artikel gezeigt, wie man Videos selbst einbaut und den <video>-Tag aus HTML 5 mit aktuellen Browsern bereits einsetzen kann.