Waste of time
Pace Icon Set (32 Icons in JPG - PNG & PSD Format) Today's freebie is the Pace Icon Set (32 Icons, JPG - PNG & PSD Format) all icons are fully editable and as always free for you to use!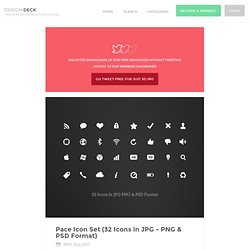 Icons come in JPG & PNG format & the icon size is 32px x 32px. Included in the zip:32 Icons PNG Format32 Icons JPG FormatPace Icon Set Original PSD FilePace Icon Set Screenshot Please use our Pace Icon Set (32 Icons, JPG - PNG & PSD Format) any way you like. Your Palettes · Colorpal. Seventh Sanctum. Games: Roleplaying: World Building: Names: Gene. Web Developer's Handbook | CSS, Web Development, Color Tools, SEO, Usability etc. Vitaly Friedman's The Web Developer's Handbook creativity | css galleries & showcases | color tools | color schemes, palettes | color patterns | fashion: colors selection | color theory | royalty free photos | css daily reading | web design daily reading | css layouts | css navigation menus | css techniques | css: software & Firefox Extensions | css-web-tools & services | html-web-tools & services | accessibility checkers | miscellaneous tools | ajax | javascript | DOM | fonts | typography | RSS | CMS | blogging |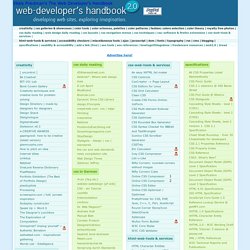 26 Beautiful Handpicked Color Palettes | Artention. Equations - EquationSheet.com. 45 Epic Blender Tutorials. Ben has over a decade of experience in the computer graphics field and although he's primarily a hard surface modeler, he's also experienced in the fields of UVMapping, Texturing, Lighting and Rendering.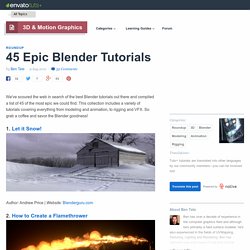 Ben currently co-edits Cgtuts+ along with his brother Chris, and has authored over sixty hours of real-time tutorial content for the site, focusing mainly on 3d Studio Max and hard surface modeling. Along side 3D Studio Max, Ben's has experience with VRay, FumeFX, ZBrush, Mudbox, Mari, PTex, Photoshop, xNormal, UVLayout, Forest Pack Pro and After Effects. You can check out Ben's website to see more of his work. more… Home - The School of Life. Rollip - Online Photo Effects. Ask H&FJ: Four Ways to Mix Fonts. BigHugeLabs: Do fun stuff with your photos. Corel Painter User Resources.
Resources for users of Corel Painter, the image editing and natural media painting tool.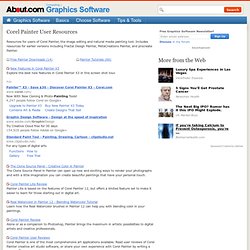 Includes resources for earlier versions including Fractal Design Painter, MetaCreations Painter, and procreate Painter. New Features in Corel Painter X3Explore the best new features in Corel Painter X3 in this screen shot tour. The Clone Source Panel - Creative Color in PainterThe Clone Source Panel in Painter can open up new and exciting ways to render your photographs and with a little imagination you can create beautiful paintings that have your personal touch. Corel Painter Lite ReviewPainter Lite is based on the features of Corel Painter 12, but offers a limited feature set to make it easier to learn for those starting out in digital art. The Top 10 Web Design Skills You WILL Need! Here are my top 10 web design skills that you WILL need to master to become an effective web designer.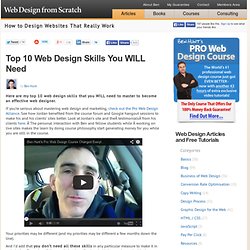 If you're serious about mastering web design and marketing, check out the Pro Web Design Alliance. See how Jordan benefited from the course forum and Google hangout sessions to make his and his clients' sites better. Look at Jordan's site and the testimonials from his clients here. A guide to typography (Infographic) | check it out! 10 Fantastic Movie Scenes That Were More Real Than You Knew. The UGO.com page you're trying to reach has been deleted.
This is either due to our own ineptitude, the incompetence of whoever sent you here or a screw up on your part. That, or we killed the page. For starters, please make sure the URL is complete and spelled correctly. Also, please stop breaking the Internet. If that doesn't work and you know what you're looking for, plug a few keywords into the search field above and see what pops up. Eleven French Films for People Who Hate French Films. A wise man once said, "French films are… too French."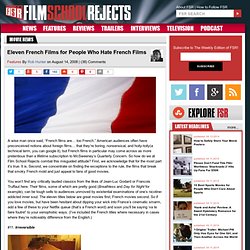 American audiences often have preconceived notions about foreign films… that they're boring, nonsensical, and hoity-toity(a technical term, you can google it), but French films in particular may come across as more pretentious than a lifetime subscription to McSweeney's Quarterly Concern. So how do we at Film School Rejects combat this misguided attitude? First, we acknowledge that for the most part it's true. Freebies.
---