BIG DATA
How A Few CIOs Use The Crummy Economy And A Bit of Data To Accelerate IT Strategy
My latest Forrester CIO client visits tell me economic uncertainty is actually helping IT leaders accelerate plans for the future. Sounds counterintuitive, right?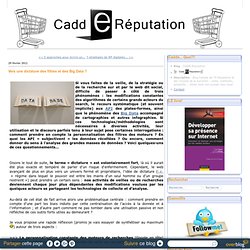 Si vous faites de la veille, de la stratégie ou de la recherche sur et par le web dit social, difficile de passer à côté de trois phénomènes : les modifications constantes des algorithmes de certains grands acteurs du search, le recours systématique (et souvent implicite) aux API des plates-formes, ainsi que le phénomène des Big Data accompagné de cartographies et autres infographies.
Vers une dictature des filtres et des Big Data
Une étude Markess International L'administration numérique face au défi « big data »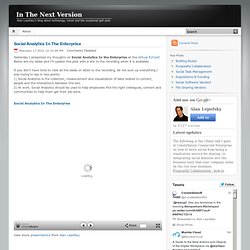 Yesterday I presented my thoughts on Social Analytics In the Enterprise at the Virtual E2Conf.
Social Analytics In The Enterprise
Alors que les entreprises se développent et génèrent de plus en plus de données, la capacité à les traiter et à les interpréter pourrait être un obstacle à leur utilisation.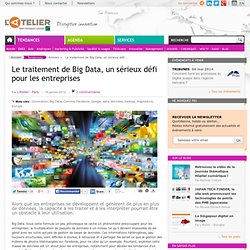 Le traitement de Big Data, un sérieux défi pour les entreprises