BIG DATA
How A Few CIOs Use The Crummy Economy And A Bit of Data To Accelerate IT Strategy. My latest Forrester CIO client visits tell me economic uncertainty is actually helping IT leaders accelerate plans for the future.
Sounds counterintuitive, right? Perhaps it's just because I started in Europe, where the hourly ups and downs of sovereign debt crises cause government policy whiplash paired with market cap acid reflux. Most consider trying to plan in this environment, particularly slow-changing corporate IT systems, impossible. Or perhaps, as IT leaders, we're still just haunted by the great tech recession a decade ago, and we just expect IT budgets will always be the target of corporate austerity efforts. But one thing is clear: For some, uncertainty breeds paralysis. Vers une dictature des filtres et des Big Data. Si vous faites de la veille, de la stratégie ou de la recherche sur et par le web dit social, difficile de passer à côté de trois phénomènes : les modifications constantes des algorithmes de certains grands acteurs du search, le recours systématique (et souvent implicite) aux API des plates-formes, ainsi que le phénomène des Big Data accompagné de cartographies et autres infographies.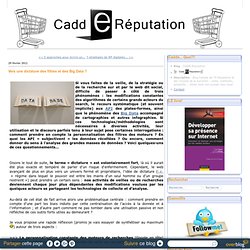 Si ces technologies/méthodologies sont nécessaires à diverses activités, leur utilisation et le discours parfois tenu à leur sujet pose certaines interrogations : comment prendre en compte la personnalisation des filtres des moteurs ? En quoi les API « subjectivent » les données récoltées ? Ou encore, comment donner du sens à l'analyse des grandes masses de données ? Une étude Markess International L'administration numérique face au défi « big data » Social Analytics In The Enterprise. Yesterday I presented my thoughts on Social Analytics In the Enterprise at the Virtual E2Conf.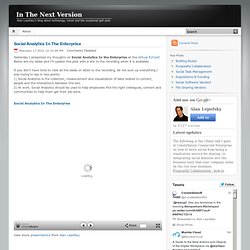 Below are my slides and I'll update this post with a link to the recording when it is available. If you don't have time to view all the slides or listen to the recording, let me sum up everything I was trying to say in two points: 1) Social Analytics is the collection, measurement and visualization of data related to content, people and the interactions between the two. 2) At work, Social Analytics should be used to help employees find the right colleagues, content and communities to help them get their job done.
My presentation references many of the enterprise social software vendors, but was not meant to be an endorsement of any vendor over another. Big Data. Le traitement de Big Data, un sérieux défi pour les entreprises. Alors que les entreprises se développent et génèrent de plus en plus de données, la capacité à les traiter et à les interpréter pourrait être un obstacle à leur utilisation.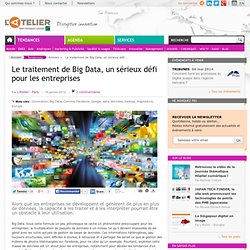 Big Data. Sous cette formule un peu pittoresque se cache un phénomène préoccupant pour les entreprises: la multiplication de paquets de données à un niveau tel qu'il devient impossible de les gérer avec les outils actuels de gestion de bases de données. Ces informations hétérogènes, pas toujours structurées, sont difficiles à stocker, à retrouver et à partager.
---