Art
Neil Gaiman Addresses the University of the Arts Class of 2012. Béatrice Coron: Stories cut from paper. John Bohannon: Dance vs. powerpoint, a modest proposal. Painting on water - StumbleUpon.
Tim Shumate | Society6 - StumbleUpon. The universe in one picture. Unrealistic Scenes on Photography Served - StumbleUpon. Unrealistic Scenes some things you'll never see This is an ongoing project of composite photographs.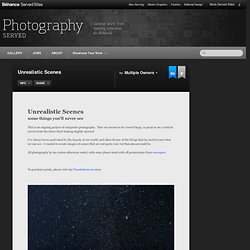 SUPAKITCH &KORALIE Art - StumbleUpon.
---