RiMUN
pearltrees intro & help videos
United Netherlands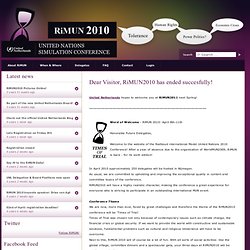 United Netherlands hopes to welcome you at RiMUN2011 next Spring! ------------------------------------------------------------------------------------------ Word of Welcome - RiMUN 2010: April 8th-11th Honorable Future Delegates,
RiMUN UN Simulation Conference
RiMUN2010 on Twitter
RiMUN2010 Facebook
Say Hi to the RiMUN Daily!
Conference Programme | RiMUN
Conference Program Thursday April 08 11.00- 12.30 Cultural Day in Nijmegen. We will take you through the oldest city of the Netherlands. We will show you all the ins and outs of the beautiful city of Nijmegen. 13.00 - 15.00 UN Simulation Training at the Radboud University 13.00 - 16.00 Registration at the Radboud University - in the hallways around the Culture Cafe on campus 18.00 - 19.00 Drinks at the Vereiniging 19.00 - 20.30 Opening Ceremony at the Vereeniging with Key-Note Speaker 20.30 - 21.30 Drinks at the Vereiniging 21.30 - 02.00 More drinks - we recommend you to have some in cafe "Van Buren"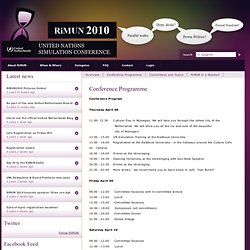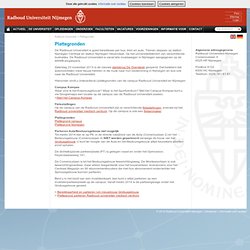 Radboud Uni: Maps
De Radboud Universiteit is goed bereikbaar per bus, trein en auto. Treinen stoppen op station Nijmegen Centraal en station Nijmegen Heyendaal. Op het universiteitsterrein zijn verschillende bushaltes. De Radboud Universiteit is vanaf alle invalswegen in Nijmegen aangegeven op de ANWB-wegwijzers. Zaterdag 23 november 2013 is de nieuwe stadsbrug De Oversteek geopend.
Aula
Sign up | Login Welcome Map Feed Details Download Help About Blog name Aula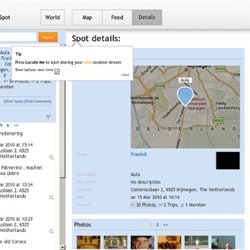 Aula - mobile
Linnaeus building
Sign up | Login Welcome Map Feed Details Download Help About Blog name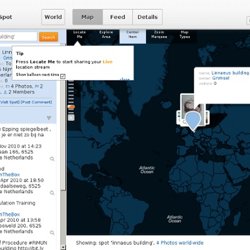 Linnaeus building mobile
CC: College zalenComplex
CC - mobile
Sign up | Login Welcome Map Feed Details Download Help About Blog Back Spot
Sint Stevens Church
Sint Stevenskerk mobile
Sign up | Login Welcome Map Feed Details Download Help About Blog name Concertgebouw De Vereeniging owner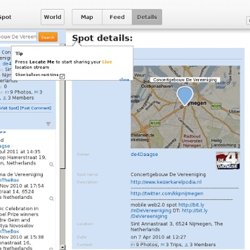 DeVereeniging Concertgebouw
DeVereeniging Concertgebouw mobile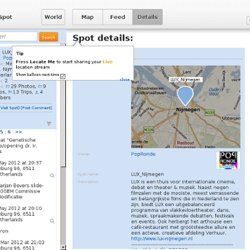 Sign up | Login Welcome Map Feed Details Download Help About Blog name
LUX_Nijmegen
LUX_Nijmegen mobile
The Official UNL Blog
Sign up | Login Welcome Map Feed Details Download Help About Blog
RiMUN2010 group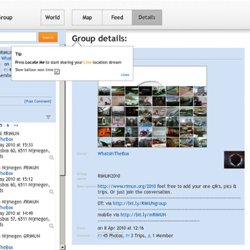 RiMUN2010 group mobile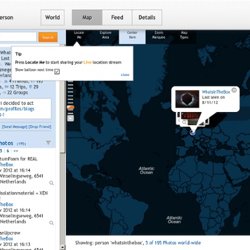 whatsinthebox live
Sign up | Login Welcome Map Feed Details Download Help About Blog name WhatsInTheBox
Titania #MUN
Sign up | Login Welcome Map Feed Details Download Help About Blog name Titania #MUN
Neptunes #MUN
qik bridge memories from the future
bridge memories from the future
memories of the future
Sign up | Login Welcome Map Feed Details Download Help About Blog
work
Rules of Procedure #RiMUN at Linnaeus building htt
Rules of Procedure #RiMUN atLinnaeusBuilding
Sign up | Login Welcome Map Feed Details Download Help About Blog name
registration desk #RiMUN also http://pear.ly/l0ZP
Registration Desk RiMUN2010 a United Nations Simulation Conferen
Registration Desk #RiMUN http://bit.ly/mCollzCompl
Sign up | Login Welcome Map Feed Details Download Help About Blog name
YourLIVE! º Always There
UN Simula tion Training #RiMUN
YourLIVE! º Always There
bus
bus bliining
our Devils Avastars training We Do ! @evokenet @Ri
DT: trip GloNet Serendipity City Challenge
Opening Ceremony AnnaZaal DeVereeniging
AnnaZaal DeVereeniging
Times of Evil RiMUN intro movie
RiMUN2010 - Opening Movie - Times of Trial - Organized by United
TimesOfTrial RiMUN2010 opening movie
Dries van Agt after his Keynote speech
Dries van Agt keynote speech former prime min
2010 keynote speaker: Dries van Agt | RiMUN
Keynote speech Dries van Agt
YourLIVE! º Always There
TimesofTrial Conference poster
Commitee Session HRC HumanRightsCouncil
balance sovereign and personal security
HRC Comitee Session
Russian delagates position Freedom of Speech
Rhetorical Timetations
To Govern or to be governed
Art Project during lunchbreak
Time to Pray #RiMUN http://pear.ly/l0ZP
delegates take time to pray #RiMUN
Symposium
parralel worlds ;-)
RiMUN Symposium: An Analysis of US Power
WTO
Staff Room (after request to leave)
spring
St. Stevenskerk kansel
closed
open
Marilyn Monroe
Marilyn Monroe + Heilig Avondmaal
kinoglaz
kinoglaz Virtual Cinema
Stevenskerk outside
555 KUBIK | facade projection | on Vimeo
qik Voorlichting realtime video
voorlichting
Times of Trial trip
yesterdays news
qik Splinter Cell & Layar
Slinter Cell & Layar
Kennedy Хрущёв
1 mei
De Vereeniging
Foucault slinger
Valkhof Museum
#RiMUN Vrede van Nijmegen
Metamorphosis Tapestries #RiMUN
Metamorphoses Tapestri es Video
Metamorphosis Tapestries #RiMUN
#RiMUN burgerzaal
DT:Serendipity City Trip
MUN circuit encouraged to starting playing
UN - United Nations MUN circuit encouraged/evoked to start playi
Voxlog: Diplomaten in de Dop