Media about
A Scientist Takes On Gravity
It From Bit: The Case Of Gravity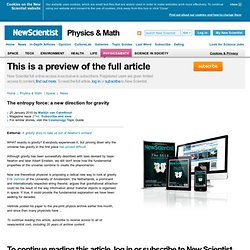 Editorial: A gravity story to take us out of Newton's orchard WHAT exactly is gravity? Everybody experiences it, but pinning down why the universe has gravity in the first place has proved difficult. Although gravity has been successfully described with laws devised by Isaac Newton and later Albert Einstein, we still don't know how the fundamental properties of the universe combine to create the phenomenon.
The entropy force: a new direction for gravity - physics-math -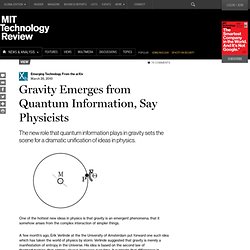 Technology Review: Blogs: arXiv blog: Gravity Emerges from Quant
One of the hottest new ideas in physics is that gravity is an emergent phenomena; that it somehow arises from the complex interaction of simpler things. A few month's ago, Erik Verlinde at the the University of Amsterdam put forward one such idea which has taken the world of physics by storm. Verlinde suggested that gravity is merely a manifestation of entropy in the Universe. His idea is based on the second law of thermodynamics, that entropy always increases over time.
The Myth of Gravity A new model in which gravity is not a fundamental force could—counterintuitively—give a controversial quantum gravity theory a boost. It may also change our picture of spacetime, and do away with dark energy. by Sophie Hebden
FQXiComm:Myth Gravity
A New View Of Gravity
W24 - NU! Nederlander bedenkt revolutionaire zwaartekrachttheori
NRC interview 2007
reageert. Margriet van der Heijden Hoe ziet de werkkamer van een snaarfysicus eruit? Welk uitzicht heeft een man die nadenkt over ruimte, tijd en kosmos?De kamer van hoogleraar Erik Verlinde (45), theoretisch fysicus aan de universiteit van Amsterdam, is opgeruimd en minimalistisch. Geen opsmuk.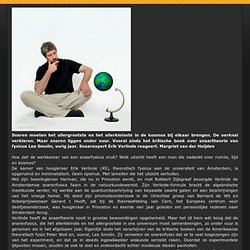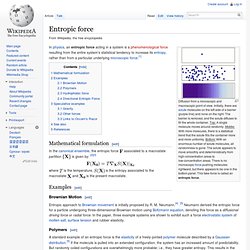 Entropic force
Diffusion from a microscopic and macroscopic point of view. Initially, there are solute molecules on the left side of a barrier (purple line) and none on the right. The barrier is removed, and the solute diffuses to fill the whole container. Top: A single molecule moves around randomly. Middle: With more molecules, there is a statistical trend that the solute fills the container more and more uniformly.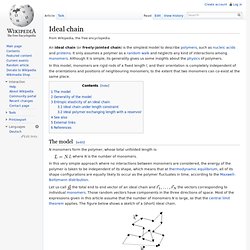 Ideal chain
An ideal chain (or freely-jointed chain) is the simplest model to describe polymers, such as nucleic acids and proteins. It only assumes a polymer as a random walk and neglects any kind of interactions among monomers. Although it is simple, its generality gives us some insights about the physics of polymers. In this model, monomers are rigid rods of a fixed length l, and their orientation is completely independent of the orientations and positions of neighbouring monomers, to the extent that two monomers can co-exist at the same place.
Emergence
Snowflakes forming complex symmetrical patterns is an example of emergence in a physical system. In philosophy, systems theory, science, and art, emergence is the way complex systems and patterns arise out of a multiplicity of relatively simple interactions. Emergence is central to the theories of integrative levels and of complex systems. Biology can be viewed as an emergent property of the laws of chemistry which, in turn, can be viewed as an emergent property of particle physics.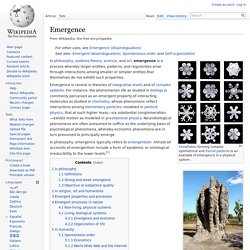 Dutch string theorist Erik Verlinde: gravity does not exist. The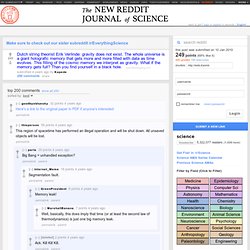 Get Flair in /r/Science| /r/AskScience for your Questions| /r/EverythingScience for Science News Discussion Filter by Field (Click to Filter) MedicinePhysicsComputer SciAstronomyMathematics ChemistryNanoscienceBiologyEnvironmentAnimal ScienceNeurosciencePsychologyCancerSocial SciencesAnthropologyGeologyPaleontologyEngineering Upcoming AMAs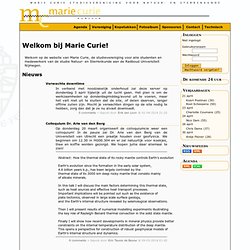 Marie Curie
Welkom op de website van Marie Curie, de studievereniging voor alle studenten en medewerkers van de studie Natuur- en Sterrenkunde aan de Radboud Universiteit Nijmegen. Nieuws Colloquium Hans de Raedt Op donderdag 28 november organiseert de colloquiumcie weer een colloquium! In de pauze zal Prof. Dr.
Colloquium Erik Verlinde
Zware klap voor zwaartekracht
23 augustus 2010 - Hoogleraar Theoretische Fysica Erik Verlinde (UvA) oogst internationale aandacht met een artikel waarin hij een nieuwe kijk op de zwaartekracht presenteert. Waar Isaac Newton ons vertelt dát er een appel van de boom valt, zet Verlinde een eerste stap om uit te vinden waarom dat gebeurt. "For me, gravity doesn't exist", zegt hij tegen de New York Times. UvA-hoogleraar Verlinde legt met zijn artikel 'On the Origin of Gravity and the Laws of Newton' de basis voor een nieuwe denkwijze over zwaartekracht.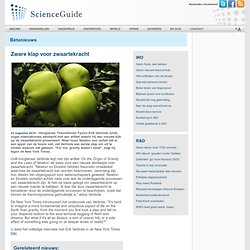 <div class="info"><span class="msg-icon"></span><p> To take full advantage of Flickr, you should use a JavaScript-enabled browser and <a href="http://www.macromedia.com/shockwave/download/download.cgi?P1_Prod_Version=ShockwaveFlash">install the latest version of the Adobe Flash Player</a>. </p></div> keyboard shortcuts: ← previous photo → next photo L view in light box F favorite < scroll film strip left > scroll film strip right ? show all shortcuts
The entropic origin of gravity sur Flickr : partage de photos !
Introducing the Professor Doctor sur Flickr : partage de photos 
Yeah, what about it ? sur Flickr : partage de photos !
Multitasking sur Flickr : partage de photos !
That was elegant sur Flickr : partage de photos !
Folia 4 juni 2010 pp10-11
De boekhouder van het heelal
Sterrenstelsels draaien veel harder dan ze zouden moeten doen, en het heelal dijt sneller uit dan we op grond van de zichtbare materie kunnen verklaren. Kosmologen zijn daarom naarstig op zoek naar de resterende 96 procent, die ze voor het gemak maar 'donkere materie' (20 procent) en 'donkere energie' (75 procent) hebben genoemd. Maar ze kijken daarbij de verkeerde kant op, zegt Verlinde. 'Het is eigenlijk een boekhoudkundig probleem. In de meeste beschrijvingen van de natuur laten we heel veel informatie weg. Dat kan je niet ongestraft doen, want dan rommel je dus met de zwaartekracht.'
UvA - De zwaartekracht van Erik Verlinde on Vimeo