Media about
But what if it's all an illusion, a sort of cosmic frill, or a side effect of something else going on at deeper levels of reality? So says Erik Verlinde, 48, a respected string theorist and professor of physics at the University of Amsterdam, whose contention that gravity is indeed an illusion has caused a continuing ruckus among physicists, or at least among those who profess to understand it. Reversing the logic of 300 years of science, he argued in a recent paper, titled "On the Origin of Gravity and the Laws of Newton," that gravity is a consequence of the venerable laws of thermodynamics, which describe the behavior of heat and gases.
A Scientist Takes On Gravity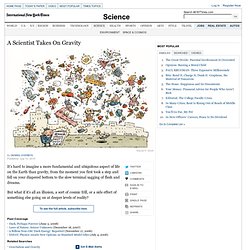 It From Bit: The Case Of Gravity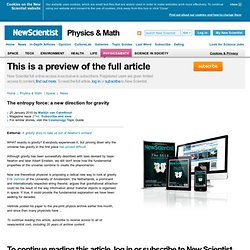 Editorial: A gravity story to take us out of Newton's orchard
The entropy force: a new direction for gravity - physics-math -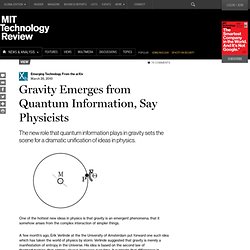 Technology Review: Blogs: arXiv blog: Gravity Emerges from Quant
One of the hottest new ideas in physics is that gravity is an emergent phenomena; that it somehow arises from the complex interaction of simpler things.
The Myth of Gravity
FQXiComm:Myth Gravity
A New View Of Gravity
W24 - NU! Nederlander bedenkt revolutionaire zwaartekrachttheori
NRC interview 2007
reageert. Margriet van der Heijden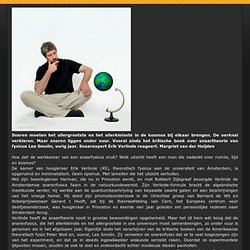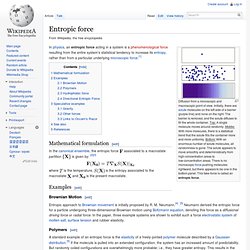 Entropic force
Diffusion from a microscopic and macroscopic point of view.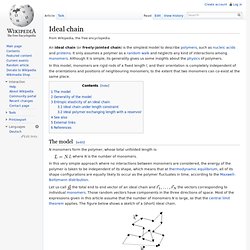 Ideal chain
An ideal chain (or freely-jointed chain) is the simplest model to describe polymers, such as nucleic acids and proteins.
Emergence
Snowflakes forming complex symmetrical patterns is an example of emergence in a physical system.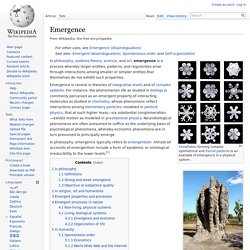 Dutch string theorist Erik Verlinde: gravity does not exist. The
Marie Curie
Colloquium Erik Verlinde
Zware klap voor zwaartekracht
23 augustus 2010 - Hoogleraar Theoretische Fysica Erik Verlinde (UvA) oogst internationale aandacht met een artikel waarin hij een nieuwe kijk op de zwaartekracht presenteert.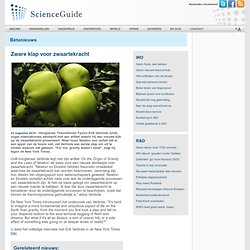 The entropic origin of gravity sur Flickr : partage de photos !
Introducing the Professor Doctor sur Flickr : partage de photos 
Yeah, what about it ? sur Flickr : partage de photos !
Multitasking sur Flickr : partage de photos !
That was elegant sur Flickr : partage de photos !
Folia 4 juni 2010 pp10-11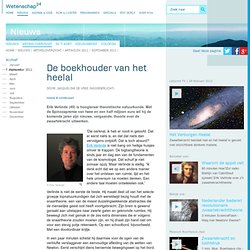 De boekhouder van het heelal
Sterrenstelsels draaien veel harder dan ze zouden moeten doen, en het heelal dijt sneller uit dan we op grond van de zichtbare materie kunnen verklaren. Kosmologen zijn daarom naarstig op zoek naar de resterende 96 procent, die ze voor het gemak maar 'donkere materie' (20 procent) en 'donkere energie' (75 procent) hebben genoemd.
UvA - De zwaartekracht van Erik Verlinde on Vimeo