Interesting
DEJA VU: CENSORSHIP IN EVOKE, AGAIN.
EVOKE Founders, Class of 2010
Invoke – An ARG to Save The World Bank
Invoke The Game (invokethegame) on Twitter
Unlike other electronic games you may have played, INVOKE is not a simulation. It is real. And by 'real' we mean 'on the internet'.
How to Play « Invoke – An ARG to Save The World Bank
ClaireMoylan
As many of you would be aware, the World Bank is behind a new online game called Evoke . EVOKE trailer (a new online game) from Alchemy on Vimeo . What is interesting is that already — while there has been much publicity before the game, it officially started on March 3rd — a parody has been created. Invoke is described as an "ARG to save the World Bank". It isn't the first parody of an ARG or online game of course. There was a similar one for I Love Bees called CAPitALLism ; and more general fun ones like I Love Beer .
Parody and Design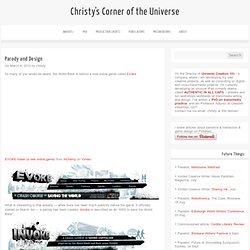 INVOKE: The Game « Pervasive Games: Theory and Design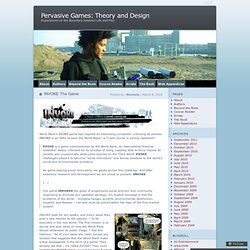 World Bank's EVOKE game has inspired an interesting competitor criticizing its policies. INVOKE is an "ARG to save the World Bank", a "crash course in saving capitalism". EVOKE is a game commissioned by the World Bank, an international financial institution widely criticised for its practise of using crippling debt to force impose its socially and economically destructive policies on the Third World. EVOKE challenges players to become "social innovators" and devise solutions to the world's social and environmental problems. As game-playing social innovators, we gladly accept this challenge. And after extensive research and development we are proud to present: INVOKE . [...]
OurApologies admitted in the mean time ?
Sarah's Evoke Season 2 Episode 1 Page 13
WhatNext - LEARN10 Urgent Evoke
Censored Sarah O'Connor Picture
Sarah's Evoke Season 2 Episode 1 Page 13 - Delta Team
Sarah's 4GW Counter-Oppression Dark Site - Delta Team
Delta Team Small Worlds
Censorship versus Freedom in Urgent Evoke - Delta Team
the arguments for censorship consists of sheltering people and children from 'inappropriate' media. those are merely a skewed rationale. what is the TRUTH? censorship takes away the RIGHTS and RESPONSIBILITIES of citizens to CHOOSE what is suitable for themselves and their children. censorship is about CONTROL. the worst is something i call 'pre-emptive tyrannical' censorship; where a special select few choose what is 'suitable' for public viewing. in addition, this type of censorship has NO transparency and NO formal process to appeal. sound familiar? Urgent Evoke moderators have been engaging in opaque, arbitrary censorship from the very beginning. posts and comments disappear without warning. when they occasionally grace someone with a reason, those given are ill-defined, vacillating and personal. hardly the actions of an ETHICAL organization that claims a focus on freedom and social activism. those of us that have thought on these issues know what the TRUTH is.
Censorship versus Freedom in Urgent Evoke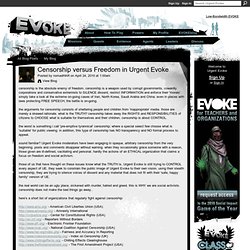 Delta Team - EVOKE's Special Forces
Delta Team - EVOKE's Special Forces
A promise to find new agents
Act 9 Crisis Networking DARKSITE IN PROGRESS
Since I believe in crowd sourcing and proper planning that makes it easy for people to get at the best data clustered together I have decided to take Sarah O.Connor's idea FOUND HERE ( http://www.urgentevoke.com/profiles/blogs/the-darknet-initiative ) seriously and build my dark site on the dark net initiative that will be run by http://deltaning.com and http://evoke4ever.groupsite.com together. My site is called dark energy and I will gradually update it to deal not only with swineflu which is where I am going to start but also for riots, terrorism and earthquakes or any other mishaps that may affect Bangalore city. I am using the urgenevoke emergency site as the info source for this project.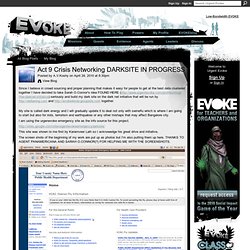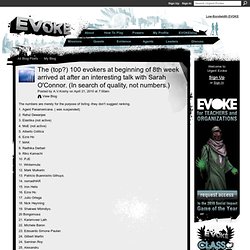 The (top?) 100 evokers at beginning of 8th week arrived at after
The numbers are merely for the purpose of listing -they don't suggest ranking. 1. Agent Panamericana. ( was suspended) 2.
How to "WIN"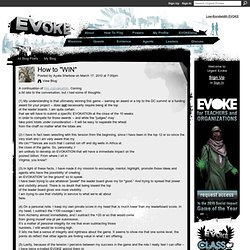 A continuation of this conversation . Coming a bit late to the conversation, but I had some of thoughts: (1) My understanding is that ultimately winning this game -- earning an award or a trip to the DC summit or a funding award for your project -- does not necessarily require being at the top of the leader boards. I am quite certain that we will have to submit a specific EVOKATION at the close of the 10 weeks in order to compete for those awards -- and while the "judges" may take point totals under consideration -- it will be easy to separate the wheat from the chaff no matter what the totals are.
Evoke Is Boring And Garbage
Gameplay: - Powers are arbitrary numbers with no perceivable reward value . In any game that increases your powers, there's an obvious reward. Maybe you can deal more damage to an enemy or gain access to more parts of the game. Here, I just see some number. - Completing quests or missions offers no perceivable reward value.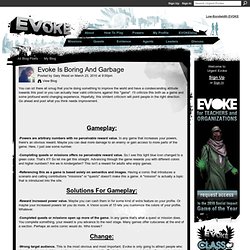 How To Actually Make This A Game
So, I noticed the first response a la "People are dying from hunger in the world, and you dare to call this a game?!" to EVOKE. Ok, all of this becomes quite meta , but you will have to excuse me. The trick is to hook the attention of people who don't normally get involved with 'saving the world' to be interested in doing so. To grab the attention of some of those who, today, perhaps just sits in WoW or other games, or who is lost in Lost episodes.
This isn't a game!
I'd like your opinions about motivation, especially as regards Evoke. I've seen some posts about the gameplay aspect of this site, and some posts about teaching, but not seen the two groups talking very much. I used to work in sales, now I'm a teacher, and I'm participating in Evoke after seeing Jane's TED speech about using games to teach people . I use stuff like Third World Farmer to stimulate conversation quite often. (Be careful, this one can be addictive.)
Gamers, teachers, I need your ideas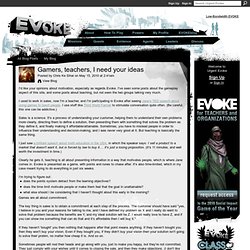 alias FAREWELL to EVOKE alias why Jane doesn't like me alias EVOKATIONouttaEVOKE Ongoing projects Me and EVOKE Limits of a JUSTAGAME Freedom of speech Changing paradigm Introduction This post is intended to point out why I stopped playing this game and to make a few considerations about the theoretical and practical limits which EVOKE revealed, by the time, when I was yet one of its "agents". If you're one of those whose only interest is having fun, then you can just skip this page and keep reading the last posts from other agents' blogs.
MoE LEARN, ACT, IMAGINE forever
beyondEVOKE
Elastika
Jacob Glaser Illustration
Mostly he draws at night ... mostly.
Welcome | The Signtific Lab | Massively Multiplayer Thought Expe
TheSigntificLab Robotics for Sustainability
Robotics for Sustainability Experiment is Closed! Thanks for playing. Please look at the blog to see who won awards. Also, feel free to click through the cards on this site to see some of the great conversations we had about Robotics for Sustainability.
Change My Life!
Signtific Lab (signtificlab) on Twitter
beyondEVOKE | The Signtific Lab | Massively Multiplayer Thought
The experiment is closed! Find out what happened on the Lab blog ! beyondEVOKE Lab Level: Legend score strengths
Subtle Technologies
Building on the impact the Web has had on developed economies today, and what the Web and mobile phones can enable in developing economies in the future, the Web Foundation promotes a world where any person or group with an idea can acquire the technical and entrepreneurial skills to create and deploy new mobile services.
Mobile Entrepreneurs in Africa
This visualization of Indian Railway Network was created by Arun Ganesh.
Indian Railway Network on OSM
Dale Zak Volunteerism Mobile
Debate 2.0: How can social media save the planet?
Lindau Nobel Laureate Meetings
Using GIS to Increase Citizen Engagement
Digital Capital Week - June 11th to June 20th, 2010
agenda: Using GIS
Using Geospatial Information Systems (GIS) to Enhance Citizen Pa
intro document
Ganapati GIS Report