Digital Diplomacy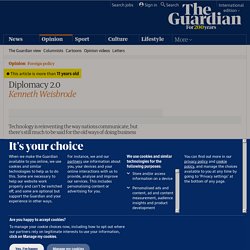 Diplomacy 2.0 | Kenneth Weisbrode | Comment is free
There is much talk in the air – especially in Britain and the United States – about reinventing diplomacy for the 21st century.
New diplomacy
The Forum for New Diplomacy features leading figures in politics, business and civil society in discussion with senior editors and columnists from the International Herald Tribune and The New York Times about emerging dynamics in global affairs. The Forum will provide an ongoing opportunity for exploring "new diplomacy" with a particular emphasis on innovative approaches to effecting change in international relations. International Justice & Diplomacy : Partnering for Peace & International Security
Forum for new Diplomacy
Video Secretary of State Hillary Clinton gives a speech on Internet freedom at the Newseum in Washington, DC.
Digital Diplomacy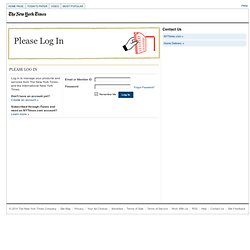 Michele Asselin for The New York Times Jared Cohen, left, and Alec Ross with mobile devices at the ready. "Exactly 140 characters," Cohen said.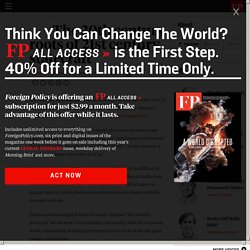 The 20th century roots of 21st century statecraft
Let's imagine a parallel universe for a second. In that universe, the U.S. State Department decides that energy -- rather than the Internet -- would form one of the core pillars of " 21st century statecraft ." To that end, the secretary of state would give a speech about some highly abstract and ambiguous concept like "environmental freedom" that would strike the right chord with the media -- if only because it promises a greener future for all of us! Since energy-inspired "21st century statecraft" would be difficult to practice without courting the private sector -- the likes of Haliburton, Exxon Mobile, and Chevron -- their executives would be taken on regular tours of exotic places and invited to private dinners with the secretary of state.
Response Do the tools of social media make it possible for protesters to challenge their governments? Malcolm Gladwell argues that there is no evidence that they do; Clay Shirky disagrees. Snapshot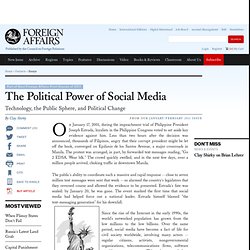 Clay Shirky just published a piece in Foreign Affairs on "The Political Power of Social Media." I'm almost done with writing my literature review of digital activism in repressive states for my dissertation so this is a timely write-up by Clay who also sits on my dissertation committee. The points he makes echo a number of my blog posts and thus provides further support to some of the arguments articulated in my dissertation.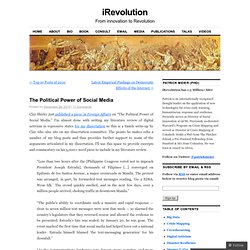 The Political Power of Social Media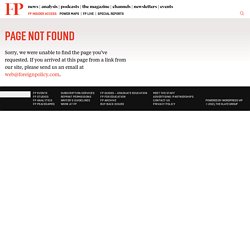 A year ago this January, U.S. Secretary of State Hillary Clinton took the stage at Washington's Newseum to tout an idea that her State Department had become very taken with: the Internet's ability to spread freedom and democracy. "We want to put these tools in the hands of people who will use them to advance democracy and human rights," she told the crowd, drawn from both the buttoned-up Beltway and chronically underdressed Silicon Valley. Call it the Internet Freedom Agenda: the notion that technology can succeed in opening up the world where offline efforts have failed. That Barack Obama's administration would embrace such an idea was not surprising; the U.S. president was elected in part on the strength of his online organizing and fundraising juggernaut.
Freedom.gov - By Evgeny Morozov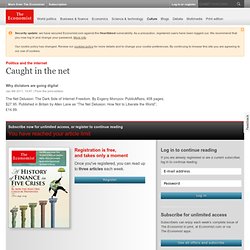 <a href="//ad.doubleclick.net/jump/teg.usmh/fiyh/a;subs=n;wsub=n;sdn=n;!c=17848401;dcopt=ist;pos=ldr_top;sz=728x90,970x90,970x250;tile=1;ord=674141190?" target="_blank"><img src="//ad.doubleclick.net/ad/teg.usmh/fiyh/a;subs=n;wsub=n;sdn=n;!c=17848401;dcopt=ist;pos=ldr_top;sz=728x90,970x90,970x250;tile=1;ord=674141190?"
Politics and the internet: Caught in the net
Office of eDiplomacy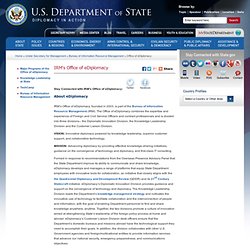 IRM's Office of eDiplomacy Stay Connected with IRM's Office of eDiplomacy : About eDiplomacy IRM's Office of eDiplomacy, founded in 2003, is part of the Bureau of Information Resource Management (IRM).
State eDiplomacy (eDipAtState) on Twitter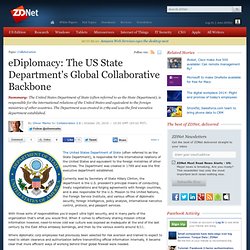 The United States Department of State (often referred to as the State Department), is responsible for the international relations of the United States and equivalent to the foreign ministries of other countries. The Department was created in 1789 and was the first executive department established. Currently lead by Secretary of State Hillary Clinton, the department is the U.S. president's principal means of conducting treaty negotiations and forging agreements with foreign countries, and is also responsible for the U.S. Mission to the United Nations, the Foreign Service Institute, and various offices of diplomatic security, foreign intelligence, policy analysis, international narcotics control, protocol, and passport services.
eDiplomacy: The US State Department's Global Collaborative Backbone
By Kristen Coco Richard Boly is not what you'd expect from your typical State Department diplomat. Dressed in jeans, a printed t-shirt and electric blue blazer, and armed with a bio that includes running a shrimp hatchery in coastal Ecuador, you would never guess walking down the street that he works for the oldest federal agency in the U.S. -- one long recognized for its entrenched commitment to "bureaucracy."
The Morningside Post: eDiplomacy Ushers In a New Culture of Collaboration at State
Diplopedia
Diplopedia Logo Diplopedia , billed as the Encyclopedia of the United States Department of State , is a wiki running on a State internal Intranet , called "OpenNet". It houses a unique collection of information pertaining to diplomacy , international relations , and Department of State tradecraft. The wiki may be used by U.S. foreign affairs agencies domestic and abroad with State intranet access. It is also available to the United States intelligence community and other national-security related organizations using the Intelink-U network as a mirrored, read-only archive.
Homepage
Anne-Marie Slaughter Director of Policy Planning for the United States Department of State
Photo credit: Denise Applewhite
WikiLeaks turned the tables on governments, but the power relationship has not changed | Media
WikiLeaks "changes everything". So says Christian Caryl in the latest New York Review of Books , as the media, technology and foreign policy worlds ponder the effect of the industrial dumping of US government cables. For several years American analysts in particular have been trying to make sense of the information free-for-all facilitated by the internet. Julian Assange 's perhaps inadvertent contribution is to have brought a previously arcane debate into the forefront of global politics.
Apps@State
Apps@State (AppsAtState) on Twitter
Introducing Apps@State
GovTwit - the Government Social Media Directory
US diplomacy embracing Twitter amid global crises
Macon Phillips (EOP) (macon44) on Twitter
Leiders gezocht: De interactieve leider
De Publieke Omroep is wettelijk verplicht toestemming te vragen voor het gebruik van cookies. Als je deze eenmalig accepteert, dan zijn alle websites van de Publieke Omroep te bezoeken. Wij maken gebruik van functionele cookies en cookies voor het beheer van webstatistieken, advertenties en social media. De cookies bewaren geen persoonsgegevens en zijn dus niet aan een individu te koppelen.
Eric Schmidt, Alec Ross & Jared Cohen on 21st Century Statecraft
Jared Cohen (JaredCohen) on Twitter
Facebook and Arab Dignity
Alec Ross (AlecJRoss) on Twitter
Alec Ross: Worth reading: @erict19 on
(pdf)America's Edge power in the Networked Century Anne-Marie Slaughter
Chris Quigley's Page - UKGovWeb
The man opening up government | Society
MinBuZa (minbuza) on Twitter
Ambtenaar 2.0 _Ning_samen werken aan overheid 2.0
Ambtenaar 2.0 (ambtenaar20) on Twitter
NeelieKroesEU: Met Andrew Rasiej #persona
Andrew Rasiej (Rasiej) on Twitter
Verhagen forceert iPhone van de zaak
UK Government Building Facebook App
UK Government to Crowdsource Spending Cuts on Facebook
Fouad Ajami: WikiLeaks and the Art of Diplomacy
Video: Clinton Comments on Wikileaks 11/29/2010 3:06:50 PM
Gov 2.0 Summit 2010 - Co-produced by UBM TechWeb & O'Reilly Conferences, September 07 - 08, 2010, Washington, DC
Gov 2.0 (govwiki) on Twitter
Cool Gov 2.0 sites you don't know about | Socialbrite
Twitter list @timoreilly/gov20
Institute for Public Diplomacy and Global Communication - The Elliott School of International Affairs and The School of Media and Public Affairs - The George Washington University
handbookofpublicdiplomacy
Diplomatie publique
Homepage
Institute for video_Public Diplomacy and Global Communication
QDDR_Lord_Jan2010_code213_policybrf_0