Craft
Origami Club. How to make 25 paper Christmas ornaments. Here's a roundup of ornaments you can make from paper.Above left: I made with these instructionsAbove right: I made with these instructions (Update: this is now an old post; some of the links no longer work.)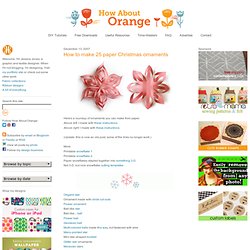 More: Printable snowflake 1 Printable snowflake 2 Paper snowflakes stapled together into something 3-D Not 3-D, but nice snowflake cutting templates Origami star Ornament made with circle cut-outsFlower ornament Ball-like star Ball-like... ballFlower ballGeodesic ballMulti-colored balls made this way, but fastened with wireMany-pointed star Mini star-shaped bookletGlitter star ornamentsMoravian stars Recycled paper ornamentCrystal ornament free download plus a gallery of inspiration Huge spiky star Origami Christmas tree 1 Origami Christmas tree 2 Kirigami Christmas tree 3.
Folding Trees & Kusudama Tutorial part 1 - StumbleUpon. The Japanese kusudama is a paper ball made out of multiple identical origami shapes glued together.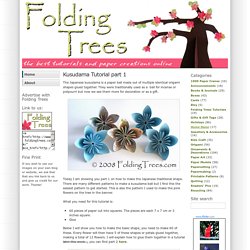 They were traditionally used as a ball for incense or potpourri but now we see them more for decoration or as a gift. Today I am showing you part 1 on how to make the Japanese traditional shape. There are many different patterns to make a kusudama ball but I find this the easiest pattern to get started. This is also the pattern I used to make the pink flowers on the tree in the banner. Hobby. Crafty Tree.
---