Angel Investor
In the last article, we discussed how you would go about describing your company's product or service. Now that potential investors have a clear idea of what your company does, you need to show them the potential for how much money the company can make. You do this by outlining the market size potential and revenue model for your company. First lets start with market size. The amount of market share your company will get each year is obviously highly speculative, especially for a new company offering a new product or service. However, rather than just come up with a number such as the number of customers you project to have after the first year, it is important to show the reasoning behind this number.
What angels look for in a company: Market size and revenue model (part 2 of 6) | StartupNorth (Build 20100722155716)
Angel Group | US Angel Investors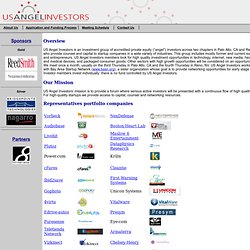 Overview US Angel Investors is an investment group of accredited private equity ("angel") investors across two chapters in Palo Alto, CA and Reno, NV, who provide counsel and capital to startup companies in a wide variety of industries. This group includes mostly former and current executives and entrepreneurs. US Angel Investors members look for high quality investment opportunities in technology, internet, new media, healthcare and medical devices, and packaged consumer goods. Other sectors with high growth opportunities will be considered on an opportunistic basis.
U.S. Angel Investors - Silicon Valley and San Francisco Bay Area angel investor, venture capital, startup network
Band Of Angels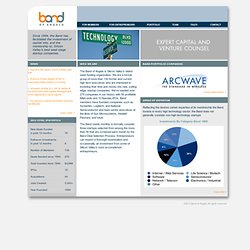 The Band of Angels is Silicon Valley's oldest seed funding organization. We are a formal group of more than 130 former and current high tech executives who are interested in investing their time and money into new, cutting edge, startup companies. We've seeded over 270 companies in our history with 50 profitable M&A exits and 10 Nasdaq IPOs. Band members have founded companies such as Symantec, Logitech, and National Semiconductor and been senior executives at the likes of Sun Microsystems, Hewlett Packard, and Intuit.