Angel Investor
In the last article, we discussed how you would go about describing your company's product or service. Now that potential investors have a clear idea of what your company does, you need to show them the potential for how much money the company can make.
What angels look for in a company: Market size and revenue model (part 2 of 6) | StartupNorth (Build 20100722155716)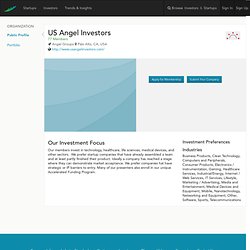 US Angel Investors - Ideal Startup Investment Our members invest in technology, healthcare products and services, medical devices, and other sectors.
Angel Group | US Angel Investors
U.S. Angel Investors - Silicon Valley and San Francisco Bay Area angel investor, venture capital, startup network
Band Of Angels
Six Tips To Finding the Elusive Angel Investor