Recomandari
Blow (2001. Edit Storyline A boy named George Jung grows up in a struggling family in the 1950's.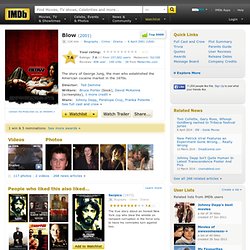 His mother nags at her husband as he is trying to make a living for the family. It is finally revealed that George's father cannot make a living and the family goes bankrupt. Détour mortel (2003. Edit Storyline Chris Flynn is driving his car for a job interview in another city.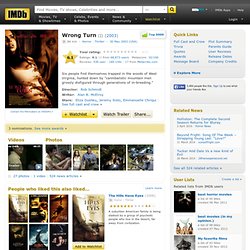 However, an accident with a trunk transporting chemical products blocks the highway and Chris looks for an alternative route through the mountains of West Virginia to accomplish his schedule. The Hills Have Eyes (2006. Edit Storyline Wes Craven produces this remake of his 1977 classic of the same name, about the Carters, an idyllic American family travelling through the great American southwest.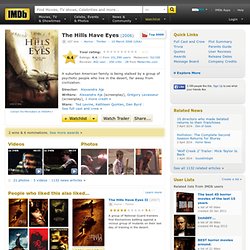 But their trip takes a detour into an area closed off from the public, but more importantly from society. An area originally used by the U.S. Government for nuclear testing that was intended to be empty...or so they thought? In the Shadow (2011. Sushi Girl (2012. Following (1998. Edit Storyline An older man listens to Bill's story about being a callow writer who likes to follow strangers around around London, observing them.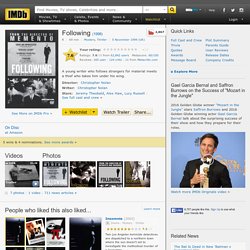 Insomnia (2002. Quotes Dormer: Randy, this whole thing you're doing, you know, this "fuck the world" act.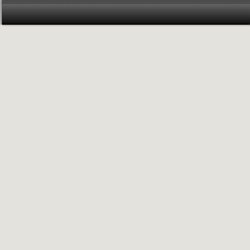 Now that might work with your mama. Les conspirateurs du plaisir (1996. Das Experiment (2001. Acid House (1998. The Doors (1991. Oldboy (2003. Spider (2002. Death Note (2006. Edit Storyline Light Yagami finds the "Death Note," a notebook with the power to kill, and decides to create a Utopia by killing the world's criminals, and soon the world's greatest detective, "L," is hired to find the perpetrator.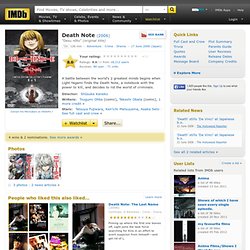 An all out battle between the greatest minds on earth begins, the winner controlling the world. Written by Ryuzaki.
---