Recomandari
Blow (2001
Edit Storyline A boy named George Jung grows up in a struggling family in the 1950's. His mother nags at her husband as he is trying to make a living for the family. It is finally revealed that George's father cannot make a living and the family goes bankrupt.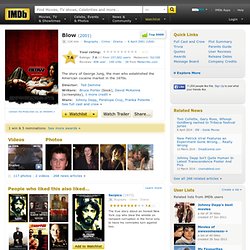 Edit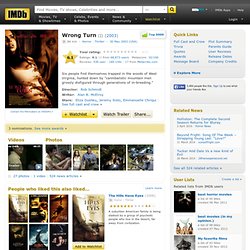 Détour mortel (2003
The Hills Have Eyes (2006
Edit Storyline Wes Craven produces this remake of his 1977 classic of the same name, about the Carters, an idyllic American family travelling through the great American southwest. But their trip takes a detour into an area closed off from the public, but more importantly from society. An area originally used by the U.S. Government for nuclear testing that was intended to be empty...or so they thought?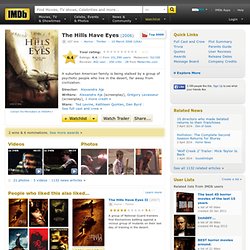 In the Shadow (2011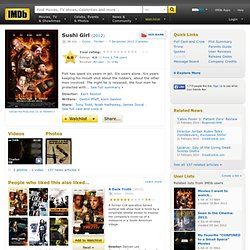 Sushi Girl (2012
Edit Storyline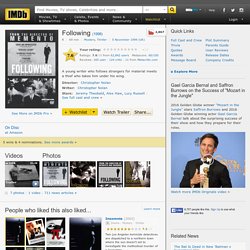 Quotes [first lines] Bill: The following is my explanation. Well, more of an account of what happened.
Following (1998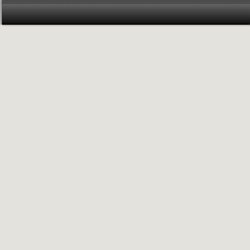 Insomnia (2002
Edit Storyline Sent from the city to investigate the murder of a teenage girl in a small Alaska town, a police detective (Pacino) accidentally shoots his own partner while trying to apprehend a suspect.
Les conspirateurs du plaisir (1996
Edit Storyline The movie is based on the infamous "Stanford Prison Experiment" conducted in 1971. A makeshift prison is set up in a research lab, complete with cells, bars and surveillance cameras. For two weeks 20 male participants are hired to play prisoners and guards. The 'prisoners' are locked up and have to follow seemingly mild rules, and the 'guards' are told simply to retain order without using physical violence.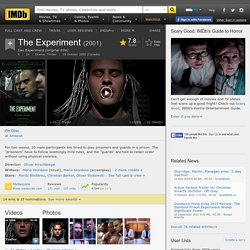 Das Experiment (2001
Acid House (1998
Edit Storyline Oliver Stone's homage to 1960s rock group The Doors also doubles as a biography of the group's late singer, the "Electric Poet" Jim Morrison. The movie follows Morrison from his days as a film student in Los Angeles to his death in Paris in 1971, at the age of 27. The movie features a tour-de-force performance by Val Kilmer, who not only looks like Jim Morrison's long-lost twin brother, but also sounds so much like him that he did much of his own singing. It has been written that even the surviving Doors had trouble distinguishing Kilmer's vocals from Morrison's originals.
The Doors (1991

Edit Storyline An average man is kidnapped and imprisoned in a shabby cell for 15 years without explanation.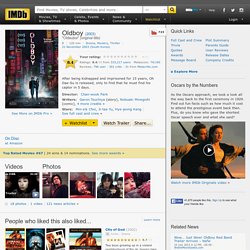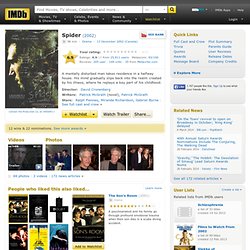 Edit
Spider (2002
Edit Storyline Light Yagami finds the "Death Note," a notebook with the power to kill, and decides to create a Utopia by killing the world's criminals, and soon the world's greatest detective, "L," is hired to find the perpetrator. An all out battle between the greatest minds on earth begins, the winner controlling the world. Written by Ryuzaki
Death Note (2006