Neuroscience
What exactly is déjà vu?
James M. Lampinen, an assistant professor of psychology at the University of Arkansas, supplies the following answer: Déjà vu is a strong sense of global familiarity that occurs in a seemingly novel situation. The familiarity experienced in déjà vu is global in that it seems as if the entire event--every detail--has happened before, despite the knowledge that the event is unique. The experience is frequently disconcerting and is often accompanied by a sense of unreality. Most people experience déjà vu at some point in their lives--surveys indicate that a majority of respondents have experienced at least one episode of déjà vu.
By Vaughan Bell, The Observer Sunday, April 29, 2012 8:34 EDT It is the boom area in science. Vaughan Bell explains why What is neuroscience?
A brief guide to neuroscience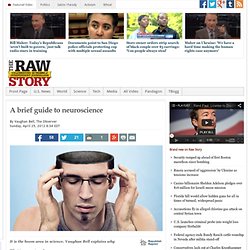 "Spirituality is a much more dynamic concept that uses many parts of the brain. Certain parts of the brain play more predominant roles, but they all work together to facilitate individuals' spiritual experiences," says Brick Johnstone, professor of health psychology. (Credit: "Man pointing to sky" image via Shutterstock ) U. MISSOURI (US) — New research challenges the idea that the human brain has a "God spot," a distinct area responsible for spirituality. Work by University of Missouri researchers indicates spirituality is a complex phenomenon, and multiple areas of the brain are responsible for the many aspects of spiritual experiences.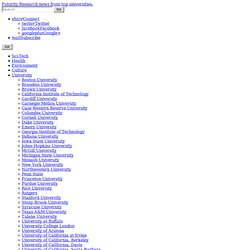 No single 'God spot' in human brain
Your IQ Depends on a Single Gene
We all have that one friend who never shit-talks anyone, discreetly volunteers at the dog shelter every weekend, and refuses to steal olives from the food court — and she's not even annoying about any of it because she's just so goddamned nice . What's her deal? Was she raised differently? Is she high on the goodwill of the holy spirit?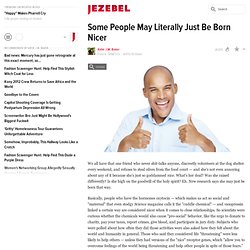 Some People May Literally Just Be Born Nicer
Our Most Important Memories Live in Just a Few Neurons
There's math hiding in the music we love
Researchers discovered that composers have their own individual rhythmic signature. "Mozart's notated rhythms were the least predictable, Beethoven's were the most, and Monteverdi and Joplin had nearly identical, overlapping rhythm distributions. But they each have their own distinctive rhythmic signature that you can capture," says Daniel Levitin, a neuroscientist at McGill University. (Credit: Vlue / Shutterstock )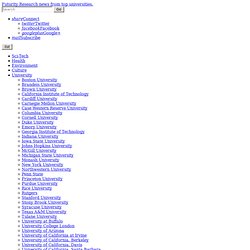 Metaphors actually trigger the sensory parts of our brains
Neuroscience the new face of warfare: experts
If you know you have to remember, say, a phone number for longer than that you will probably be aware of "rehearsing" the number string until you have a chance to write it down. Short term memory only lasts for a handful of seconds (a more precise figure would require me looking it up), but this is if you don't rehearse the information. This is measured by showing someone something to remember, and then giving them a distractor task to stop them rehearsing (like counting down from 673 in steps of three).
How does your brain create short-term memories?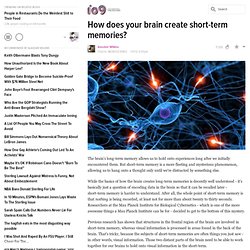 CALTECH (US) — Based on a new study with locusts, researchers better understand how the brain adapts to remember new and specific smells. The California Institute of Technology (Caltech) study focuses on a key feature of human and animal brains—that they are adaptive. They are able to change their structure and function based on input from the environment and on the potential associations, or consequences, of that input. "Although these results were obtained from experiments with insects, the components of the mechanism exist also in vertebrate, including mammalian, brains which means that what we describe may be of wide applicability," says Stijn Cassenaer, senior research fellow in brain circuitry at Caltech and lead author of a paper—published in the journal Nature —that outlines the findings.
Smells, great and gross, reshape the brain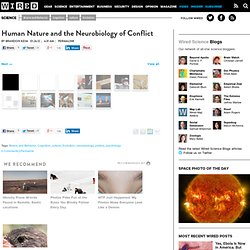 Human Nature and the Neurobiology of Conflict | Wired Science
Areas of inquiry once reserved for historians and social scientists are now studied by neuroscientists, and among the most fascinating is cultural conflict. Science alone won't provide the answers, but it can offer new insights into how social behavior reflects -- and perhaps even shapes -- basic human biology. An upcoming issue of the Philosophical Transactions of the Royal Society B features a collection of new studies on the biology of conflict. On the following pages, Wired looks at the findings.
This is what your brain on drugs really looks like
In all other studies in the last 10 years (and yes, there have been quite a number of them), the psilocybin was created synthetically in a lab associated with the university doing the study, in accordance with any number of laws. Even in the US, where drugs are Schedule I (no medical purpose), it is possible to get a license to use such drugs for the purposes of research with permission from the FDA and DEA. Also, in past studies, they have used drug naive people, and placebo controls, to get rid of the "not telling the truth" part. Finally, they typically will either advertise in a way that either doesn't mention the drug, or, if they are specifically looking for users of that drug, they will say something like "Former or current users of psychedelic drugs wanted for fMRI study of brain activity."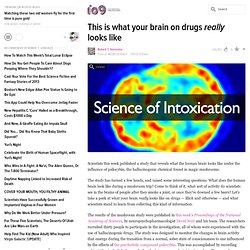 "Most public policy is based on offering people incentives and disincentives," says psychologist Gregory Berns. "Our findings indicate that it's unreasonable to think that a policy based on costs-and-benefits analysis will influence people's behavior when it comes to their sacred personal values, because they are processed in an entirely different brain system than incentives." (Credit: EugenP / Shutterstock ) EMORY (US) — Brain images show personal values that people refuse to disavow—even when offered cash to do so—are processed differently than values that are willingly sold. "Our experiment found that the realm of the sacred—whether it's a strong religious belief, a national identity or a code of ethics—is a distinct cognitive process," says Gregory Berns, director of the Center for Neuropolicy at Emory University and lead author of the study published in Philosophical Transactions of the Royal Society .
When the brain refuses to take the cash
The antidepressant Prozac selectively targets the chemical serotonin. Paul S. Howell / Getty Images
When It Comes To Depression, Serotonin Isn't The Whole Story : Shots - Health Blog
AN ARTIFICIAL brain has taught itself to estimate the number of objects in an image without actually counting them, emulating abilities displayed by some animals including lions and fish , as well as humans. Because the model was not preprogrammed with numerical capabilities, the feat suggests that this skill emerges due to general learning processes rather than number-specific mechanisms. "It answers the question of how numerosity emerges without teaching anything about numbers in the first place," says Marco Zorzi at the University of Padua in Italy, who led the work.
How exactly do neurons pass signals through your nervous system?