Atheism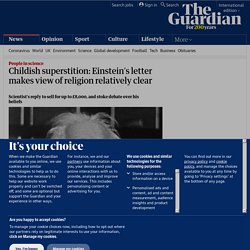 Einstein writes of 'childish superstition' | Science
Albert Einstein, pictured in 1953. Photograph: Ruth Orkin/Hulton Archive/Getty Images "Science without religion is lame, religion without science is blind." So said Albert Einstein, and his famous aphorism has been the source of endless debate between believers and non-believers wanting to claim the greatest scientist of the 20th century as their own.
What I like about the year 1453 (year of the movable press) is that there's so much important stuff happening in one year. There's the aforementioned Gutenberg press, which allowed for much easier dissemination of ideas, making the Renaissance happen much quicker (or at all). Then there's the end of the Hundred Year's War which sets up France as a powerful continental state and divides the English, causing the War of the Roses. This put the Tudors on the throne, leading to the English Reformation, leading to the Puritans moving to North America, etc. Finally there's the Fall of Constantinople that led to people looking for new ways to the Indies. This led the Portuguese to Africa and the Spanish to the Americas.
Printed books existed nearly 600 years before Gutenberg's Bible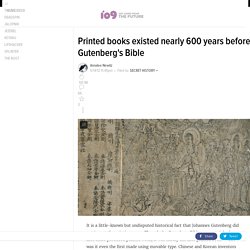 hristopher Hitchens is, of all the atheists I admire, the one I admire the most. I want him to live forever. But as that is impossible–for any of us–it's his voice I will miss the most. He is a journalist, a polemicist, a bad boy.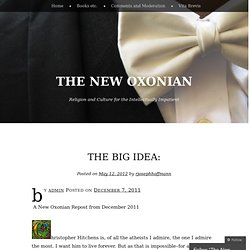 The Big Idea: « The New Oxonian
Martin Amis described his close friend Hitchens as an auto-contrarian and a 'bit of a scallywag'. Photograph: Shannon Stapleton/Reuters "Little Keith" called him a suffering auto-contrarian and likened him to Houdini; Graydon Carter said he was a "bit of a scallywag" but an editor's dream; and the doctor who treated him for the cancer of the oesophagus that killed him said he was a "pioneer at the frontier". Unsurprisingly, though, it was Christopher Hitchens who had the funniest and the most apposite words with which to describe himself at his own memorial in New York on Friday. He was, he said of himself in posthumous film clips and readings, a "radical freelance scribbler" who had devoted his life to curiosity, irony, debunking, disputation, drinking, love and hate (though of all those things, it was hate that got him out of bed in the morning).
Christopher Hitchens' wit and warmth remembered as New York pays tribute | Books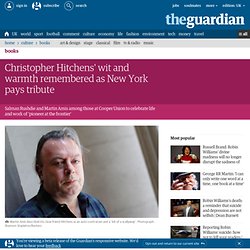 For many, faith in God rises with age
The data comes from 30 countries in which surveys about belief in God have been taken at least twice, in some cases, since 1991. Researchers asked questions to determine people's range of beliefs, from atheism to strong belief in God; their changing beliefs over their lifetime; and their attitude toward the notion that God is concerned with individuals. (Credit: iStockphoto ) U. CHICAGO (US) — Belief in God increases with age, even in countries that are largely atheist, according to new research. International surveys about the depth of people's belief in God show vast differences among nations, ranging from 94 percent of people in the Philippines who say they always believed in God, to only 13 percent of people in the former East Germany.
Over the past three years, I have been reporting a lot about the 7 Mountains dominionist movement and decided it was time to actually attend a conference instead of watching sermon after sermon on YouTube. So for the Passover weekend, a friend of mine and I spent three days at a Christian dominionist conference in Sedona, Arizona, a New Age "mecca," if you will. By Christian dominionism, I am referring to the "Seven Mountains mandate" whereby a sect of evangelical Christians believe that they must "occupy" and "dominate" seven spheres of culture — education; religion; family; business; government; arts and entertainment; and media in order to create a Christian kingdom for Jesus Christ to rule. One of the most popular seven mountains teachers is Lance Wallnau, and I heard him there. I have to admit, I was impressed with Wallnau's speaking talents and ability to enthuse a crowd.
The Lions of Judah – a glance at a Christian dominionist conference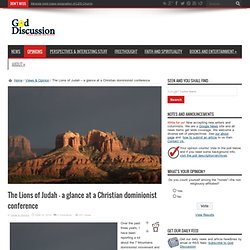 What the "nones" believe
America Magazine - A Movie, a Mystic, a Spiritual Tradition
How to respond to requests to debate creationists : Pharyngula
Atheist News Base | Your secular news source!
Home | Americans United
Margaret Downey
Steven Pinker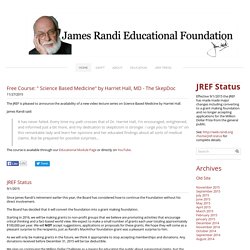 As much as it riles up proponents of science-based medicine like myself, homeopathy can be a great teaching tool. But most of the time this opportunity is squandered.
God Discussion
Daniel C. Dennett, Co-Director Center for Cognitive Studies University Professor Austin B.