Kognition
Educational Psychology
Problem Solving & Metacognition in Education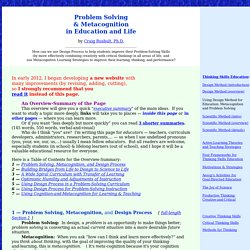 Table of Contents Here are the parts of this page:Overview-Summary (useful for a quick "big picture" view) 1 — Problem Solving, Metacognition, and Design Process 2 — Building Bridges from Life to Design to Science to Life 3 — A Wide Spiral Curriculum with Transfer of Learning 4 — Optimistic Humility and Adjustments of Instruction 5 — Using Design Process in a Problem-Solving Curriculum 6 — Using Design Process for Problem-Solving Instruction 7 — Using Cognition-and-Metacognition for Learning & Teaching Appendix: Conceptual Evaluation of Instruction (for predictions about education) Coping with Complexity in Models of Design & Science (begin with simplicity) and there will be a few more mini-sections in the appendix. In early 2012, I began developing a new website with many improvements (by revising, adding, cutting), so I strongly recommend that youread it instead of this page. 1 — Problem Solving, Metacognition, and Design Process { Condensed Section 1 }
Empfehlung Lernen im Vorübergehen mit einem Lernposter, z.B. Sprachenlernen (Englisch, Französisch, Spanisch, Italienisch), Grundwortschatz in Englisch oder Wirtschaftsenglisch, sich in Deutsch verbessern (Wortarten, Satzbau, Satzarten, Rechtschreibung), den Lateinischen Grundwortschatz erarbeiten, Mathematik (Geometrie, Größen und Einheiten, Rechenregeln und Rechengesetze, Bruch- und Prozentrechnen, Dreisatz) erarbeiten oder Chemie (Einteilung der Stoffe, Trennverfahren für heterogene Stoffe) lernen, mit einem Musikposter für Gitarristen (Skalen, Barrégriffen & Powercords, Alternate Picking) ein Instrument lernen.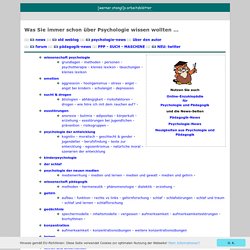 Inhalt » » Lexikon
Metacognition
METACOGNITION consists of three basic elements: Developing a plan of action Maintaining/monitoring the plan Evaluating the plan Before - When you are developing the plan of action, ask yourself: What in my prior knowledge will help me with this particular task?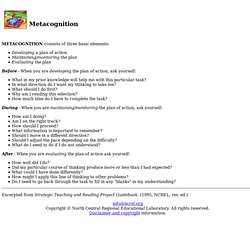 Metacognition: An Overview Jennifer A. Livingston © 1997 by Jennifer A. Livingston "Metacognition" is one of the latest buzz words in educational psychology, but what exactly is metacognition?
Metacognition: An Overview