Computer
Get flash to fully experience Pearltrees
Im Bereich der Webauftritte stellen wir vermehrt fest, dass es bezüglich des erlaubten und rechtlich vorgeschriebenen Contents zu Problemen kommt. Leider ist zu beobachten, dass viele Unternehmen ihren Konkurrenten durch gezielte Abmahnaktionen schaden wollen. Insbesondere bezüglich den nötigen Hinweispflichten und des Datenschutzes sind genaue Vorgaben zu beachten, bei deren Nichteinhaltung sofort Abmahnungen drohen. Diese können im Vorfeld schon vermieden werden, wenn Sie Ihre Homepage oder Ihren Webauftritt von uns überprüfen lassen. Als Kanzlei für Neue Medien sind wir darauf spezialisiert, Gefahrenquellen auf Ihrer Webpage ausfindig zu machen.
Symptoms After creating a Container using Ubuntu 8.10 or a later EZ OS template, it is not possible to log in to Parallels Power Panel of the Container, and the following error message is shown: "Invalid username or password, please try again." However, it is possible to log in to the Container via SSH. Cause It seems that Ubuntu 8.10 is forced to use SHA512 hashing by default.
SEO (Search Engine Optimization) Analysis Tool This SEO Analysis Tool is to help you analyze and measure the ranking potential of your web pages.
Direct conversion is not possible without using some UDF, but you can extract text using SUBSTRING function: DECLARE VARIABLE c1 VARCHAR(32000); SELECT SUBSTRING(blob1 FROM 1 FOR 32000) FROM t1 INTO c1; Please note that maximum length for VARCHAR is 32767 bytes (which might be less characters in multi-byte character sets like UTF8). Various database access layers also have ability to retrieve BLOB data as string. For example, in PHP you could use: $row = ibase_fetch_assoc($qry, IBASE_TEXT); This automatically converts all textual BLOBs to VARCHARs, so you don't need to fetch blobs writing specific PHP code. Do you find this FAQ incorrect or incomplete? Please e-mail us what needs to be changed. To ensure quality, each change is checked by our editors (and often tested on live Firebird databases), before it enters the main FAQ database.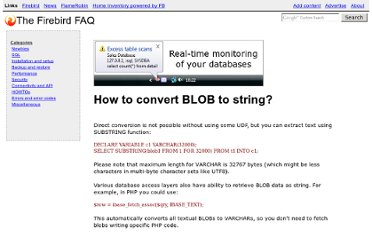 Gibt es Ihre Lieblingsanwendung nicht für die eigene Distribution, müssen Sie es entweder aus den Quellen installieren, ein eigenes Paket bauen -- oder Sie greifen zu Alien. Dieses Kommandozeilen-Tool wandelt fremde Pakete für die eigene Linux-Distribution um. Alien ist ein Perl-Skript und kann mit den Formaten RPM, DEB, SLP, TGZ und PKG umgehen.