Facebook Updates
Facebook Changes Again: Everything You Need To Know. As we predicted, Mark Zuckerberg's keynote at the f8 conference in San Francisco Thursday introduced some of the most profound changes seen on Facebook since its inception.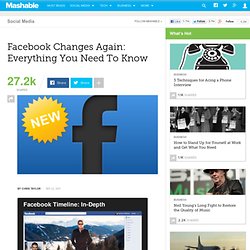 So many changes, in fact, that it can be hard to keep track. So here's a handy-dandy guide. 1. What f8 Means for Advertisers: The Ability to Target Users Based on Media Consumption. Advertisers will gain an important new way to target Facebook users thanks to changes launched earlier today at f8, we've learned after talking with two Facebook Ads and marketing executives.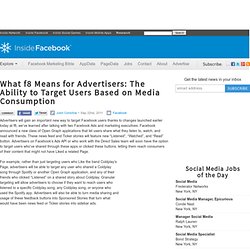 Facebook announced a new class of Open Graph applications that let users share what they listen to, watch, and read with friends. These news feed and Ticker stories will feature new "Listened", "Watched", and "Read" button. Advertisers on Facebook's Ads API or who work with the Direct Sales team will soon have the option to target users who've shared through these apps or clicked these buttons, letting them reach consumers of their content that might not have Liked a related Page.
Faraz: I was once a Facebook fool. By Numair Faraz • September 23rd, 2011 It was interesting observing the flurry of Facebook integration announcements in the past 24 hours, especially regarding music services.
Back in the day, I had helped convince then-Apple employee Dave Morin to join Facebook to build what became the Facebook Platform, and had hacked together one of the first music applications, Audio, on the then-day-old platform. I never really talked about what happened to Audio; however, in seeing that so many businesses and people seem hell-bent on integrating ever-further with Facebook, I figured I'd provide a cautionary tale. Share Buttons? Ha. Facebook Just Schooled The Internet. Again. After last year's f8 keynote, my initial thought was pretty straightforward: I Think Facebook Just Seized Control Of The Internet.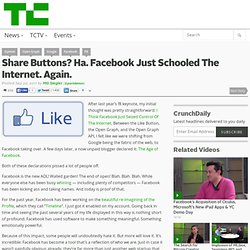 Between the Like Button, the Open Graph, and the Open Graph API, I felt like we were shifting from Google being the fabric of the web, to Facebook taking over. A few days later, a now unpaid blogger declared it: The Age of Facebook. Both of these declarations pissed a lot of people off. Facebook Ticker: Mark Zuckerberg's terrible plan to get us to share everything we do on the Web. - By Farhad Manjoo. First Look: Facebook's New Timeline Design. The biggest announcement at Facebook's f8 event in San Francisco today was a radical new profile design.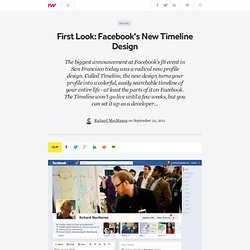 Called Timeline, the new design turns your profile into a colorful, easily searchable timeline of your entire life - at least the parts of it on Facebook. The Timeline won't go live until a few weeks, but you can set it up as a developer preview by following these instructions. How To Enable Facebook Timeline Right This Second. [Update 12/15/2011: Facebook Timeline is now available to all Facebook users.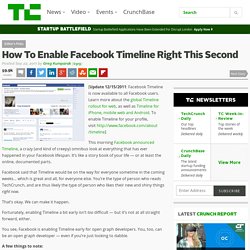 Learn more about the global Timeline rollout for web, as well as Timeline for iPhone, mobile web and Android. To enable Timeline for your profile, visit. The Facebook Timeline is the nearest thing I've seen to a digital identity (and it's creepy as hell) As an application developer, I have advance access to the Facebook Timeline that Mark Zuckerberg announced yesterday.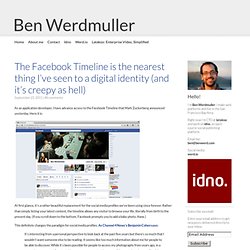 Here it is: At first glance, it's a rather beautiful replacement for the social media profiles we've been using since forever. Rather than simply listing your latest content, the timeline allows any visitor to browse your life, literally from birth to the present day. Two apps that show the depth of what Facebook shipped today. Tom Anderson - Google+ - Why Facebook's New Vision is Good for Google+ I sat back… Why Facebook's New Vision is Good for Google+ I sat back in awe watching Zuckerberg at F8 today.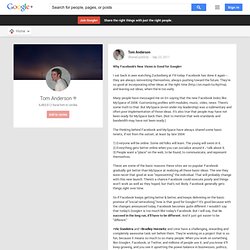 Facebook has done it again -- they are always reinventing themselves, always pushing toward the future. They're so good at incorporating other ideas at the right time ( and leaving out ideas, when the're too early. Many people have messaged me on G+ saying that the new Facebook looks like MySpace of 2008.
---