Catching Up (Weekend 11/19-20)
200+ Labels Withdraw Their Music From Spotify: Are Its Fortunes Unravelling? | Epicenter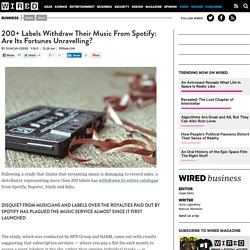 Following a study that claims that streaming music is damaging to record sales, a distributor representing more than 200 labels has withdrawn its entire catalogue from Spotify, Napster, Simfy and Rdio.
Amazon looks to improve Kindle @author beta after tepid response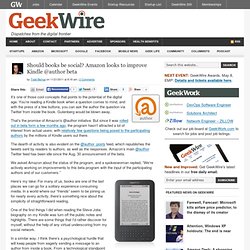 It's one of those cool concepts that points to the potential of the digital age. You're reading a Kindle book when a question comes to mind, and with the press of a few buttons, you can ask the author the question via Twitter from inside the book.
Google Enters Microsoft Office's Turf with Mixed Results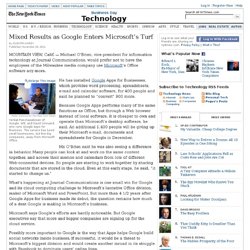 He has installed Apps for Businesses, which provides word processing, spreadsheets, e-mail and calendar software, for 400 people and said he planned to "convert" 900 more.
Just over two weeks after announcing its intentions, Twitter is starting to drop ads — ahem, "promoted tweets" — into users' timelines. Despite months of hemming and hawing over the danger of polluting the sacred Twitter feed, the few people that have taken notice seem reasonably pleased by the hands-off approach. Faced with mounting concerns about their lack of a revenue model, Twitter really needs their promoted tweet strategy to work and has promised big things.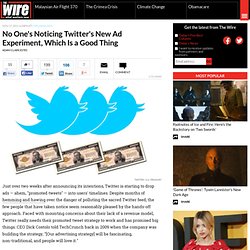 No One's Noticing Twitter's New Ad Experiment, Which Is a Good Thing
CEO Mark Zuckerberg describes how Facebook will connect people to media based on the strengths of their connections to other people. (Credit: James Martin/CNET)
How Facebook is ruining sharing | Molly Rants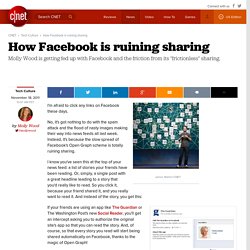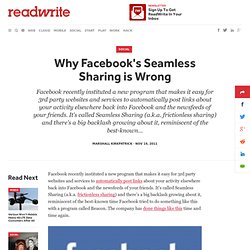 Facebook recently instituted a new program that makes it easy for 3rd party websites and services to automatically post links about your activity elsewhere back into Facebook and the newsfeeds of your friends. It's called Seamless Sharing (a.k.a. frictionless sharing) and there's a big backlash growing about it, reminiscent of the best-known time Facebook tried to do something like this with a program called Beacon. The company has done things like this time and time again. Critics say that Seamless Sharing is causing over-sharing, violations of privacy, self-censorship with regard to what people read, dilution of value in the Facebook experience and more. CNet's Molly Wood says it is ruining sharing.
Why Facebook's Seamless Sharing is Wrong
The unexpected impact of Facebook's "seamless sharing" on newspaper sites | FT Tech Hub | FTtechhub
Why eBay is buying recommendation engine Hunch
EBay has announced it is buying New York startup Hunch, a recommendation engine created by Chris Dixon and Caterina Fake, to help improve its recommendation services.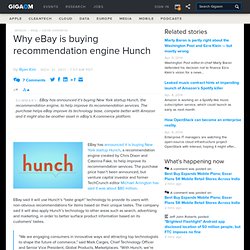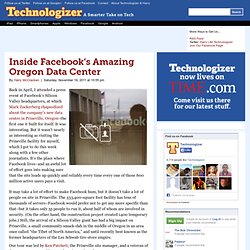 Back in April, I attended a press event at Facebook's Silicon Valley headquarters, at which Mark Zuckerberg rhapsodized about the company's new data center in Prineville, Oregon–the first one it built for itself. It was interesting.
Inside Facebook's Amazing Oregon Data Center
When Apple announced the iPhone 4S, the company certainly talked up the improvements made to the smartphone's integrated camera hardware.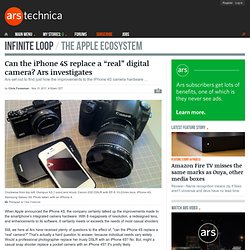 Can the iPhone 4S replace a "real" digital camera? Ars investigates
Quietly, Google Puts History Online