Catching Up (Weekend 11/19-20)
200+ Labels Withdraw Their Music From Spotify: Are Its Fortunes Unravelling? | Epicenter  Following a study that claims that streaming music is damaging to record sales, a distributor representing more than 200 labels has withdrawn its entire catalogue from Spotify, Napster, Simfy and Rdio.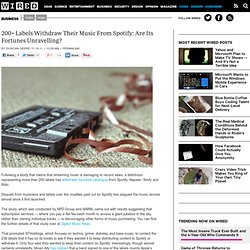 Disquiet from musicians and labels over the royalties paid out by Spotify has plagued the music service almost since it first launched The study, which was conducted by NPD Group and NARM, came out with results suggesting that subscription services — where you pay a flat fee each month to access a giant jukebox in the sky, rather than owning individual tracks — is discouraging other forms of music purchasing. You can find the further details of that study over at Digital Music News. That prompted STHoldings, which focuses on techno, grime, dubstep and bass music, to contact the 238 labels that it has on its books to ask if they wanted it to keep distributing content to Spotify or withdraw it.
Only four said they wanted to keep their content on Spotify. Amazon looks to improve Kindle @author beta after tepid response. It's one of those cool concepts that points to the potential of the digital age.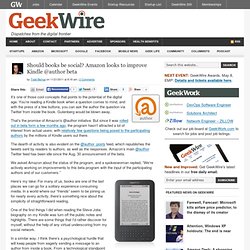 You're reading a Kindle book when a question comes to mind, and with the press of a few buttons, you can ask the author the question via Twitter from inside the book. Gutenberg would be blown away. That's the promise of Amazon's @author initiative. But since it was rolled out in beta form a few months ago, the program hasn't attracted a lot of interest from actual users, with relatively few questions being posed to the participating authors by the millions of Kindle users out there.
The dearth of activity is also evident on the @author_posts feed, which republishes the tweets sent by readers to authors, as well as the responses. Google Enters Microsoft Office's Turf with Mixed Results. He has installed Apps for Businesses, which provides word processing, spreadsheets, e-mail and calendar software, for 400 people and said he planned to "convert" 900 more.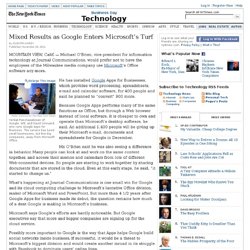 Because Google Apps performs many of the same functions as Office, but through a Web browser instead of local software, it is cheaper to own and operate than Microsoft's desktop software, he said. An additional 1,400 people will be giving up their Microsoft e-mail, documents and spreadsheets for Google in December. Mr. O'Brien said he was also seeing a difference in behavior. No One's Noticing Twitter's New Ad Experiment, Which Is a Good Thing. Just over two weeks after announcing its intentions, Twitter is starting to drop ads — ahem, "promoted tweets" — into users' timelines.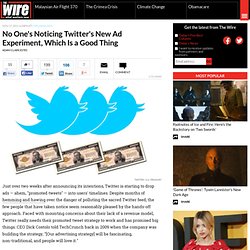 Despite months of hemming and hawing over the danger of polluting the sacred Twitter feed, the few people that have taken notice seem reasonably pleased by the hands-off approach. Faced with mounting concerns about their lack of a revenue model, Twitter really needs their promoted tweet strategy to work and has promised big things. How Facebook is ruining sharing | Molly Rants.
I'm afraid to click any links on Facebook these days.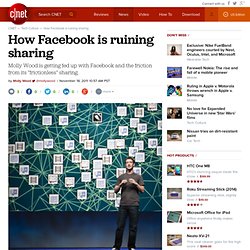 No, it's got nothing to do with the spam attack and the flood of nasty images making their way into news feeds all last week. Instead, it's because the slow spread of Facebook's Open Graph scheme is totally ruining sharing. I know you've seen this at the top of your news feed: a list of stories your friends have been reading. Why Facebook's Seamless Sharing is Wrong. Facebook recently instituted a new program that makes it easy for 3rd party websites and services to automatically post links about your activity elsewhere back into Facebook and the newsfeeds of your friends.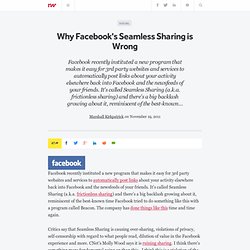 It's called Seamless Sharing (a.k.a. frictionless sharing) and there's a big backlash growing about it, reminiscent of the best-known time Facebook tried to do something like this with a program called Beacon. The company has done things like this time and time again. The unexpected impact of Facebook's "seamless sharing" on newspaper sites | FT Tech Hub | FTtechhub. Why eBay is buying recommendation engine Hunch.
EBay has announced it is buying New York startup Hunch, a recommendation engine created by Chris Dixon and Caterina Fake, to help improve its recommendation services.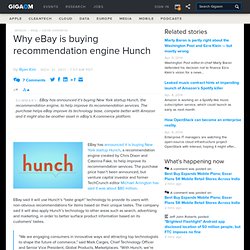 The purchase price hasn't been announced, but venture capital investor and former TechCrunch editor Michael Arrington has said it was about $80 million. EBay said it will use Hunch's "taste graph" technology to provide its users with non-obvious recommendations for items based on their unique tastes. The company said it will also apply Hunch's technology to other areas such as search, advertising and marketing, in order to better surface product information based on its customers' tastes. Inside Facebook's Amazing Oregon Data Center. Back in April, I attended a press event at Facebook's Silicon Valley headquarters, at which Mark Zuckerberg rhapsodized about the company's new data center in Prineville, Oregon–the first one it built for itself.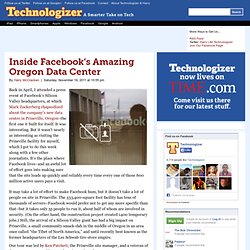 It was interesting. But it wasn't nearly as interesting as visiting the Prineville facility for myself, which I got to do this week along with a few other journalists. It's the place where Facebook lives–and an awful lot of effort goes into making sure that the site loads up quickly and reliably every time every one of those 800 million active users pays a visit. It may take a lot of effort to make Facebook hum, but it doesn't take a lot of people on site in Prineville. The 333,400-square foot facility has tens of thousands of servers–Facebook would prefer not to get any more specific than that–but it takes only 55 people to run it, about half of whom are involved in security.
Can the iPhone 4S replace a "real" digital camera? Ars investigates. When Apple announced the iPhone 4S, the company certainly talked up the improvements made to the smartphone's integrated camera hardware.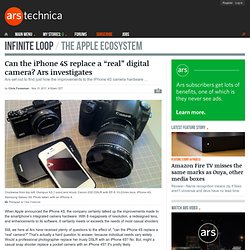 With 8 megapixels of resolution, a redesigned lens, and enhancements to its software, it certainly meets or exceeds the needs of most casual shooters. Still, we here at Ars have received plenty of questions to the effect of, "can the iPhone 4S replace a 'real' camera? " That's actually a hard question to answer, because individual needs vary widely. Quietly, Google Puts History Online.
---