Catching Up (Weekend 10/22)
Intel faces colossal clash. iPod at 10: A game changer getting long in the tooth | Apple Talk. On October 23, 2001, Apple took a big step in its corporate renaissance with a little device that stored all of 1,000 songs, cost an eyebrow-raising $399, and had more than a few critics chuckling at Steve Jobs' expense.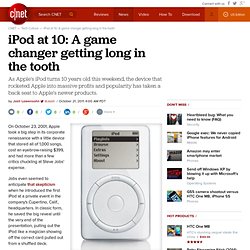 Jobs even seemed to anticipate that skepticism when he introduced the first iPod at a private event in the company's Cupertino, Calif., headquarters. In classic form, he saved the big reveal until the very end of the presentation, pulling out the iPod like a magician showing off the correct card pulled out from a shuffled deck. "Why music? The original iPod, 10 years later: a re-review. Don't look now, but the iPod—yes, the original, less-space-than-a-Nomad iPod—just turned 10 years old.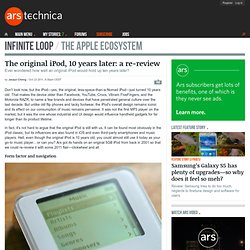 That makes the device older than Facebook, YouTube, Crocs, Vibram FiveFingers, and the Motorola RAZR, to name a few brands and devices that have penetrated general culture over the last decade. But unlike old flip phones and tacky footwear, the iPod's overall design remains iconic and its effect on our consumption of music remains pervasive. It was not the first MP3 player on the market, but it was the one whose industrial and UI design would influence handheld gadgets for far longer than its product lifetime.
In fact, it's not hard to argue that the original iPod is still with us. It can be found most obviously in the iPod classic, but its influences are also found in iOS and even third-party smartphones and music players. Emoticons Move to the Business World - Cultural Studies. 'Steve Jobs' by Walter Isaacson - Review. When Steve Met Bill: 'It was a kind of weird seduction visit' 1985: The young and the restless.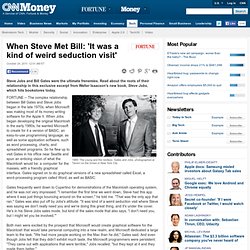 Gates and Jobs, photographed at Tavern on the Green in New York City FORTUNE -- The complex relationship between Bill Gates and Steve Jobs began in the late 1970s, when Microsoft was making most of its money writing software for the Apple II. When Jobs began developing the original Macintosh in the early 1980s, he wanted Microsoft to create for it a version of BASIC, an easy-to-use programming language, as well as some application software, such as word processing, charts, and spreadsheet programs.
In the battle for the living room, the ghost of Steve Jobs looms large. We can argue endlessly about when the post-PC era began and how steeply the market for conventional personal computers will decline.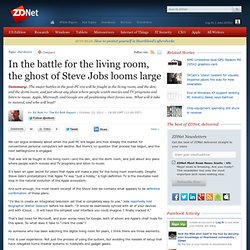 But there's no question that process has begun, and the next battleground is engaged. That war will be fought in the living room—and the den, and the dorm room, and just about any place where people watch movies and TV programs and listen to music. It's been an open secret for years that Apple will make a play for the living room eventually. Despite Steve Jobs's protestations that Apple TV was "just a hobby," a high-definition TV is the inevitable next step in the natural evolution of the Apple ecosystem.
Jobs Told Google's Page to Cut Bloat to Avoid Becoming Microsoft. Oct. 22 (Bloomberg) -- Apple Inc. co-founder Steve Jobs urged Google Inc.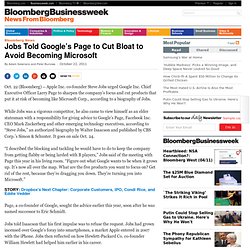 Chief Executive Officer Larry Page to sharpen the company's focus and cut products that put it at risk of becoming like Microsoft Corp., according to a biography of Jobs. While Jobs was a vigorous competitor, he also came to view himself as an elder statesman with a responsibility for giving advice to Google's Page, Facebook Inc. CEO Mark Zuckerberg and other emerging technology executives, according to "Steve Jobs," an authorized biography by Walter Isaacson and published by CBS Corp.'s Simon & Schuster.
Apple's Cook Won Jobs's Trust Early: Book. Apple Inc. co-founder Steve Jobs urged Google Inc.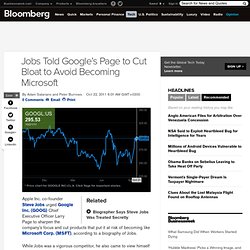 (GOOG) Chief Executive Officer Larry Page to sharpen the company's focus and cut products that put it at risk of becoming like Microsoft Corp. (MSFT), according to a biography of Jobs. The deification of Steve Jobs is Apple's greatest marketing triumph to date | Tanya Gold. The deification of Steve Jobs was swift and amazing, an app that rose only in death.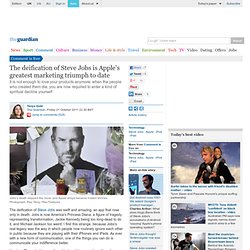 Jobs is now America's Princess Diana, a figure of tragedy, representing transformation, Jackie Kennedy being too long-dead to do it, and Michael Jackson too weird. I find this strange, because Jobs's real legacy was the way in which people now routinely ignore each other in public because they are playing with their iPhones and iPads. At Waldorf School in Silicon Valley, Technology Can Wait. Information Is Cheap, Meaning Is Expensive | The European Magazine. The European: A computer "is a simple mind having a will but capable of only two ideas", you have said.Does it make sense to think of a technical apparatus in biological terms?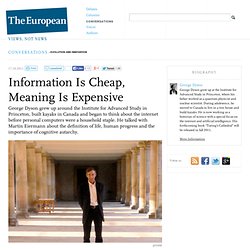 Dyson: The quote comes from an illustration of a circuit diagram that Lewis Fry Richardson produced in 1930. It was a very prophetic idea, like most of the stuff that Richardson did. He had drawn this diagram of an indeterminate circuit, so it was impossible to predict which state the circuit would be in. Maybe those are the origins of mind: A simple and indeterminate circuit. The significance of Richardson's idea was that he broke with the assumption that computation had to be deterministic, because so few others things in the universe are deterministic. How Russian Tycoon Yuri Milner Bought His Way Into Silicon Valley | Magazine.
In less than two years, Yuri Milner's fund has gone from zero equity to more than $12 billion in assets.Photo: Greg Girard This is my first trip to Moscow, and Yuri Milner, the world's most successful investor in social media, is taking me to his parents' apartment, which he bills as a typical middle-class Moscow dwelling.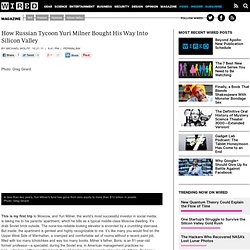 It's drab Soviet brick outside. The none-too-reliable-looking elevator is encircled by a crumbling staircase.
---