Catching Up (9/8)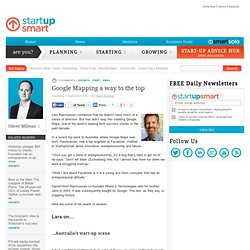 Lars Rasmussen confesses that he doesn't have much of a sense of direction. But that didn't stop him creating Google Maps, one of the world's leading tech success stories of the past decade. In a recent trip back to Australia, where Google Maps was born, Rasmussen, now a top engineer at Facebook, chatted to StartupSmart about innovation, entrepreneurship and failure. "Once you get a taste of entrepreneurship, it's a bug that's hard to get rid of," he says. "Don't tell Mark (Zuckerberg) this, but I almost had more fun when we were a struggling start-up." "What I like about Facebook is it is a young and fresh company that has an entrepreneurial attitude."
Lars Rasmussen: Google Maps Founder on His Tips for Start-ups - Growth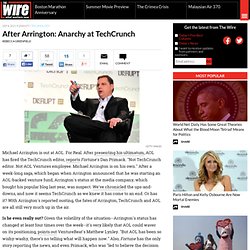 Michael Arrington is out at AOL. For Real. After presenting his ultimatum, AOL has fired the TechCrunch editor, reports Fortune's Dan Primack.
After Arrington: Anarchy at TechCrunch
Google on Thursday acquired Zagat in an effort to bolster its local products with the restaurant rating service. More notably is that Zagat is a content company. In a blog post, Google said that Zagat will "be a cornerstone of our local offering." Zagat is best known for its original reviews and rating service. There are a few key elements to the Zagat purchase: Google will build out its local coverage and have reviews in more than 100 cities.Google is showing that it may actually have to own some content instead of merely aggregating it.As Robert Scoble noted, Zagat's reviews are social friendly and play in with Google+.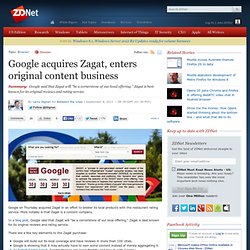 Google acquires Zagat, enters original content business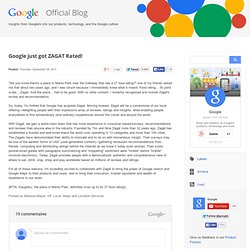 Google just got ZAGAT Rated!
"Did you know there's a place in Menlo Park near the Safeway that has a 27 food rating?" one of my friends asked me that about two years ago, and I was struck because I immediately knew what it meant. Food rating... 30 point scale... Zagat.
Exclusive: Viewsonic pulls the plug on Boxee TV — Online Video News
Viewsonic has abandoned its efforts to bring a Boxee-powered TV set to market, citing high costs and insufficient interest from consumers in so-called smart TVs. The company had shown off a 46" TV set running Boxee's media center software at CES, and at the time, said it would be available in the second quarter of 2011. Things have obviously changed since then: "ViewSonic is not releasing a Boxee-powered set in the near-term," the company told us in an emailed statement this week after we asked about the status of the product.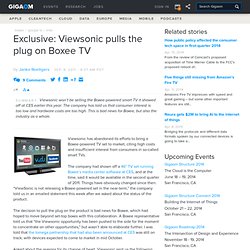 A number of privacy groups have spoken out against the adoption of a proposed opt-out plan for behavioral advertising in the US and Europe. The groups are referring to the Advertising Option Icon introduced by the Interactive Advertising Bureau almost one year ago, which purports to make it easy for users to opt out of ad tracking on participating websites with the help of an easily recognizable icon. The system was proposed by the advertising industry as a way to avoid stricter legislation on how they can use information obtained from behavioral tracking, but the privacy groups call it a "flimsy self-regulatory system" that will end up "insufficient and ineffective" at protecting consumer privacy on the Internet.
Privacy groups: behavioral opt-out system "insufficient and ineffective"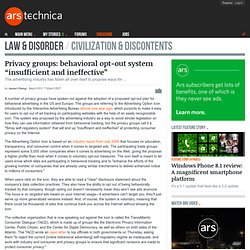 Whither TechCrunch?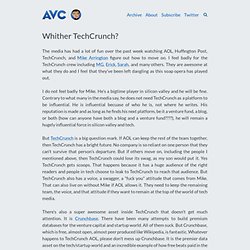 The media has had a lot of fun over the past week watching AOL, Huffington Post, TechCrunch, and Mike Arrington figure out how to move on. I feel badly for the TechCrunch crew including MG, Erick, Sarah, and many others. They are awesome at what they do and I feel that they've been left dangling as this soap opera has played out. I do not feel badly for Mike. He's a bigtime player in silicon valley and he will be fine. Contrary to what many in the media say, he does not need TechCrunch as a platform to be influential.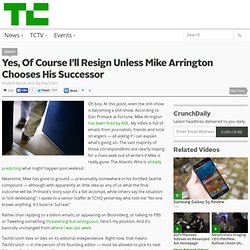 Oh boy. At this point, even the shit-show is becoming a shit-show. According to Dan Primack at Fortune, Mike Arrington has been fired by AOL. My inbox is full of emails from journalists, friends and total strangers — all asking if I can explain what's going on. The vast majority of those correspondents are clearly hoping for a mass walk-out of writers if Mike is really gone. The Atlantic Wire is already predicting what might happen post-walkout.
Yes, Of Course I'll Resign Unless Mike Arrington Chooses His Successor
For all his fame and fortune, Steve Jobs has what some consider to be a blight on his record: a lack of public philanthropic activity. Andrew Ross Sorkin laid it all out just last week, but the issue has long been discussed and debated. Why wouldn't Jobs join Bill Gates and Warren Buffett and pledge to give away half his fortune? Why hasn't Jobs devoted more of his time and money to charitable causes? Jobs' personal attitude towards philanthropy is said to have trickled down through the ranks of Apple over the years. But all of that is changing now, as Apple adopts an impressive corporate matching policy for charitable contributions.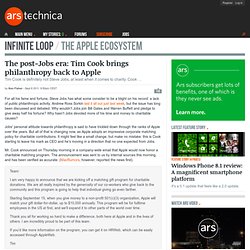 The post-Jobs era: Tim Cook brings philanthropy back to Apple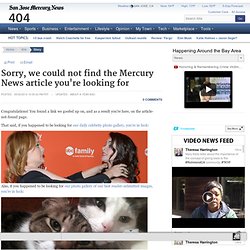 Posted: 05/02/2012 10:35:42 PM PDT0 Comments|Updated: about a year ago Congratulations! You found a link we goofed up on, and as a result you're here, on the article-not-found page. That said, if you happened to be looking for our daily celebrity photo gallery, you're in luck:
Amazon.com cuts California sales tax deal in stunning turnabout
Costolo: Advertising Is Key, Promoted Tweets In Stream Coming Everywhere, Including Third-Parties