Catching Up (9/29)
Drawing on messages posted by more than two million people in 84 countries, researchers discovered that the emotional tone of people's messages followed a similar pattern not only through the day but also through the week and the changing seasons. The new analysis suggests that our moods are driven in part by a shared underlying biological rhythm that transcends culture and environment.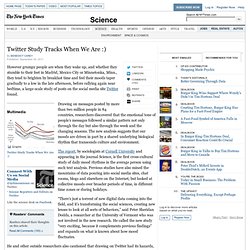 Moods on Twitter Follow Biological Rhythms, Study Finds
Op-Ed: Stop Feeding Facebook, It's Time for Moderation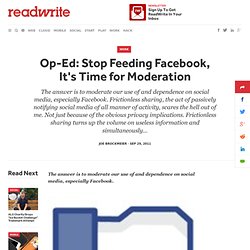 The answer is to moderate our use of and dependence on social media, especially Facebook. Frictionless sharing, the act of passively notifying social media of all manner of activity, scares the hell out of me. Not just because of the obvious privacy implications. Frictionless sharing turns up the volume on useless information and simultaneously threatens user privacy and control of online identity. Not only is Facebook becoming too central to our online discourse – it's becoming too crapified to even be useful.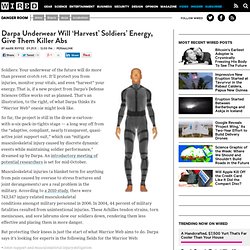 Darpa Underwear Will 'Harvest' Soldiers' Energy, Give Them Killer Abs | Danger Room
Soldiers: Your underwear of the future will do more than prevent crotch rot. It'll protect you from injuries, monitor your vitals, and even "harvest" your energy. That is, if a new project from Darpa's Defense Sciences Office works out as planned.
Why The New York Times Isn't Using Facebook's 'Frictionless Sharing' - Alexis Madrigal - Technology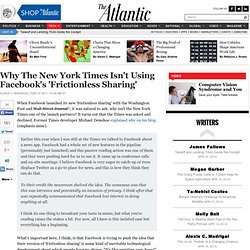 When Facebook launched its new 'frictionless sharing' with the Washington Post and Wall Street Journal*, it was natural to ask: why isn't the New York Times one of the launch partners? It turns out that the Times was asked and declined. Former Times developer Michael Donohoe explained why on his blog (emphasis mine).
Facebook's Mobile App Platform to Include Seamless Login, Bookmarks, Requests
New Screenshots and functionality details of Facebook's forthcoming HTML5 mobile site and application platform have emerged. Documentation of the updated mobile site and platform, externally referred to as Project Spartan, was briefly published to the Facebook Developers site last night, and TechCrunch recorded screenshots before Facebook took the pages down. We dug into the documentation and found many interesting facts about the mobile site that will impacts users and developers.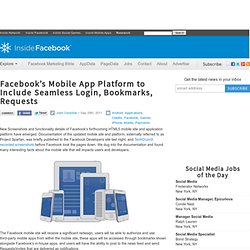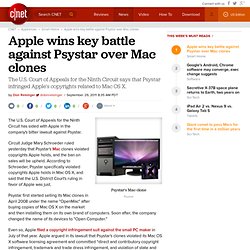 Psystar's Mac clone (Credit: Psystar) The U.S.
Apple wins key battle against Psystar over Mac clones | The Digital Home
Should Google play an editorial role in presenting readers with news? That question was a matter of debate at Zeitgeist, a Google conference this week in Paradise Valley, Ariz., where Larry Page, Google's co-founder and chief executive, said that Google had a responsibility to improve media.
Should Google Tweak the News We Consume?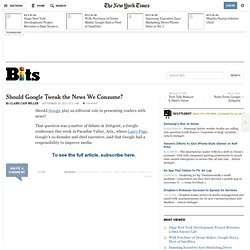 Is it Google's job to somehow improve the media?
As most media watchers know by now, the industry is going through an unprecedented upheaval, with newspapers in particular being disrupted by the shift to digital and what Om has called the "democracy of distribution" created by real-time social tools like blogs and Twitter, which make anyone into a publisher. So while news used to be a tightly controlled product from a few mainstream sources, there is now an explosion of content from virtually everywhere — some of it good and much of it not so good. At Google's recent Zeitgeist symposium, legendary TV newsman Ted Koppel suggested it is somehow Google's duty to fix this problem, and CEO Larry Page seemed to agree.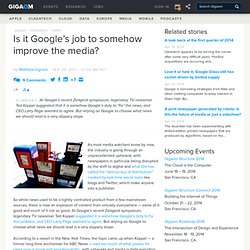 Google improves Analytics with premium and real-time features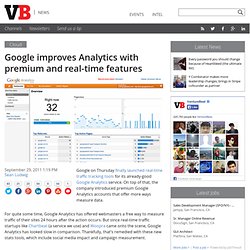 Google on Thursday finally launched real-time traffic tracking tools for its already-good Google Analytics service.
The re-launch of social link sharing site Delicious, now under the stewardship of YouTube founders Steven Chen and Chad Hurley under their AVOS startup banner, is nothing short of a complete, mind-boggling disaster.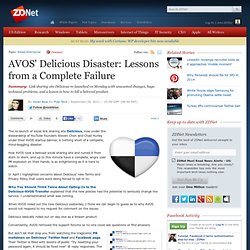 AVOS' Delicious Disaster: Lessons from a Complete Failure
Steve Jobs Pushed Talks With Samsung to Address Patent Dispute
Steve Jobs, founder of Apple Inc.