Catching Up (9/29)
Moods on Twitter Follow Biological Rhythms, Study Finds. Op-Ed: Stop Feeding Facebook, It's Time for Moderation. The answer is to moderate our use of and dependence on social media, especially Facebook.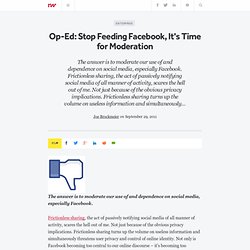 Frictionless sharing, the act of passively notifying social media of all manner of activity, scares the hell out of me. Not just because of the obvious privacy implications. Darpa Underwear Will 'Harvest' Soldiers' Energy, Give Them Killer Abs | Danger Room. Soldiers: Your underwear of the future will do more than prevent crotch rot.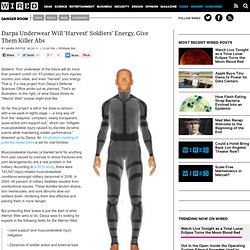 It'll protect you from injuries, monitor your vitals, and even "harvest" your energy. That is, if a new project from Darpa's Defense Sciences Office works out as planned. That's an illustration, to the right, of what Darpa thinks its "Warrior Web" onesie might look like. So far, the project is still in the draw-a-cartoon-with-a-six-pack-in-tights stage — a long way off from the "adaptive, compliant, nearly transparent, quasi-active joint support suit," which can "mitigate musculoskeletal injury caused by discrete dynamic events while maintaining soldier performance," dreamed up by Darpa.
Why The New York Times Isn't Using Facebook's 'Frictionless Sharing' - Alexis Madrigal - Technology. When Facebook launched its new 'frictionless sharing' with the Washington Post and Wall Street Journal*, it was natural to ask: why isn't the New York Times one of the launch partners?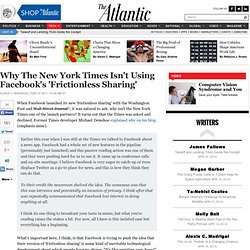 It turns out that the Times was asked and declined. Former Times developer Michael Donohoe explained why on his blog (emphasis mine). Facebook's Mobile App Platform to Include Seamless Login, Bookmarks, Requests. New Screenshots and functionality details of Facebook's forthcoming HTML5 mobile site and application platform have emerged.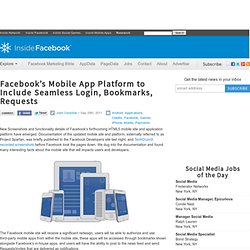 Documentation of the updated mobile site and platform, externally referred to as Project Spartan, was briefly published to the Facebook Developers site last night, and TechCrunch recorded screenshots before Facebook took the pages down. We dug into the documentation and found many interesting facts about the mobile site that will impacts users and developers. Apple wins key battle against Psystar over Mac clones | The Digital Home.
The U.S.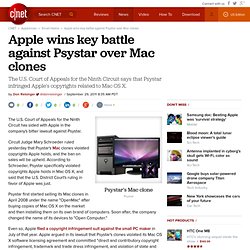 Court of Appeals for the Ninth Circuit has sided with Apple in the company's bitter lawsuit against Psystar. Circuit Judge Mary Schroeder ruled yesterday that Psystar's Mac clones violated copyrights Apple holds, and the ban on sales will be upheld. According to Schroeder, Psystar specifically violated copyrights Apple holds in Mac OS X, and said that the U.S. Should Google Tweak the News We Consume? Should Google play an editorial role in presenting readers with news?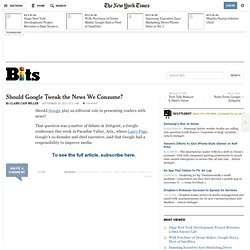 That question was a matter of debate at Zeitgeist, a Google conference this week in Paradise Valley, Ariz., where Larry Page, Google's co-founder and chief executive, said that Google had a responsibility to improve media. The question came up when Ted Koppel, the longtime broadcast journalist, complained that too much news was drivel, as reporters cover the Casey Anthony trial instead of life-and-death issues in Africa. People are being fed the news they want instead of the news they need because that makes news organizations money, he said. Nicholas Thompson, a senior editor at The New Yorker, then asked Mr. Koppel if Google should tweak its algorithm to deliver people the news they need instead of entertainment-as-news.
Is it Google's job to somehow improve the media? As most media watchers know by now, the industry is going through an unprecedented upheaval, with newspapers in particular being disrupted by the shift to digital and what Om has called the "democracy of distribution" created by real-time social tools like blogs and Twitter, which make anyone into a publisher.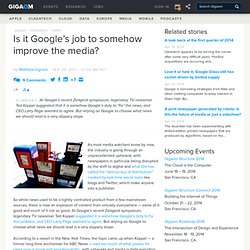 So while news used to be a tightly controlled product from a few mainstream sources, there is now an explosion of content from virtually everywhere — some of it good and much of it not so good. At Google's recent Zeitgeist symposium, legendary TV newsman Ted Koppel suggested it is somehow Google's duty to fix this problem, and CEO Larry Page seemed to agree.
Roundtable Discussion About Online Communities Moderated by Clay Shirky. Google improves Analytics with premium and real-time features. Google on Thursday finally launched real-time traffic tracking tools for its already-good Google Analytics service.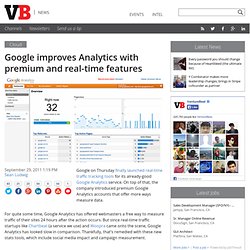 On top of that, the company introduced premium Google Analytics accounts that offer more ways measure data. For quite some time, Google Analytics has offered webmasters a free way to measure traffic of their sites 24 hours after the action occurs. But since real-time traffic startups like Chartbeat (a service we use) and Woopra came onto the scene, Google Analytics has looked slow in comparison. Thankfully, that's remedied with these new stats tools, which include social media impact and campaign measurement.
AVOS' Delicious Disaster: Lessons from a Complete Failure. The re-launch of social link sharing site Delicious, now under the stewardship of YouTube founders Steven Chen and Chad Hurley under their AVOS startup banner, is nothing short of a complete, mind-boggling disaster.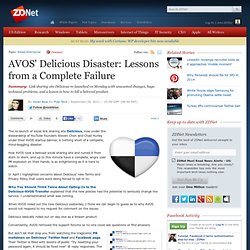 How AVOS took a beloved social sharing site and ruined it from stem to stern, and up to this minute have a complete, angry user PR explosion on their hands, is as enlightening as it is hard to watch. In April I highlighted concerns about Delicious' new Terms and Privacy Policy that users were being forced to opt-in to. Why You Should Think Twice About Opting-In to the Delicious-AVOS Transfer explained that the new policies had the potential to seriously change the service. Steve Jobs Pushed Talks With Samsung to Address Patent Dispute. Steve Jobs, founder of Apple Inc.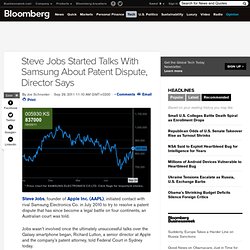 (AAPL), initiated contact with rival Samsung Electronics Co. in July 2010 to try to resolve a patent dispute that has since become a legal battle on four continents, an Australian court was told. Jobs wasn't involved once the ultimately unsuccessful talks over the Galaxy smartphone began, Richard Lutton, a senior director at Apple and the company's patent attorney, told Federal Court in Sydney today.
"Samsung is an important supplier with whom we have a deep relationship," Lutton testified in response to questioning by Samsung lawyer David Catterns. "We wanted to give them a chance to do the right thing."
---