Catching Up (9/28)
Perhaps the idea of spy drones already makes your nervous.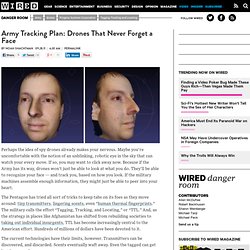 Army Tracking Plan: Drones That Never Forget a Face | Danger Room
Samsung and Microsoft settle Android licensing dispute | Technology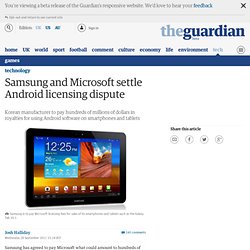 Samsung has agreed to pay Microsoft what could amount to hundreds of millions of dollars in royalties after it settled a bitter dispute over the Korean manufacturer's Android smartphones and tablets. The technology giants announced an agreement on Wednesday about the use of Google's Android software. Samsung will have to pay Microsoft a small fee – likely between $10 and $15 – for each Android smartphone or tablet computer it sells.
A new report looking into online music consumption habits shows that since 2009 the number of people who pirate music has dropped by 25 percent in Sweden.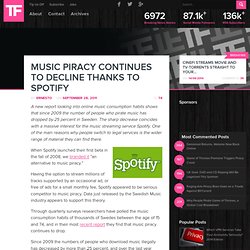 Music Piracy Continues to Decline Thanks to Spotify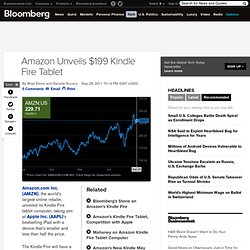 Related
Amazon Kindle Fire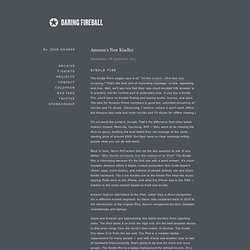 Wednesday, 28 September 2011 Kindle Fire
Amazon's New Kindles
The Omnivore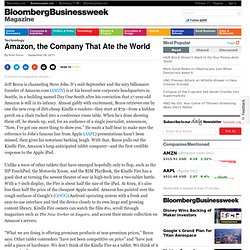 Jeff Bezos is channeling Steve Jobs.
Thoughts on the Amazon Kindle Fire
It was exactly one year ago that I received my first Kindle and fell in love with it. Why? They distilled the essence of a simple, superb reading experience into a lightweight, affordable and hassle-free device (as in WhisperSync and stellar battery life).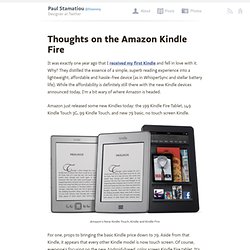 The "Silk" Browser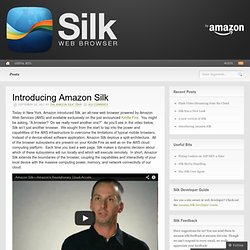 Today in New York, Amazon introduced Silk, an all-new web browser powered by Amazon Web Services (AWS) and available exclusively on the just announced Kindle Fire.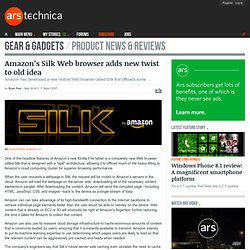 Amazon's Silk Web browser adds new twist to old idea
One of the headline features of Amazon's new Kindle Fire tablet is a completely new Web browser called Silk that is designed with a "split" architecture, allowing it to offload much of the heavy lifting to Amazon's cloud computing cluster for superior browsing performance.
Amazon Silk: Bridging the gap between desktop and mobile web browsers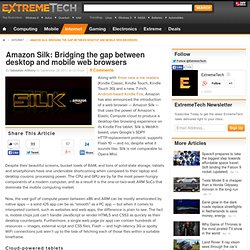 Along with three new e-ink readers (Kindle Classic, Kindle Touch, Kindle Touch 3G) and a new, 7-inch, Android-based Kindle Fire, Amazon has also announced the introduction of a web browser — Amazon Silk — that uses the power of Amazon's Elastic Compute cloud to produce a desktop-like browsing experience on its Kindle Fire tablet. Silk is WebKit-based, uses Google's SDPY HTTP-replacement protocol, supports Flash 10 — and no, despite what it sounds like, Silk is not comparable to Opera Mini.
News Corp.
News Corp.'s 'Daily' Trails Murdoch Reader Goal
Inside Google Plus
The positive response to Google+ has been sweet vindication for Bradley Horowitz, Google's VP of products.Photo: Pamela Littky
Source: Google In Talks To Acquire Katango
We're hearing that Google is in talks to acquire Katango, the Kleiner-backed startup that uses algorithms to automatically sort your friends into different groups, with very little effort required on the user's part (see our full post on their launch here). Katango would be a very obvious fit for Google (in fact, we hear that Google has been interested in the company since they launched in July). Why?
VisionTech Components sold a large amount of semiconductor chips to more than 1,100 customers from its office in Clearwater, Fla. Unfortunately, federal prosecutors allege, the chips were counterfeits. In this case, the perpetrators were brought to justice when authorities uncovered the $16 million counterfeiting operation.
Feds close huge chip counterfeiting case (exclusive)