Catching Up (9/28)
Army Tracking Plan: Drones That Never Forget a Face | Danger Room. Perhaps the idea of spy drones already makes your nervous.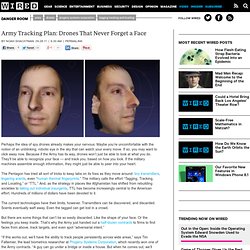 Maybe you're uncomfortable with the notion of an unblinking, robotic eye in the sky that can watch your every move. If so, you may want to click away now. Because if the Army has its way, drones won't just be able to look at what you do. They'll be able to recognize your face — and track you, based on how you look. Samsung and Microsoft settle Android licensing dispute | Technology. Samsung has agreed to pay Microsoft what could amount to hundreds of millions of dollars in royalties after it settled a bitter dispute over the Korean manufacturer's Android smartphones and tablets.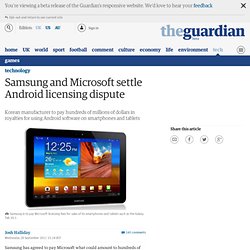 The technology giants announced an agreement on Wednesday about the use of Google's Android software. Samsung will have to pay Microsoft a small fee – likely between $10 and $15 – for each Android smartphone or tablet computer it sells. Music Piracy Continues to Decline Thanks to Spotify. A new report looking into online music consumption habits shows that since 2009 the number of people who pirate music has dropped by 25 percent in Sweden.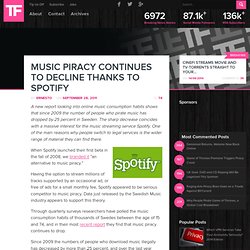 The sharp decrease coincides with a massive interest for the music streaming service Spotify. One of the main reasons why people switch to legal services is the wider range of material they can find there. When Spotify launched their first beta in the fall of 2008, we branded it "an alternative to music piracy." Amazon Kindle Fire. Amazon.com Inc.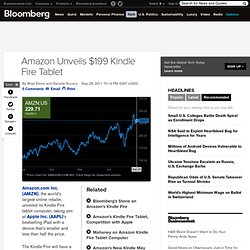 (AMZN), the world's largest online retailer, unveiled its Kindle Fire tablet computer, taking aim at Apple Inc. (AAPL)'s bestselling iPad with a device that's smaller and less than half the price. The Kindle Fire will have a 7-inch display and sell for $199, compared with $499 for Apple's cheapest iPad, Amazon executives said in interviews with Bloomberg Businessweek. The device, a souped-up version of the Kindle electronic-book reader, will run on Google Inc.'s Android software, the Seattle-based company said. Amazon's New Kindles. Wednesday, 28 September 2011 Kindle Fire The Kindle Fire's slogan says it all: "All the content.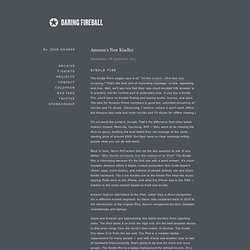 Ultra-fast web browsing." That's the best sort of marketing message: simple, appealing, and true. Well, we'll see how fast their new cloud-boosted Silk browser is in practice, but the content part is undeniably true. The Omnivore. Jeff Bezos is channeling Steve Jobs.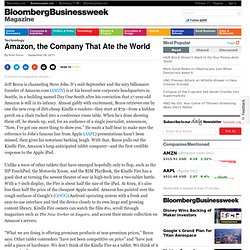 It's mid-September and the wiry billionaire founder of Amazon.com (AMZN) is at his brand-new corporate headquarters in Seattle, in a building named Day One South after his conviction that 17-year-old Amazon is still in its infancy. Almost giddy with excitement, Bezos retrieves one by one the new crop of dirt-cheap Kindle e-readers—they start at $79—from a hidden perch on a chair tucked into a conference room table.
When he's done showing them off, he stands up, and, for an audience of a single journalist, announces, "Now, I've got one more thing to show you." He waits a half-beat to make sure the reference to Jobs's famous line from Apple (AAPL) presentations hasn't been missed, then gives his notorious barking laugh. Thoughts on the Amazon Kindle Fire. It was exactly one year ago that I received my first Kindle and fell in love with it.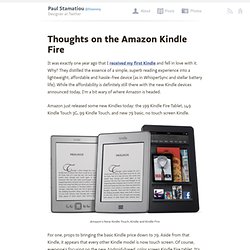 Why? They distilled the essence of a simple, superb reading experience into a lightweight, affordable and hassle-free device (as in WhisperSync and stellar battery life). The "Silk" Browser. Today in New York, Amazon introduced Silk, an all-new web browser powered by Amazon Web Services (AWS) and available exclusively on the just announced Kindle Fire.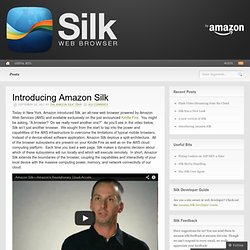 You might be asking, "A browser? Do we really need another one?" As you'll see in the video below, Silk isn't just another browser. Amazon's Silk Web browser adds new twist to old idea. One of the headline features of Amazon's new Kindle Fire tablet is a completely new Web browser called Silk that is designed with a "split" architecture, allowing it to offload much of the heavy lifting to Amazon's cloud computing cluster for superior browsing performance.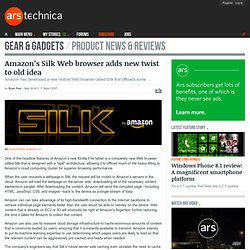 When the user requests a webpage in Silk, the request will be routed to Amazon's servers in the cloud. Amazon will load the webpage on the server side, downloading all of the necessary content elements in parallel. After downloading the content, Amazon will send the compiled page—including HTML, JavaSript, CSS, and images—back to the device as a single stream of data. Amazon can can take advantage of its high-bandwidth connection to the Internet backbone to retrieve individual page elements faster than the user would be able to natively on the device.
Amazon Silk: Bridging the gap between desktop and mobile web browsers. Along with three new e-ink readers (Kindle Classic, Kindle Touch, Kindle Touch 3G) and a new, 7-inch, Android-based Kindle Fire, Amazon has also announced the introduction of a web browser — Amazon Silk — that uses the power of Amazon's Elastic Compute cloud to produce a desktop-like browsing experience on its Kindle Fire tablet.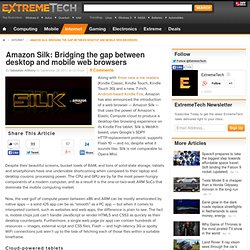 Silk is WebKit-based, uses Google's SDPY HTTP-replacement protocol, supports Flash 10 — and no, despite what it sounds like, Silk is not comparable to Opera Mini. Despite their beautiful screens, bucket loads of RAM, and tons of solid-state storage, tablets and smartphones have one undeniable shortcoming when compared to their laptop and desktop cousins: processing power. The CPU and GPU are by far the most power-hungry components of a modern computer, and as a result it is the one-or-two-watt ARM SoCs that dominate the mobile computing market. News Corp.'s 'Daily' Trails Murdoch Reader Goal. News Corp. (NWSA)'s the Daily is averaging about 120,000 readers a week, or less than a quarter the number the company said it needs to make money, according to an advertising executive working with the iPad-only publication.
News Corp., whose Chief Executive Officer Rupert Murdoch personally introduced the publication about eight months ago, may have even fewer paying subscribers since people can read the Daily free for two weeks. The 120,000 figure is for so-called unique weekly visitors, which includes people who pay and those who don't, said John Nitti, executive vice president at Zenith Media, a media-buying unit of Publicis Groupe SA (PUB)'s Zenith Optimedia. "They won't tell us how many paying subscribers, but that's how many uniques the Daily is getting," said Nitti, who gets figures from the publication because he works with Verizon Wireless, a Daily sponsor that's owned by Verizon Communications Inc. Inside Google Plus. The positive response to Google+ has been sweet vindication for Bradley Horowitz, Google's VP of products.Photo: Pamela Littky For all of Google's successes, the company has an underwhelming track record when it comes to social networks.
Time after time, its attempts have been met with shrugs or downright hostility. An early offering called Orkut languished in obscurity (unless you live in Brazil). You're Pricing It Wrong: Software Pricing Demystified - Smashing Magazine. Advertisement Pricing your own product is always a tricky proposition, and the more critical the price is to your product's success, the more difficult it is to set. It's easy to look at another product and say how much you would be willing to pay for it, but how can you know how much people would be willing to pay for yours? There are no absolute truths or perfect formulas for finding the best price, assuming that the "best price" even exists.
Source: Google In Talks To Acquire Katango. We're hearing that Google is in talks to acquire Katango, the Kleiner-backed startup that uses algorithms to automatically sort your friends into different groups, with very little effort required on the user's part (see our full post on their launch here). Katango would be a very obvious fit for Google (in fact, we hear that Google has been interested in the company since they launched in July).
Why? Feds close huge chip counterfeiting case (exclusive) VisionTech Components sold a large amount of semiconductor chips to more than 1,100 customers from its office in Clearwater, Fla. Unfortunately, federal prosecutors allege, the chips were counterfeits. In this case, the perpetrators were brought to justice when authorities uncovered the $16 million counterfeiting operation.
---