Catching Up (9/27)
Tue Sep 27, 2011 5:42pm EDT * Operators want to give consumers choice to lower costs * Programmers will resist attempts to unbundle programs * Sports rights and retransmission fees are biggest costs By Yinka Adegoke NEW YORK, Sept 27 (Reuters) - U.S. cable operators are privately working on a plan to force programmers to unbundle their networks and allow customers to subscribe to channels on an individual basis.
In switch, cable operators want to go a la carte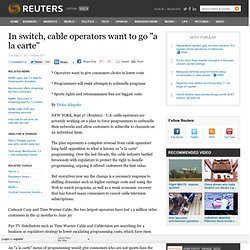 Did Foxconn Lose An iPhone 5 Prototype?
Google's Biggest Threat Is Google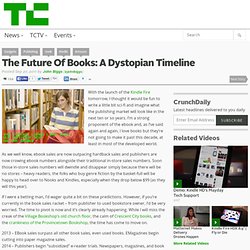 With the launch of the Kindle Fire tomorrow, I thought it would be fun to write a little bit sci-fi and imagine what the publishing market will look like in the next ten or so years. I'm a strong proponent of the ebook and, as I've said again and again, I love books but they're not going to make it past this decade, at least in most of the developed world. As we well know, ebook sales are now outpacing hardback sales and publishers are now crowing ebook numbers alongside their traditional in-store sales numbers.
The Future Of Books: A Dystopian Timeline
Future of New York tech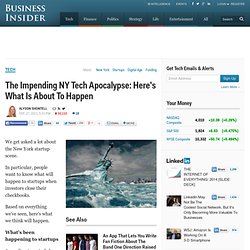 We get asked a lot about the New York startup scene. In particular, people want to know what will happen to startups when investors close their checkbooks. Based on everything we've seen, here's what we think will happen. What's been happening to startups According to a study by Gridley & Company, more than 200 New York digital startups have been founded in the past few years. The 200 startups are attracting much-needed talent to the tri-state area.
Tonight is the relaunch of Delicious, the little bookmarking site that helped inspire a wave of social companies in the eight years since it was founded. New owners Chad Hurley and Steve Chen (a.k.a. the creators of YouTube) have ported Delicious over from previous owner Yahoo, and are ready to show their first revision to the public. Expectations aren't terrifically high for the new Delicious, given the rareness of tech comeback stories and the fact that Delicious was never really that popular. But we can't help but watch, given Hurley and Chen's magic touch at YouTube. The new Delicious retains a lot of visual elements from the old site, but it tweaks the core user activity to be about creating "stacks" of content.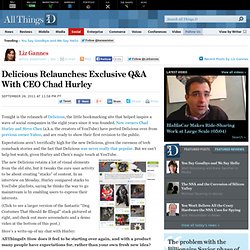 Delicious Relaunches: Exclusive Q&A With CEO Chad Hurley - Liz Gannes - Social
What was once awesome and useful is now filled with dogs in costumes and photos of donuts. Trailblazing social bookmarking service Delicious relaunched this morning under new management: Chad Hurley and Steven Chen, the co-founders of YouTube who bought the neglected service from Yahoo earlier this year. The plan is to make the service appealing to a larger number of mainstream users. So far it's pretty underwhelming. When Yahoo bought Delicious years ago, I was disappointed it wasn't the Library of Congress that made the acquisition.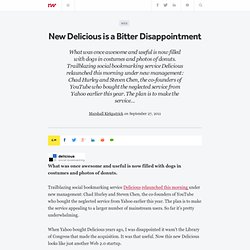 New Delicious is a Bitter Disappointment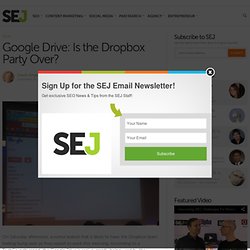 inShare183 On Saturday afternoon, a rumor leaked that is likely to have the Dropbox team feeling hung over as they report to work this morning. According to a TechCrunch report, the Google Drive is real, currently being used by the Google team, and poised for a launch prior to the end of this year.
Google Drive: Is the Dropbox Party Over?
IBM, Intel Start $4.4 Billion in Chip Venture in New York
(Updates with closing prices in final paragraph.) Sept. 27 (Bloomberg) -- International Business Machines Corp. and Intel Corp. will invest $4.4 billion over five years to create a hub for next-generation computer chip technology in New York, the state's Governor Andrew Cuomo, said. IBM, the world's biggest computer-services provider, will spend $3.6 billion to develop computer chips using 22-nanometer and 14-nanometer process technology, said Michael Loughran, a company spokesman.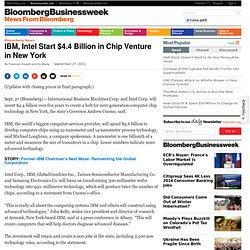 These Disney Cars toys interact with the iPad in a super cool way
28 September '11, 12:51am Follow Disney has just launched a line of toys that I think are some of the coolest gadgets for kids that I have ever seen. They are a line of toys themed around the Cars universe that interact with specially designed apps on the iPad. The Appmates toys are used by dragging the toys across the top of the iPad in order to race and perform other activities.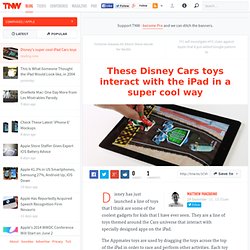 Apple sends out invites for iPhone event on October 4th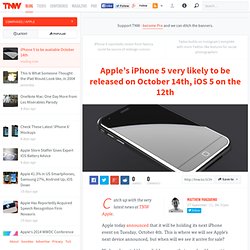 27 September '11, 06:31pm Follow Catch up with the very latest news at TNW Apple.
Apple's iPhone 5 very likely to be released on October 14th, iOS 5 on the 12th