Catching Up (9/15)
Facebook Smart Lists: Mark Zuckerberg's genius ability to take other sites' best ideas. - By Farhad Manjoo. Remembering a Relationship, One Chat at a Time - Health. Clark and I met on the Thursday before Labor Day, August 30, 2007.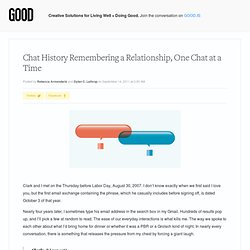 I don't know exactly when we first said I love you, but the first email exchange containing the phrase, which he casually includes before signing off, is dated October 3 of that year. Nearly four years later, I sometimes type his email address in the search box in my Gmail. When Kickstarter Goes Wrong: Were 419 Backers Almost Taken for a $27,637 Ride? By Adrianne Jeffries 9/15/11 4:49pm Share this: About a month ago, there was a $2,000 Kickstarter project called the Tech Sync Power System, a system for controlling home lights from mobile devices over a wifi connection.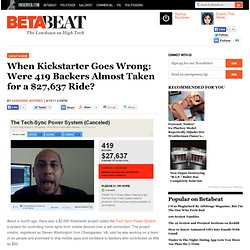 The project creator, registered as Steven Washington from Chesapeake, VA, said he was working on a team of six people and promised to ship mobile apps and hardware to backers who contributed as little as $20. A New and Improved Moore's Law. Researchers have, for the first time, shown that the energy efficiency of computers doubles roughly every 18 months.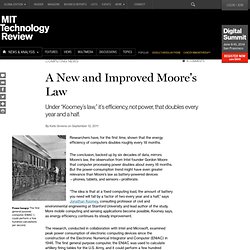 The conclusion, backed up by six decades of data, mirrors Moore's law, the observation from Intel founder Gordon Moore that computer processing power doubles about every 18 months. But the power-consumption trend might have even greater relevance than Moore's law as battery-powered devices—phones, tablets, and sensors—proliferate. Google Reports Progress in Digital Books Settlement Talks.
(Updates with judge's remarks in third paragraph.)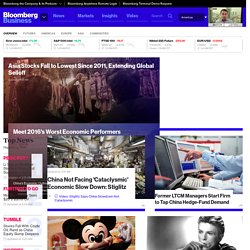 Sept. 15 (Bloomberg) -- Google Inc. reported progress in possible settlement of a lawsuit over the search-engine company's digital reproduction of books, lawyers told the judge in the case. Daralyn Durie, a lawyer for Google, told federal judge Denny Chin that the company has made "substantial progress" in negotiations with publishers. Talks with representatives of authors are taking place among "principals" from both sides, she said.
Meme Weaver - Magazine. The author tries—and fails—to cash in on a big idea.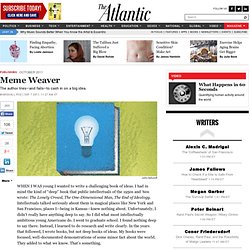 John Ashcroft When I was young I wanted to write a challenging book of ideas. I had in mind the kind of "deep" book that public intellectuals of the 1950s and '60s wrote: The Lonely Crowd, The One-Dimensional Man, The End of Ideology. Intellectuals talked seriously about them in magical places like New York and San Francisco, places I—being in Kansas—knew nothing about. Unfortunately, I didn't really have anything deep to say. Data scientist: The hot new gig in tech. Companies that want to make sense of all their bits and bytes are hiring so-called data scientists - if they can find any.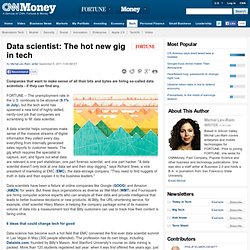 FORTUNE -- The unemployment rate in the U.S. continues to be abysmal (9.1% in July), but the tech world has spawned a new kind of highly skilled, nerdy-cool job that companies are scrambling to fill: data scientist. A data scientist helps companies make sense of the massive streams of digital information they collect every day, everything from internally generated sales reports to customer tweets. The gig which requires the specialist to capture, sort, and figure out what data are relevant is one part statistician, one part forensic scientist, and one part hacker. The Agonies of Picking a Product Name. Picking a product name is all agony and no ecstasy.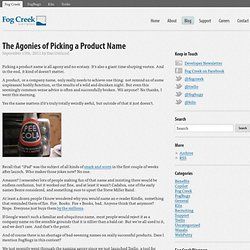 It's also a giant time-slurping vortex. And in the end, it kind of doesn't matter. Netflix Cuts Its Guidance by One Million Subscribers - Peter Kafka - Media. Netflix, which instituted a price hike earlier this fall, says the higher costs are turning off more customers than it expected.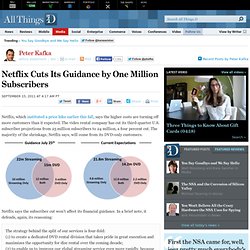 The video rental company has cut its third-quarter U.S. subscriber projections from 25 million subscribers to 24 million, a four percent cut. The majority of the shrinkage, Netflix says, will come from its DVD-only customers. Netflix stock plunges after cutting subscriber outlook - Sep. 15. NEW YORK (CNNMoney) -- Netflix subscribers threatened to flee in droves when the company whacked them with a surprise price hike, which kicked in this month.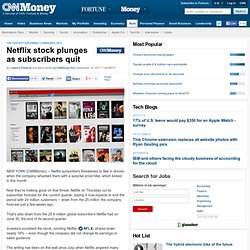 Now they're making good on that threat. Netflix on Thursday cut its subscriber forecast for the current quarter, saying it now expects to end the period with 24 million customers -- down from the 25 million the company forecast just a few weeks ago. That's also down from the 25.6 million global subscribers Netflix had on June 30, the end of its second quarter. Qualcomm details next-gen 2.5GHz Snapdragon processors. Your phone is only going to get faster and better in the future, according to Qualcomm, as it's outlined the next step for its Snapdragon processor at its Innovation Qualcomm event in Istanbul.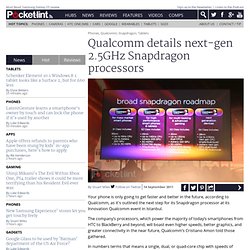 The company's processors, which power the majority of today's smartphones from HTC to BlackBerry and beyond, will boast even higher speeds, better graphics, and greater connectivity in the near future, Qualcomm's Cristiano Amon told those gathered. In numbers terms that means a single, dual, or quad-core chip with speeds of 2.5GHz, almost double of what is currently available on the market. News.me finally gets its wings — but can it fly? As the flow of information from social networks and other digital sources like Twitter continues to increase, the need to have that river of data filtered and "curated" also increases.
That has produced a growing crop of curation and aggregation services and apps, including one called News.me, which started as a side project within the New York Times and then became part of the Betaworks startup incubator run by John Borthwick in New York. Now the iPad app has been spun off as a separate company to sink or swim on its own — but can it compete against giants like Flipboard and other newer competitors? Although the focus on filtering and aggregation of social content is the same, News.me is a little different from both Flipboard and other services such as Summify and Percolate (or Xydo or the Washington Post's new Trove service, or the half dozen other players in the "curation" space). If You Already Hate Windows 8 Then You Hate Technology.
Anonymous to launch more effective site-attack tool Saturday, when it occupies Wall Street. September 15, 2011, 1:26 PM — Hactivist group Anonymous announced it will launch a new weapon on Saturday to replace the Low Orbit Ion Cannon application it uses to automate distributed denial of service attacks. Rather than just automate content requests to make them faster and easier to launch – so a botnet can launch 10,000 per second rather than 5,000, for example – as the previous application did, the new #Ref#Ref uses a web-site's own server resources against it, according to hints from various Anonymi.
The group has been testing the new app during the past few weeks, bringing down the main WikiLeaks site, attacking Twitter and running other tests designed to verify the scalability and reliability of the new app. Disrupt, Disruption, and the Nobility of the Tech Scene.
---