Catching Up (9/13)
Google Travel Search Takes Flight With First ITA Travel Product
Google has made what amounts to a promising downpayment on more ambitious travel search tools with its new Flight Search, debuting today. Launching initially for a select group of US cities Google users will have access to an expanded range of airline search options and a much more verticalized experience than has been available in the past on Google.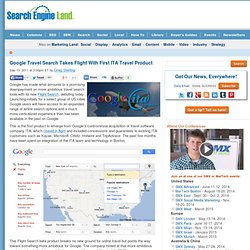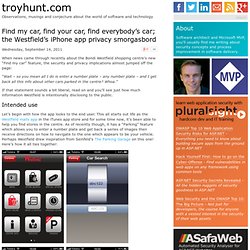 Find my car, find your car, find everybody's car; the Westfield's iPhone app privacy smorgasbord
When news came through recently about the Bondi Westfield shopping centre's new "Find my car" feature, the security and privacy implications almost jumped off the page: "Wait – so you mean all I do is enter a number plate – any number plate – and I get back all this info about other cars parked in the centre?
How the Google Motorola Deal Went Down
Tony Avelar/Bloomberg NewsFrank Quattrone, chief of Qatalyst Partners.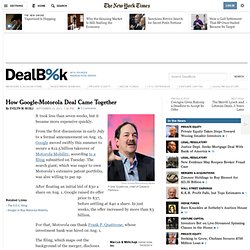 The $76 billion Apple reported last quarter could grow to $136 billion by the end of 2012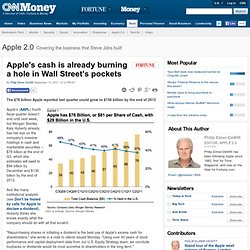 Apple's cash is already burning a hole in Wall Street's pockets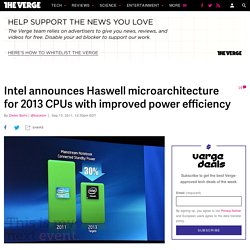 Intel announces Haswell microarchitecture for 2013 CPUs with improved power efficiency | This is my next...
At IDF today, Intel announced the successor to its yet-to-be-released Ivy Bridge architecture, codenamed Haswell. This platform, built at 22nm like Ivy Bridge, has been leaked multiple times dating back to 2008, so hearing it become official today comes as no big surprise. The good news is that Intel already has the chip running with a 30% reduction in active power consumption over current-generation (Sandy Bridge) Core i5 chips and is aiming for a 20-fold improvement in standby time. Both enhancements should theoretically come without a significant reduction in processing power by 2013. Intel gave a brief demo of a prototype running off a tiny solar cell (to animate a cat GIF, of course) and while the release is obviously a ways off, it's the first sign here at IDF that Intel is trying to show how serious it is about power consumption.
Paul Otellini Makes The Case For Intel
AMD Showcases World's Fastest CPU
Mashable Expanding Its Coverage
Techoti | I've Got An Awesome New Job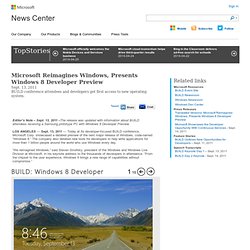 Editor's Note – Sept. 13, 2011 –The release was updated with information about BUILD attendees receiving a Samsung prototype PC with Windows 8 Developer Preview. LOS ANGELES — Sept. 13, 2011 — Today at its developer-focused BUILD conference, Microsoft Corp. showcased a detailed preview of the next major release of Windows, code-named "Windows 8." The company also detailed new tools for developers to help write applications for more than 1 billion people around the world who use Windows every day. "We reimagined Windows," said Steven Sinofsky, president of the Windows and Windows Live Division at Microsoft, in his keynote address to the thousands of developers in attendance.
Reimagines Windows, Presents Windows 8 Developer Preview: BUILD conference attendees and developers get first access to new operating system.
Everything You Need to Know About Today's Windows 8 News (Updating)
Microsoft Windows 8 Complete Guide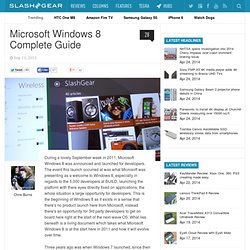 During a lovely September week in 2011, Microsoft Windows 8 was announced and launched for developers.
Microsoft executives took to the stage at the annual BUILD developer conference on Tuesday to give the world its first real look at the future of the Windows operating system . The reception, as you've likely read by now, has been overwhelmingly positive. In fact, Apple bloggers were apparently so flustered by the platform that they resorted to bombarding Twitter with jokes about cooling fans and Silverlight instead of stopping for a moment to realize that Microsoft is showing us the future of computing.
Sorry Apple, Windows 8 ushers in the post-post-PC era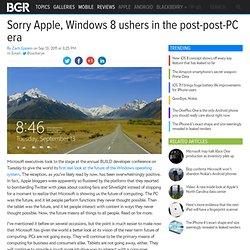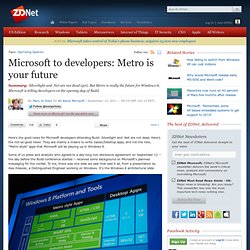 Microsoft to developers: Metro is your future
Here's the good news for Microsoft developers attending Build: Silverlight and .Net are not dead. Here's the not-so-good news: They are mainly a means to write classic/Desktop apps, and not the new, "Metro-style" apps that Microsoft will be playing up in Windows 8.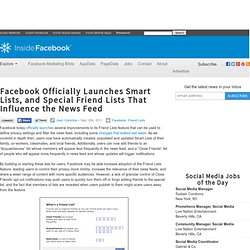 Facebook Officially Launches Smart Lists, and Special Friend Lists That Influence the News Feed
Facebook today officially launches several improvements to its Friend Lists feature that can be used to define privacy settings and filter the news feed, including some changes that leaked last week.
Is Digital Killing the Luxury Brand? | Adweek (Build 20110912042003)
High-end fashion brands have a problem.