Catching Up (9/13)
Google Travel Search Takes Flight With First ITA Travel Product. Google has made what amounts to a promising downpayment on more ambitious travel search tools with its new Flight Search, debuting today.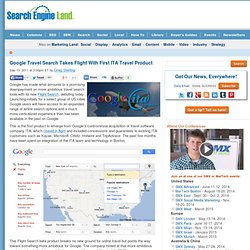 Launching initially for a select group of US cities Google users will have access to an expanded range of airline search options and a much more verticalized experience than has been available in the past on Google. This is the first product to emerge from Google's controversial acquisition of travel software company ITA, which closed in April and included concessions and guarantees to existing ITA customers such as Kayak, Microsoft, Orbitz, Hotwire and TripAdvisor. The past five months have been spent on integration of the ITA team and technology in Boston.
This Flight Search beta product breaks no new ground for online travel but points the way toward something more ambitious for Google. The company hinted at that more ambitious product vision in the blog post that announced the acquisition in July 2010: Find my car, find your car, find everybody's car; the Westfield's iPhone app privacy smorgasbord. When news came through recently about the Bondi Westfield shopping centre's new "Find my car" feature, the security and privacy implications almost jumped off the page: "Wait – so you mean all I do is enter a number plate – any number plate – and I get back all this info about other cars parked in the centre?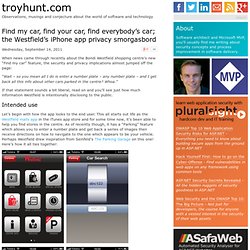 Whoa." If that statement sounds a bit liberal, read on and you'll see just how much information Westfield is intentionally disclosing to the public. Intended use Let's begin with how the app looks to the end user. How the Google Motorola Deal Went Down. Tony Avelar/Bloomberg NewsFrank Quattrone, chief of Qatalyst Partners.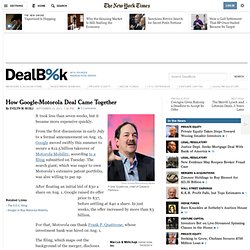 It took less than seven weeks, but it became more expensive quickly. From the first discussions in early July to a formal announcement on Aug. 15, Google moved swiftly this summer to secure a $12.5 billion takeover of Motorola Mobility, according to a filing submitted on Tuesday. The search giant, which was eager to own Motorola's extensive patent portfolio, was also willing to pay up. Apple's cash is already burning a hole in Wall Street's pockets. The $76 billion Apple reported last quarter could grow to $136 billion by the end of 2012 Click to enlarge.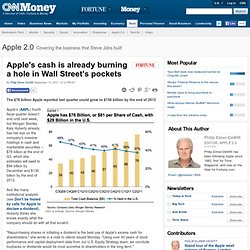 Source: Morgan Stanley Apple's (AAPL) fourth fiscal quarter doesn't end until next week, but Morgan Stanley Katy Huberty already has her eye on the company's massive holdings in cash and marketable securities -- $76 billion at the end of Q3, which she estimates will swell to $94 billion by December and $136 billion by the end of 2012. And like many institutional analysts (see Don't be fooled by calls for Apple to declare a dividend), Huberty thinks she knows exactly what the company should do with all that scratch. Intel announces Haswell microarchitecture for 2013 CPUs with improved power efficiency | This is my next...
At IDF today, Intel announced the successor to its yet-to-be-released Ivy Bridge architecture, codenamed Haswell.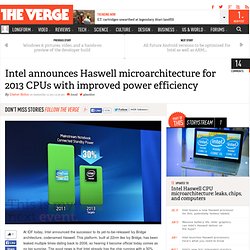 This platform, built at 22nm like Ivy Bridge, has been leaked multiple times dating back to 2008, so hearing it become official today comes as no big surprise. The good news is that Intel already has the chip running with a 30% reduction in active power consumption over current-generation (Sandy Bridge) Core i5 chips and is aiming for a 20-fold improvement in standby time.
Paul Otellini Makes The Case For Intel. AMD Showcases World's Fastest CPU. Mashable Expanding Its Coverage. Mashable, the popular Web site for information about technology and social media, said Tuesday that it was expanding coverage to include new sections for entertainment, United States news and world news, and that it was hiring a veteran technology editor to oversee all editorial content.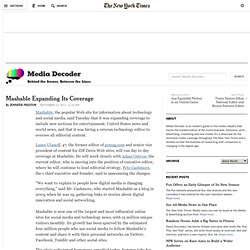 Lance Ulanoff, 47, the former editor of pcmag.com and senior vice president of content for Ziff Davis Web sites, will run day to day coverage at Mashable. He will work closely with Adam Ostrow, the current editor, who is moving into the position of executive editor, where he will continue to lead editorial strategy, Pete Cashmore, the s chief executive and founder, said in announcing the changes.
Techoti | I've Got An Awesome New Job. Reimagines Windows, Presents Windows 8 Developer Preview: BUILD conference attendees and developers get first access to new operating system. Editor's Note – Sept. 13, 2011 –The release was updated with information about BUILD attendees receiving a Samsung prototype PC with Windows 8 Developer Preview.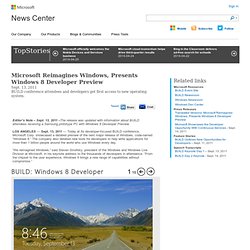 LOS ANGELES — Sept. 13, 2011 — Today at its developer-focused BUILD conference, Microsoft Corp. showcased a detailed preview of the next major release of Windows, code-named "Windows 8." The company also detailed new tools for developers to help write applications for more than 1 billion people around the world who use Windows every day. "We reimagined Windows," said Steven Sinofsky, president of the Windows and Windows Live Division at Microsoft, in his keynote address to the thousands of developers in attendance.
Everything You Need to Know About Today's Windows 8 News (Updating) Microsoft Windows 8 Complete Guide. During a lovely September week in 2011, Microsoft Windows 8 was announced and launched for developers.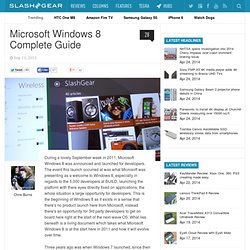 The event this launch occurred at was what Microsoft was presenting as a welcome to Windows 8, especially in regards to the 5,000 developers at BUILD, launching the platform with there eyes directly fixed on applications, the whole situation a large opportunity for developers. This is the beginning of Windows 8 as it exists in a sense that there's no product launch here from Microsoft, instead there's an opportunity for 3rd party developers to get on board here right at the start of the next-wave OS. What lies beneath is a living document which takes what Microsoft Windows 8 is at the start here in 2011 and how it will evolve over time. Three years ago was when Windows 7 launched, since then 450 million copies have sold. Sorry Apple, Windows 8 ushers in the post-post-PC era. Microsoft executives took to the stage at the annual BUILD developer conference on Tuesday to give the world its first real look at the future of the Windows operating system.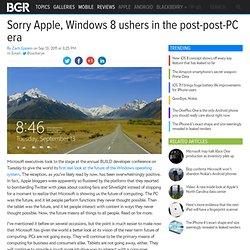 The reception, as you've likely read by now, has been overwhelmingly positive. In fact, Apple bloggers were apparently so flustered by the platform that they resorted to bombarding Twitter with jokes about cooling fans and Silverlight instead of stopping for a moment to realize that Microsoft is showing us the future of computing. Microsoft to developers: Metro is your future. Here's the good news for Microsoft developers attending Build: Silverlight and .Net are not dead.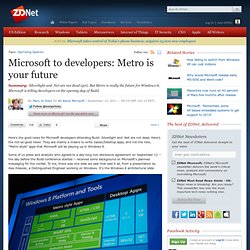 Here's the not-so-good news: They are mainly a means to write classic/Desktop apps, and not the new, "Metro-style" apps that Microsoft will be playing up in Windows 8. Some of us press and analysts who agreed to a day-long non-disclosure agreement on September 12 -- the day before the Build conference started -- received some background on Microsoft's planned messaging for the confab.
To me, there was one slide we saw that said it all, from a presentation by Ales Holecek, a Distinguished Engineer working on Windows. It's the Windows 8 architectural slide: (image courtesy of @longzheng) Facebook Officially Launches Smart Lists, and Special Friend Lists That Influence the News Feed. Facebook today officially launches several improvements to its Friend Lists feature that can be used to define privacy settings and filter the news feed, including some changes that leaked last week.
As we covered in depth then, users now have automatically created, populated and updated Smart Lists of their family, co-workers, classmates, and local friends. Additionally, users can now add friends to an "Acquaintances" list whose members will appear less frequently in the news feed, and a "Close Friends" list of people who will appear more frequently in news feed and whose updates will trigger notifications. By building or starting these lists for users, Facebook may be able increase adoption of the Friend Lists feature, leading users to control their privacy more nimbly, increase the relevance of their news feeds, and share a wider range of content with more specific audiences.
Is Digital Killing the Luxury Brand? | Adweek (Build 20110912042003) High-end fashion brands have a problem. Let's call it the "Kreayshawn quandary," after the young Bay Area rapper made famous by the Internet and her hit song "Gucci, Gucci," which has gotten over 16 million views on YouTube. Sample lyrics: "Gucci, Gucci, Louis, Louis, Fendi, Fendi, Prada...the basic bitches wear that shit so I don't even bother." It may have taken a rapper to say it best, but the message has been clear for a while: Luxury designers are losing their cachet.
And the problem is only being intensified by the medium that made Kreayshawn a star.
---