Catching Up (8/19)
The Fall of Groupon: Is the Daily Deals Site Running Out of Cash? - Nicholas Jackson - Technology. The company is stuck in a sort of Catch-22: Groupon must spend to grow, but must continue growing to cover its operational expenditures As of June 30, Groupon had $225 million in cash on hand, according to an amended S-1 the daily-deals website filed with the Securities and Exchange Commission.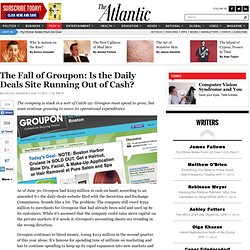 Sounds like a lot. The problem: The company still owed $392 million to merchants for Groupons that had already been sold and used up by its customers. Did YouTube Kill Performance Art? - Room for Debate. A performer in "Ocularpation: Wall Street" in New York this month.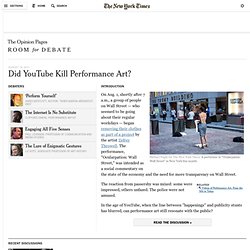 Michael Nagle for The New York Times On Aug. 1, shortly after 7 a.m., a group of people on Wall Street — who seemed to be going about their regular workdays — began removing their clothes as part of a project by the artist Zefrey Throwell. What's Worth More: Kodak's Patents, or Its People? By Ben Popper 8/19/11 9:52am Share this: Quick, to the patent office!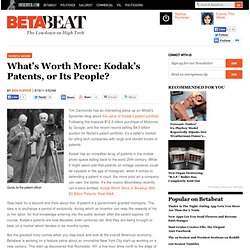 Yesterday HP killed off webOS hardware, here's how it really went down - TNW Insider. Neither Palm devices, nor the HP TouchPad were ever going to be able to showcase webOS properly.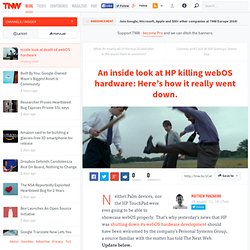 That's why yesterday's news that HP was shutting down its webOS hardware development should have been welcomed by the company's Personal Systems Group, a source familiar with the matter has told The Next Web. Update below. Instead, the announcement was handled poorly, producing confusion about the future of webOS that may hurt its chances to survive. HP made the announcement that it was ceasing to make webOS hardware, but neglected to get a hardware licensing deal in place before doing so. HP tested webOS on an iPad. It ran over twice as fast. - TNW Apple. HP's WebOS team almost certainly had an idea that the company's new tablet, the TouchPad, had very little chance of challenging Apple's dominance in the tablet market, as the company's webOS operating system was running "over twice as fast" on its rival's iPad 2 tablet, a source close to the subject revealed to The Next Web.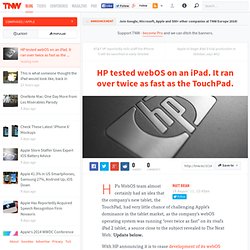 Update below. With HP announcing it is to cease development of its webOS devices, we learned that before the HP's TouchPad tablet and Pre smartphones were even released, everyone within the webOS team "wanted them gone". The hardware reportedly stopped the team from innovating beyond certain points because it was slow and imposed constraints, which was highlighted when webOS was loaded on to Apple's iPad device and found to run the platform significantly faster than the device for which it was originally developed. Why HP Wants Autonomy: Math Skills. News broke today that HP, the world's biggest manufacturer of personal computers, had offered to acquire the British software company Autonomy.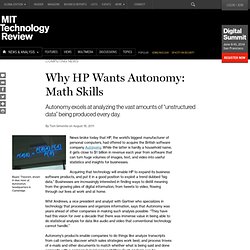 While the latter is hardly a household name, it gets close to $1 billion in revenue each year from software that can turn huge volumes of images, text, and video into useful statistics and insights for businesses. Acquiring that technology will enable HP to expand its business software products, and put it in a good position to exploit a trend dubbed "big data." Why HP is betting the farm on Autonomy. HP CEO Leo Apotheker On Thursday Hewlett-Packard announced plans to spend some $10.25 billion in cash to acquire Autonomy, the United Kingdom–based software and services company.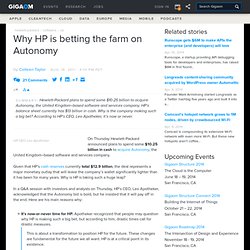 Given that HP's cash reserves currently total $12.9 billion, the deal represents a major monetary outlay that will leave the company's wallet significantly lighter than it has been for many years. Why is HP is taking such a huge leap? British Airways Revolutionises Customer Service Using iPads « British Airways Press Office. Ben Fry, Information Designer - By Julia Turner.
The information designer is a relatively new figure on the cultural landscape.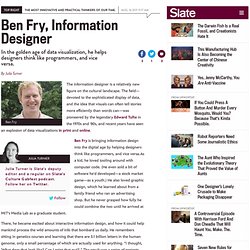 The field—devoted to the sophisticated display of data, and the idea that visuals can often tell stories more efficiently than words can—was pioneered by the legendary Edward Tufte in the 1970s and '80s, and recent years have seen an explosion of data visualizations in print and online. Ben Fry is bringing information design into the digital age by helping designers think like programmers, and vice versa.As a kid, he loved tooling around with computer code.