Catching Up (8/18)
HP Stops Selling webOS Hardware, Leaves OS Future in Doubt - Ina Fried - Mobile. In a dramatic turn of events, Hewlett-Packard said on Thursday that it will stop selling hardware based on the webOS it acquired from Palm.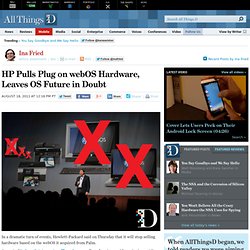 As part of its broad statement on Thursday regarding plans to consider spinning out its PC business, HP said "that it plans to announce that it will discontinue operations for webOS devices, specifically the TouchPad and webOS phones." Regarding the future of webOS, the company offered little certainty, saying only, "HP will continue to explore options to optimize the value of webOS software going forward." HP acquired webOS with its $1.2 billion acquisition of Palm a year ago, promising to use the software in all manner of devices from phones and tablets to PCs and printers. SocMetrics Questions Google+'s Mainstream Reach. A few days ago, traffic analysis firm Experian Hitwise shared the results of a study of over 10 million online users, and concluded from its findings that Google's new social network, Google+, was headed into mainstream territory.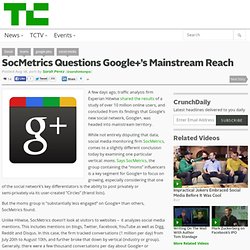 While not entirely disputing that data, social media monitoring firm SocMetrics, comes to a slightly different conclusion today by examining one particular vertical: moms. Says SocMetrics, the group containing the "moms" influencers is a key segment for Google+ to focus on growing, especially considering that one of the social network's key differentiators is the ability to post privately or semi-privately via its user-created "Circles" (friend lists). But the moms group is "substantially less engaged" on Google+ than others, SocMetrics found. Unlike Hitwise, SocMetrics doesn't look at visitors to websites – it analyzes social media mentions. HP to Spin Off PCs, Eyes Software Purchase.
Hewlett-Packard Co.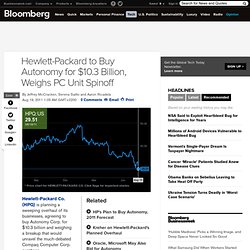 (HPQ) is planning a sweeping overhaul of its businesses, agreeing to buy Autonomy Corp. for $10.3 billion and weighing a breakup that would unravel the much-debated Compaq Computer Corp. purchase. Shareholders of Autonomy, which develops search software, will receive $42.11 a share, Palo Alto, California-based Hewlett-Packard said in a statement. That's 64 percent more than Autonomy's close yesterday.
That Remake of AOL? It's Still Being Written. Teenage girls' raunchy Facebook photos are Constitutionally protected speech. It appears we will get a steady stream of legal rulings about teens being teens while playing around with Facebook accounts.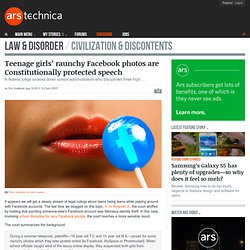 The last time we blogged on this topic, In re Rolando S., the court whiffed by holding that joyriding someone else's Facebook account was felonious identity theft. In this case, involving school discipline for racy Facebook photos, the court reaches a more sensible result. The court summarizes the background: During a summer sleepover, plaintiffs—16 year old T.V. and 15 year old M.K. —posed for some raunchy photos which they later posted online [to Facebook, MySpace or Photobucket]. Don't want an unlimited messaging plan? Options are few, far between, and expensive. As of this Sunday, new AT&T wireless customers will have but two options when it comes to text and picture messaging: either get an unlimited texting plan (for individual or families), or pay 20 cents (or more) for each and every message.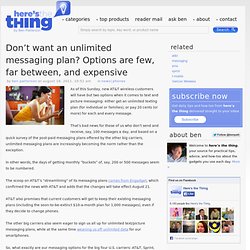 That's bad news for those of us who don't send and receive, say, 100 messages a day, and based on a quick survey of the post-paid messaging plans offered by the other big carriers, unlimited messaging plans are increasingly becoming the norm rather than the exception. In other words, the days of getting monthly "buckets" of, say, 200 or 500 messages seem to be numbered. The scoop on AT&T's "streamlining" of its messaging plans comes from Engadget, which confirmed the news with AT&T and adds that the changes will take effect August 21. AT&T also promises that current customers will get to keep their existing messaging plans (including the soon-to-be-extinct $10-a-month plan for 1,000 messages), even if they decide to change phones.
Apple stores in Beijing sued. Who Does Facebook Think You Are Searching For? | thekeesh.com. UPDATE March 28, 2013: Many people have commented here and emailed me that it no longer works for you.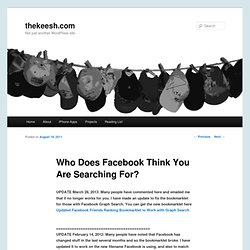 I have made an update to fix the bookmarklet for those with Facebook Graph Search. You can get the new bookmarklet here Updated Facebook Friends Ranking Bookmarklet to Work with Graph Search. Evernote Scoops Up Mac Drawing App Skitch, Makes it Free - Ina Fried - Mobile. Online note-taking service Evernote said on Thursday that it has acquired Skitch, a program for drawing and making annotations on screenshots.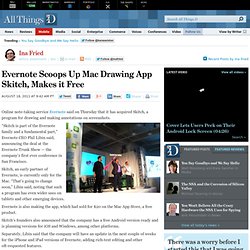 "Skitch is part of the Evernote family and a fundamental part," Evernote CEO Phil Libin said, announcing the deal at the Evernote Trunk Show — the company's first ever conference in San Francisco. Skitch, an early partner of Evernote, is currently only for the Mac. "That's going to change soon," Libin said, noting that such a program has even wider uses on tablets and other emerging devices. Evernote is also making the app, which had sold for $20 on the Mac App Store, a free product. Google cable box: Why the search company won't be able to fix your set-top device. - By Farhad Manjoo.
---