Catching Up (1/6)
Here are today's best tech stories:
Hacked memo leaked: Apple, Nokia, RIM supply backdoors for gov't intercept? Previously a group of Indian hackers called The Lords of Dharmaraja had posted documents that were pillaged during the hack of an Indian military network.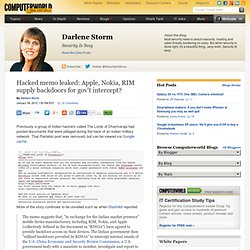 That Pastebin post was removed, but can be viewed via Google cache. More of the story continues to be unveiled such as when Slashdot reported: The memo suggests that, "in exchange for the Indian market presence" mobile device manufacturers, including RIM, Nokia, and Apple (collectively defined in the document as "RINOA") have agreed to provide backdoor access on their devices. The Indian government then "utilized backdoors provided by RINOA" to intercept internal emails of the U.S. Tech Show Loses Clout as the Place for Product News. But once again, the show is unlikely to be where any blockbuster products of 2012 are introduced.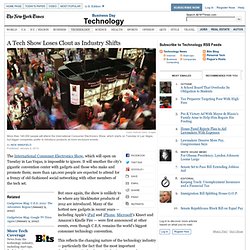 Many of the hottest new gadgets in recent years — including Apple's and , 's Kinect and Amazon's Kindle Fire — were first announced at other events, even though C.E.S. remains the world's biggest consumer technology convention. This reflects the changing nature of the technology industry — particularly the fact that the most important developments in the electronics business are no longer coming from the makers of television sets and stereos that have been most closely identified with the show since it started in 1967. And as the industry and its trade show have grown, the need for buzz and branding has become more acute. PayPal's First In-Store, Brick And Mortar Mobile Payments Integration Is At Home Depot. As we've reported in the past, PayPal announced an in-store payments technology both via mobile and point of sale systems that is currently being tested on a 'friends and family' basis in a national retailer.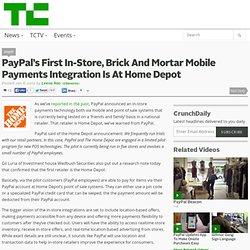 That retailer is Home Depot, we've learned from PayPal. PayPal said of the Home Depot announcement: We frequently run trials with our retail partners. In this case, PayPal and The Home Depot are engaged in a limited pilot program for new POS technologies. The pilot is currently being run in five stores and involves a small number of PayPal employees. Gil Luria of Investment house Wedbush Securities also put out a research note today that confirmed that the first retailer is the Home Depot. Apple to open new store-within-a-store outlets inside Target this year. Breaking By Daniel Eran Dilger Apple will be opening new store-within-a-store locations in select Target locations later this year, enabling the company to expand its retail reach into smaller metro areas.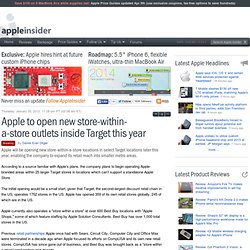 According to a source familiar with Apple's plans, the company plans to begin operating Apple-branded areas within 25 larger Target stores in locations which can't support a standalone Apple Store. Why quad-core iOS devices could launch within the next year. Deep within the latest iOS 5.1 betas are code references that appear to suggest that Apple is readying its mobile operating system for quad-core processors.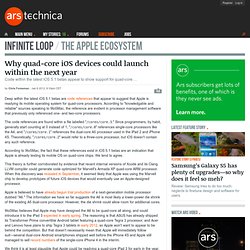 According to "knowledgable and reliable" sources speaking to 9to5Mac, the reference are evident in processor management software that previously only referenced one- and two-core processors. The code references are found within a file labelled "/cores/core.3. " iOS 5.1 beta reveals Apple's plan to soon ship iPads, iPhones with quad-core chips. Speed increases are an expected part of Apple's iOS device hardware upgrades, but what Apple has up their sleeves for speed enhancements is typically up for debate.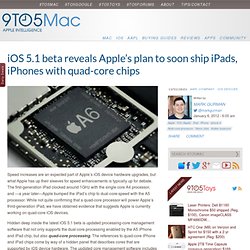 The first-generation iPad clocked around 1GHz with the single core A4 processor, and —a year later—Apple bumped the iPad's chip to dual-core-speed with the A5 processor. While not quite confirming that a quad-core processor will power Apple's third-generation iPad, we have obtained evidence that suggests Apple is currently working on quad-core iOS devices.
Hidden deep inside the latest iOS 5.1 beta is updated processing-core management software that not only supports the dual-core processing enabled by the A5 iPhone and iPad chip, but also quad-core processing. The references to quad-core iPhone and iPad chips come by way of a hidden panel that describes cores that are supported by iOS device hardware. Samsung rakes in record profits as HTC sales dive. High performance access to file storage Surging smartphone sales have brought in record quarterly profits for Samsung, the world's biggest technology company by sales.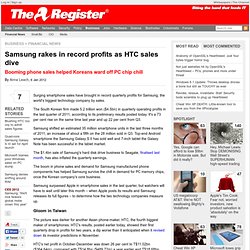 The South Korean firm made 5.2 trillion won ($4.5bn) in quarterly operating profits in the last quarter of 2011, according to its preliminary results posted today. It's a 73 per cent rise on the same time last year and up 22 per cent from Q3. Samsung shifted an estimated 35 million smartphone units in the last three months of 2011, an increase of about a fifth on the 28 million sold in Q3. Top-end Android smartphone the Samsung Galaxy S II has sold well and 7-inch tablet the Galaxy Note has been successful in the tablet market. Spotify Unlimited Streaming Ends For Some Free Users.
---