Best of the Wekend (8/14)
Microsoft Faces the Post-PC World. Anonymous hacks SF's myBART website. Thousands of names, addresses & numbers released. - TNW Insider. Anonymous, the online hacktivist group, has released thousands of names, email addresses, home addresses and phone numbers believed to be from myBart.org, an independent site that uses BART's (San Francisco's Bay Area Rapid Transit) open data services.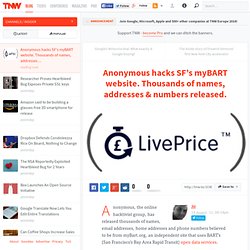 The hacking is part of a carefully planned effort by Anonymous to bring BART to its knees in retaliation for its shutdown of cell phone service Thursday night at some of its stations to disrupt planned demonstrations over a police shooting. A notice on BART's website says the following: BART's online services including web, mobile web, email and SMS are used by nearly 2 million customers every month.
What is Google's real market share in the US? As the US government looks into Google from an antitrust context, a central question has to be what is their real search engine market share in the US?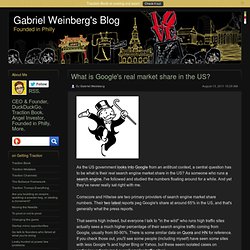 As someone who runs a search engine, I've followed and studied the numbers floating around for a while. And yet they've never really sat right with me. Comscore and Hitwise are two primary providers of search engine market share numbers. Their twolatest reports peg Google's share at around 65% in the US, and that's generally what the press reports. Scheme may thwart Internet censorship. U.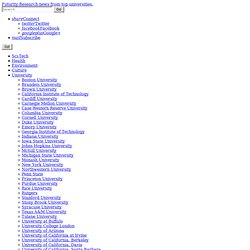 MICHIGAN (US) — New technology could beat Internet censorship at its own game by making it virtually impossible for a repressive government to block individual sites. "The Internet has the ability to catalyze change by empowering people through information and communication services," says J. Alex Halderman, assistant professor of computer science and engineering at the University of Michigan. Gunning for the Copyright Reformers. Going after copyright reformers is risky business.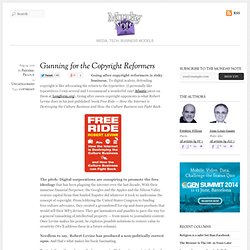 To digital zealots, defending copyright is like advocating the return to the typewriter. (I personally like typewriters; I own several and I recommend a wonderful 1997 Atlantic piece on them at Longform.org). Going after sworn copyright opponents is what Robert Levine does in his just-published book Free Ride — How the Internet is Destroying the Culture Business and How the Culture Business can Fight Back.
The pitch: Digital corporations are conspiring to promote the free ideology that has been plaguing the internet over the last decade. With their immense financial firepower, the Googles and the Apples and the Silicon Valley venture capital firms that funded Napster did whatever it took to undermine the concept of copyright. Jonathan's Card: Starbucks Shuts Down Social Experiment Over Fraud Concerns. Jonathan Stark's community-giving Starbucks Card is no more.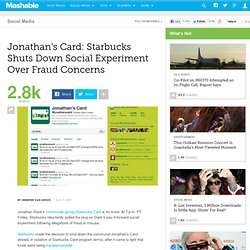 At 7 p.m. PT Friday, Starbucks reluctantly pulled the plug on Stark's pay-it-forward social experiment following allegations of fraud or misuse. Starbucks made the decision to shut down the communal Jonathan's Card, already in violation of Starbucks Card program terms, after it came to light that funds were being misappropriated. Adam Brotman, vice president of digital ventures at Starbucks, phoned Stark earlier Friday evening to inform him that the card would be deactivated. Starbucks, he says, was rooting for the experiment from the sidelines, even though the company's terms do not permit the use of shared registered cards. The NYT doesn't have a paywall; it's a line of sandbags. If you follow the media sphere, you might have seen some news articles and blog posts recently about how the "New York Times paywall is working," or words to that effect.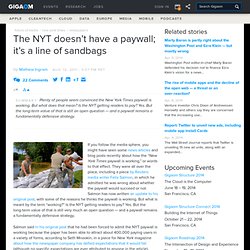 They were all over the place, including a piece by Reuters media writer Felix Salmon, in which he admitted he was wrong about whether the paywall would succeed or not. Salmon has now written an update to his original post, with some of the reasons he thinks the paywall is working. But what is meant by the term "working?" Is the NYT getting readers to pay? Windows Laptop Makers Can't Catch Up to the MacBook Air. The PC world is buzzing lately about how laptop manufacturers are struggling to compete with Apple's MacBook Air, which has exploded in popularity since the introduction of the third-gen model in 2010.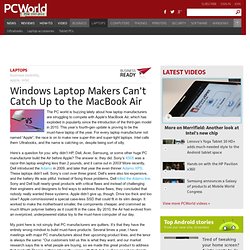 This year's fourth-gen update is proving to be the must-have laptop of the year. For every laptop manufacturer not named "Apple", the race is on to make new super-thin and super-light laptops. Suspected Chinese spear-phishing attacks continue to hit Gmail users. News August 13, 2011 07:06 AM ET Computerworld - Months after Google said that Chinese hackers were targeting the Gmail accounts of senior U.S. government officials, attempts to hijack Gmail inboxes continue, a researcher said Thursday.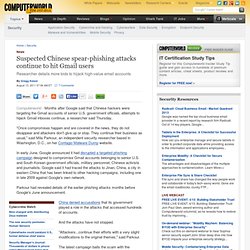 "Once compromises happen and are covered in the news, they do not disappear and attackers don't give up or stop. They continue their business as usual," said Mila Parkour, an independent security researcher based in Washington, D.C., on her Contagio Malware Dump website. Anonymous defaces BART site, leaks user data | Digital Media. Anonymous has apparently made good on a promise to wreak havoc on the Web site of the Bay Area Rapid Transit System today, although not exactly as planned.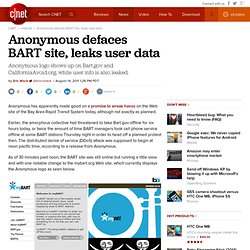 Earlier, the amorphous collective had threatened to take Bart.gov offline for six hours today, or twice the amount of time BART managers took cell phone service offline at some BART stations Thursday night in order to head off a planned protest then. The distributed denial of service (DDoS) attack was supposed to begin at noon pacific time, according to a release from Anonymous. As of 30 minutes past noon, the BART site was still online but running a little slow and with one notable change to the mybart.org Web site, which currently displays the Anonymous logo as seen below. Is this the end for books? In 1996, the US computer entrepreneur Brewster Kahle set up the Internet Archive, its mission being to provide "universal access to all knowledge".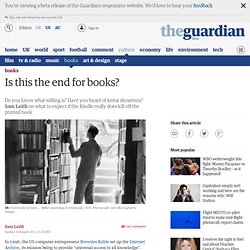 This admirable project strives to store copies of every single web page ever posted: a ghostly archive of the virtual. So what are we to make of the fact that, a decade and a half later, this digital pioneer is turning from bytes to books? In what seems, on the face of it, an act of splendid perversity, Kahle has set up a series of converted shipping containers in California where he hopes to create another archive – one that contains a copy of every book ever published. His action touches on an anxiety.
---