Best of the Weekend & Monday (8/21)
HP Says It Still Plans To Ship WebOS On PCs And Printers -- But Why? Web Surfing Makes You Work Better, Study Says. Celebrity Google+rs do need steenkin' badges. High performance access to file storage Google has begun loading "verification badges" onto profiles created in its online estate, in a move to flush out imposters and solidify its ID-linking plans.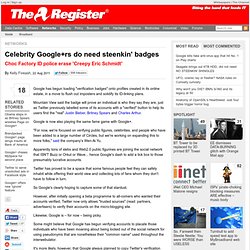 Mountain View said the badge will prove an individual is who they say they are, just as Twitter previously labelled some of its accounts with a "verified" button to help its users find the "real" Justin Bieber, Britney Spears and Charles Arthur. Google is now also playing the same fame game with Google+. "For now, we're focused on verifying public figures, celebrities, and people who have been added to a large number of Circles, but we're working on expanding this to more folks," said the company's Wen-Ai Yu.
Wiki war: 3500 unpublished leaks destroyed forever as Assange hits out. Former WikiLeaks staffer and one of the founders of OpenLeaks, Daniel Domscheit-Berg, holds his book Inside WikiLeaks.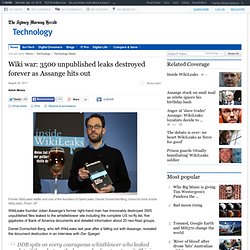 Photo: AP WikiLeaks founder Julian Assange's former right-hand man has irrevocably destroyed 3500 unpublished files leaked to the whistleblower site including the complete US no-fly list, five gigabytes of Bank of America documents and detailed information about 20 neo-Nazi groups. Daniel Domscheit-Berg, who left WikiLeaks last year after a falling out with Assange, revealed the document destruction in an interview with Der Spiegel. Is "Jupiter" the Future of Windows…PC, Phone &Tablet?
Is Silverlight really dead, or is it the future of Microsoft's Windows 8 and Windows Phone?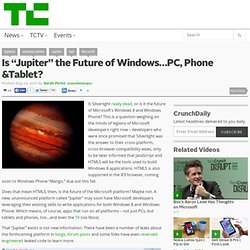 This is a question weighing on the minds of legions of Microsoft developers right now – developers who were once promised that Silverlight was the answer to their cross-platform, cross-browser compatibility woes, only to be later informed that JavaScript and HTML5 will be the tools used to build Windows 8 applications. HTML5 is also supported in the IE9 browser, coming soon to Windows Phone "Mango," due out this fall. Does that mean HTML5, then, is the future of the Microsoft platform? Maybe not. A new, unannounced platform called "Jupiter" may soon have Microsoft developers leveraging their existing skills to write applications for both Windows 8 and Windows Phone. Innovation in turbulent times. News organizations have an innovation problem.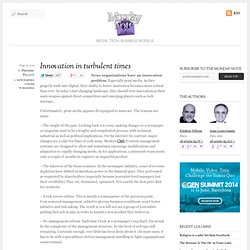 Especially print media. As they gingerly wade into digital, their ability to foster innovation becomes more critical than ever. In today's fast-changing landscape, they should view innovation as their main weapon against direct competitors and emerging players such as tech startups,. Unfortunately, print media appears ill-equipped to innovate. Skype To Acquire Year-old Group Messaging Service GroupMe. Skype will acquire group messaging service GroupMe, a service that was born at a hackathon at TechCrunch Disrupt in New York in 2010.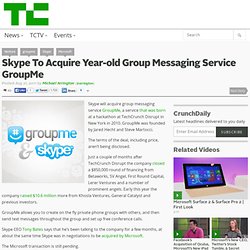 GroupMe was founded by Jared Hecht and Steve Martocci. The terms of the deal, including price, aren't being disclosed. Does Skype have Groupon envy? When GroupMe began as a hackathon project last year, one of the first things founders Steve Martocci and Jared Hecht did was secure an ad from a Brooklyn, N.Y. bowling alley for half-off bowling for people looking to watch the Lost finale.
That, they said, was to prove that GroupMe could be a business. GroupMe subsequently took off like wild-fire by quickly introducing a number of messaging features, which is what helped it get the attention of Skype, who just bought GroupMe for a reported $85 million. But while the deal obviously revolved around messaging and communications, a big motivator for Martocci and Hecht in accepting the sale, and presumably Skype in acquiring GroupMe, was also GroupMe's shot at going back to its original potential as a tool for making monetized group decisions. Twitter Just Got the Respect it Deserves. If you're one to check your analytics on a daily basis you may have noticed a pretty sharp increase in referrals from Twitter's "t.co" domains.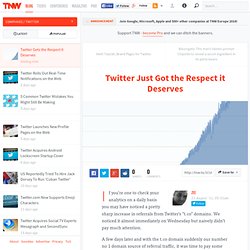 We noticed it almost immediately on Wednesday but naively didn't pay much attention. A few days later and with the t.co domain suddenly our number no 1 domain source of referral traffic, it was time to pay some attention to exactly what had happened. What Happened In the simplest of terms, from last Wednesday, all links (longer than 20 characters) posted on Twitter.com or any Twitter client have been wrapped with a t.co URL. This means all analytics tools are picking up 't.co' as the referrer as opposed to a particular twitter client (Twitterrific, Tweetdeck etc.) or just twitter.com. Facebook, Twitter Drew Record Numbers Of U.S. Visitors In July. ComScore's July traffic numbers are out and similar to June's findings, Facebook and Twitter both saw record traffic in terms of U.S. unique visitors in the month.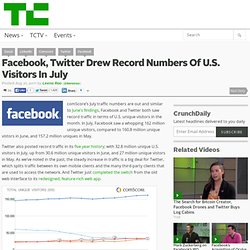 In July, Facebook saw a whopping 162 million unique visitors, compared to 160.8 million unique vistors in June, and 157.2 million uniques in May. Twitter also posted record traffic in its five year history; with 32.8 million unique U.S. visitors in July, up from 30.6 million unique visitors in June, and 27 million unique vistors in May. Humble indie fumble: an XBLA horror story. The Adventures Of Shuggy is by all accounts a buoyant little platform-puzzler with ever-changing mechanics and a cheery sense of its own nonsense.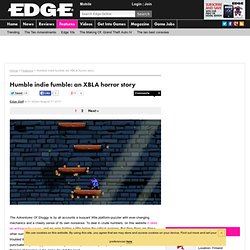 To deal in crude numbers: on this website it rated an enthusiastic seven, and we were trailing a little below the critical average. But then there are those other numbers – the ones that really matter: sales. For all the goodwill towards it, the game has barely troubled the charts since it became available for download on XBLA in June. The Battle for Tripoli's Internet.
As dawn broke in Libya on the morning of Sunday 21 August, it appeared that the battle for control of Tripoli was underway.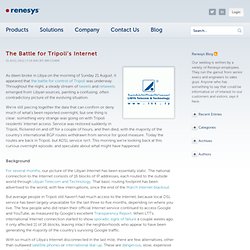 Throughout the night, a steady stream of tweets and retweets emerged from Libyan sources, painting a confusing, often contradictory picture of the evolving situation. We're still piecing together the data that can confirm or deny much of what's been reported overnight, but one thing is clear: something very strange was going on with Tripoli residents' Internet access. Service was restored suddenly in Tripoli, flickered on and off for a couple of hours, and then died, with the majority of the country's international BGP routes withdrawn from service for good measure. Rebel hackers seize Libyan domain name registry.
High performance access to file storage As fighting rages around Colonel Gaddafi's compound in Tripoli, hackers have taken the fight online to the country's domain name registry nic.ly. The site's homepage now hosts an image of the rebel flag and the message "bye bye Gaddafi", as well as the date 17 February, the day Libyan protestors started demonstrations and were shot at by security forces, computer security firm Sophos reported. The hackers' flipped bird (click to enlarge)
---