Best of the Weekend (11/12-13)
Barnes & Noble Exposes Microsoft's "Trivial" Patents and Strategy Against Android ~pj. It reveals the assertion of "trivial" and "invalid" patents against Barnes & Noble and some shocking details about an "oppressive" license agreement that would have controlled hardware and software design features that Microsoft presented, thus limiting to what degree Barnes & Noble could offer upgrades and improved features to its customers if it had signed it, features it says none of Microsoft's patents cover.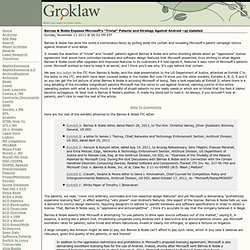 Microsoft worked so hard to keep it all secret, and I think you'll see why. It's ugly behind that curtain. We saw the letter to the ITC from Barnes & Noble, and the slide presentation to the US Department of Justice, attached as Exhibit C to the letter to the ITC, and both have been covered widely in the media. At Google X, a Top-Secret Lab Dreaming Up the Future. What Do You Want in the Future? Kim Kyung-Hoon/ReutersRobots are a major focus within the Google X lab.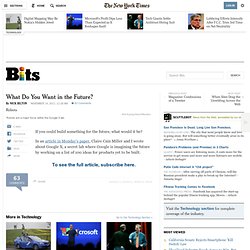 If you could build something for the future, what would it be? In an article in Monday's paper, Claire Cain Miller and I wrote about Google X, a secret lab where Google is imagining the future by working on a list of 100 ideas for products yet to be built. Microsoft's Search Efforts Look Increasingly Futile As Google Gains Share For Second Month In A Row. The latest ComScore search numbers just came out, and Google continues to claw back market share.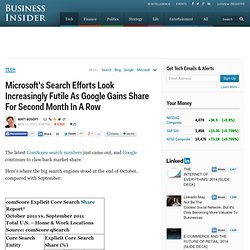 Here's where the big search engines stood at the end of October, compared with September: In other words, Google gained about 0.3% from Yahoo (which is powered by Bing). Microsoft itself grabbed 0.1% from Ask. But let's see how these tiny moves add up over time. Here's a chart from a couple months ago showing market share from November 2010 through August 2011: Amazon Will Go Along with Internet Sales Tax After All - Business. Just a few months ago, the giant retailer was filing lawsuits and dropping affiliates to combat states trying to charge online sales tax.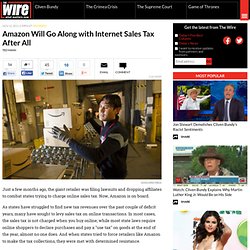 Now, Amazon is on board. As states have struggled to find new tax revenues over the past couple of deficit years, many have sought to levy sales tax on online transactions. In most cases, the sales tax is not charged when you buy online; while most state laws require online shoppers to declare purchases and pay a "use tax" on goods at the end of the year, almost no one does. And when states tried to force retailers like Amazon to make the tax collections, they were met with determined resistance.
Amazon dropped local affiliates in Connecticut, Illinois and elsewhere this year, to protest attempts to impose the sales tax, which were justified legally because the company had a physical connection to the those states. Jeff Bezos Owns the Web in More Ways Than You Think | Magazine. Amazon Kindle Fire review. It seems like ages since Amazon introduced us to the $199 Fire at a hectic New York City event, but in truth that was only about six weeks ago.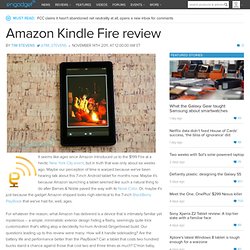 Maybe our perception of time is warped because we've been hearing talk about this 7-inch Android tablet for months now. Maybe it's because Amazon launching a tablet seemed like such a natural thing to do after Barnes & Noble paved the way with its Nook Color. Or, maybe it's just because the gadget Amazon shipped looks nigh-identical to the 7-inch BlackBerry PlayBook that we've had for, well, ages. For whatever the reason, what Amazon has delivered is a device that is intimately familiar yet mysterious -- a simple, minimalistic exterior design hiding a flashy, seemingly quite trick customization that's sitting atop a decidedly ho-hum Android Gingerbread build.
REVIEW: Kindle Fire is no iPad killer - but it is a killer device. By ANDY IHNATKO ai@andyi.com November 13, 2011 11:48PM The Kindle Fire is shown at a news conference, Wednesday, Sept. 28, 2011 in New York.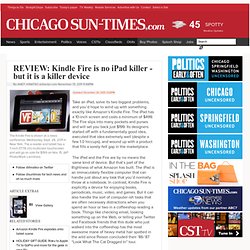 The e-reader and tablet has a 7-inch (17.78 cm) multicolor touchscreen and will go on sale for $199 on Nov. 15. (AP Photo/Mark Lennihan) storyidforme: 21221789 tmspicid: 6958775 fileheaderid: 3205757 Updated: December 20, 2013 3:02PM. The Fire Aside, Amazon's Lower-Priced Kindles Also Shine. Kindle Fire review. 74inShare Jump To Close When planning my review of the Kindle Fire, I knew I'd need two things: time, and a big list of music, movies, and books I wanted to dive into.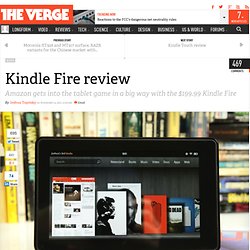 I say that because I assumed going into the review that the Fire wasn't about to take the place of my laptop. The Android-powered, 7-inch device didn't exactly strike me as a productivity machine (at least when you look at the specs), and knowing the selection of apps and services I would have access to, I planned on doing some serious consumption of content. Outside of a select group of sexy technologies, innovation is almost entirely absent. Outside of a select group of sexy technologies, innovation is almost entirely absent When oil was still spewing uncontrollably from the Deepwater Horizon well last summer, philanthropist Wendy Schmidt and the X Prize Foundation issued a $1.4 million challenge calling for better technologies to clean up oil spills.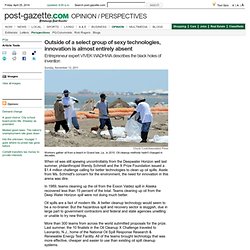 Aside from Ms. Schmidt's concern for the environment, the need for innovation in this arena was dire. Diaspora Co-Founder Ilya Zhitomirskiy Passes Away At 22. Late last night, word began to spread around the tech community that one of Diaspora's four co-founders, Ilya Zhitomirskiy, had passed away.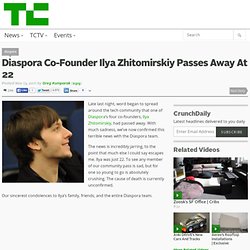 With much sadness, we've now confirmed this terrible news with the Diaspora team. The news is incredibly jarring, to the point that much else I could say escapes me. Ilya was just 22. The Newspaper That Almost Seized the Future. The San Jose Mercury News , Silicon Valley's own daily, was poised to ride the digital whirlwind.
What happened? 1. 'It Was Written' Randall Keith and I are talking about the past when his boss, Dave Butler, slides open a glass door, eases his long frame into a chair, plants his feet on the conference room table, and makes clear by his weary affect that the topic does not interest him. Instead, this is what Butler wants to talk about when he talks about his newspaper, the San Jose Mercury News : all the many readers—2.7 million weekly, in print and online when you factor in the Merc 's smaller sister papers across the Bay Area; the Merc 's new "spiffy" app; its willingness to focus on the "important stuff" rather than compete with "every school board that has a website" and all the many tech bloggers—"I have no idea how many blogs are dedicated to covering Apple"—because, he says, the Merc is "willing to be more interesting."
Lessons From the Failure of Flash: Greed Kills. Adobe's decision to stop development of mobile Flash has deservedly gotten a lot of attention online. It's a sad story for Adobe and Flash developers: a dominating standard on the PC web failed to get traction in mobile, and will now be abandoned gradually in favor of HTML 5. But the story's not limited to mobile -- without a mobile growth path, I think Flash itself is destined to become a dwindling legacy standard everywhere (link). I think the whole Flash business edifice is coming down. How did Flash go from leader to loser?
---