Best of Today (8/9)
Venture Capital Investors, Lesson Learned, Do More Homework. Nokia to Exit Symbian, Low-End Phone Businesses in North America - Ina Fried - Mobile. Nokia plans to stop selling both feature phones and Symbian-based smartphones in the United States and Canada as it tries to put all of its muscle behind the company's huge bet on Windows Phone.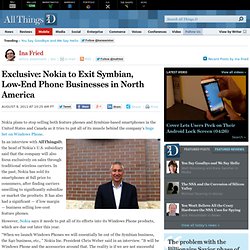 In an interview with AllThingsD, the head of Nokia's U.S. subsidiary said that the company will also focus exclusively on sales through traditional wireless carriers. In the past, Nokia has sold its smartphones at full price to consumers, after finding carriers unwilling to significantly subsidize or market the products. Preliminary injunction granted by German court: Apple blocks Samsung Galaxy Tab 10.1 in the entire European Union except for the Netherlands.
The leading German news agency, dpa, just reported that Apple has been granted a preliminary injunction against Samsung's Android-based Galaxy Tab 10.1, barring with immediate effect all distribution of the product in the entire European Union except for the Netherlands on the grounds of an alleged infringement of Apple's iPad-related [European] Community design no. 000181607-0001.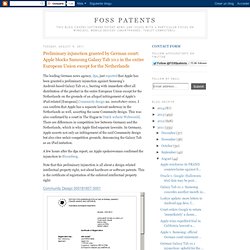 I can confirm that Apple has a separate lawsuit underway in the Netherlands as well, asserting the same Community design. This was also confirmed by a court in The Hague to Dutch website Webwereld. Anonymous: Facebook's going down November 5 | Technically Incorrect. The more Facebook seems to dominate the world, the closer it seems to be to its end.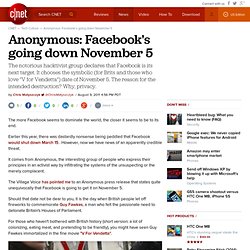 Earlier this year, there was dastardly nonsense being peddled that Facebook would shut down March 15 . However, now we have news of an apparently credible threat. It comes from Anonymous, the interesting group of people who express their principles in an activist way by infiltrating the systems of the unsuspecting or the merely complacent. Starbucks and the 'Starkbucks' Jonathan's Card Viral Marketing Campaign | coffee business strategies. Starbucks may be back to its old viral marketing PR tricks again with a new but familiar campaign called "Jonathan's Card."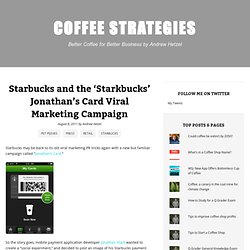 So the story goes, mobile payment application developer Jonathan Stark wanted to create a "social experiment," and decided to post an image of his Starbucks payment card online for others to use at no cost. The concept is similar to the Starbucks pay-it-forward cheer chains that the company has used in the past to distribute coupons plus an extra shot of commercially fabricated self-serving goodwill. There's nothing more than a consumer loves than feeling good about getting free stuff! Say goodbye to Symbian, North America. There Will Be No Files In The Cloud. I've spent a bunch of time talking to entrepreneurs who are building companies in and around the cloud storage space.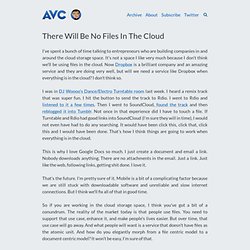 It's not a space I like very much because I don't think we'll be using files in the cloud. Now Dropbox is a brilliant company and an amazing service and they are doing very well, but will we need a service like Dropbox when everything is in the cloud? I don't think so. This is why I love Google Docs so much. Restaurant websites: Why are they so awful? Which ones are the absolute worst? - By Farhad Manjoo.
The first thing that pops up when you visit the website of the San Francisco restaurant Fleur de Lys is a nearly full-screen animation of celebrity chef Hubert Keller's autograph.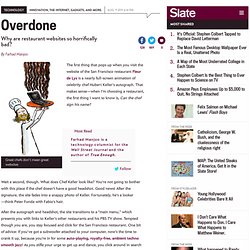 That makes sense—when I'm choosing a restaurant, the first thing I want to know is, Can the chef sign his name? Farhad Manjoo is a technology columnist for the Wall Street Journal and the author of True Enough. Ian Bogost - Gamification is Bullshit. Comments (149) Want to comment on your site?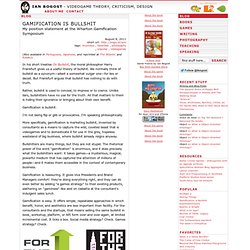 The trackback URL is.