Best of Today (7/22)
Video of the fake Apple Store, and customers' fight for a refund. We tip our hat to the intrepid American blogger who broke the story this week about an Apple store in Kunming, China, that turned out to be a fake.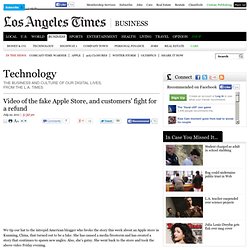 She has caused a media firestorm and has created a story that continues to spawn new angles. Also, she's gutsy. She went back to the store and took the above video Friday evening. On Succeeding Steve Jobs. Friday, 22 July 2011 On Wednesday, less than 30 minutes before Apple announced another record-breaking quarter of financial results, the Wall Street Journal published a story by Yukari Iwatani Kane, Joann S.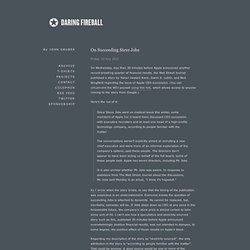 Lublin, and Nick Wingfield regarding the issue of Apple CEO succession. (You can circumvent the WSJ paywall using this link, which allows access to anyone coming to the story from Google.) Google Bows to Web Rivals. What's a book? It's whatever you want it to be. As we've mentioned a number of times, the evolution of the book-publishing business has been accelerating recently, with more authors doing an end run around the traditional industry by self-publishing — or even setting up their own e-book stores, as Harry Potter creator J.K.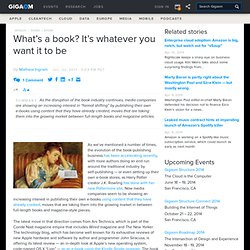 Rowling has done with her new Pottermore site. Now media companies seem to be showing an increasing interest in publishing their own e-books using content that they have already created, moves that are taking them into the growing market in between full-length books and magazine-style pieces. A Bomb in Oslo? What Google Lost by Ending Real-Time Search - Nicholas Jackson - Technology. I had a sense that something was wrong pretty quickly.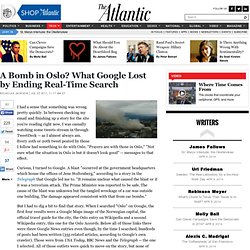 In between checking my email and finishing up a story for the site you're reading right now, I was casually watching some tweets stream in through TweetDeck -- as I almost always am. Every 10th or 20th tweet posted by those I follow had something to do with Oslo. "Prayers are with those in Oslo," "Not sure what the situation in Oslo is but it doesn't look good" -- messages to that effect.
Test of corporate Google+ accounts scaled back | Deep Tech. After first accelerating its plans for Google+ corporate accounts, Google said last night it's scaling back immediate tests of the feature.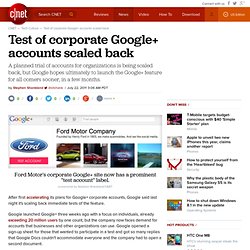 Google launched Google+ three weeks ago with a focus on individuals, already exceeding 20 million users by one count, but the company now faces demand for accounts that businesses and other organizations can use. Google opened a sign-up sheet for those that wanted to participate in a test and got so many replies that Google Docs couldn't accommodate everyone and the company had to open a second document. Google, no doubt keenly aware that the dominant social-networking company already has such an offering with Facebook pages, responded. Last week, Google product manager Christian Oestlien said Google was "accelerating our development plans" for Google+ corporate accounts . That meant Google would pick a number of business accounts this week and launch them next week. Why Google's screwup on Google+ brand pages is a big deal.
There's been a lot of sound and fury about the way Google has approached branded (i.e., non-personal) pages on its new Google+ social network.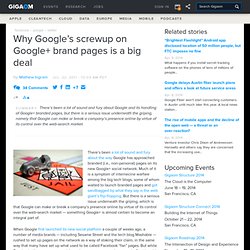 Much of it is a symptom of internecine warfare among the big tech blogs, some of whom waited to launch branded pages and got sandbagged by what they say is the web giant's flip-flopping. But there is a serious issue underneath the griping, which is that Google can make or break a company's presence online by virtue of its control over the web-search market — something Google+ is almost certain to become an integral part of. When Google first launched its new social platform a couple of weeks ago, a number of media brands — including Sesame Street and the tech blog Mashable — rushed to set up pages on the network as a way of staking their claim, in the same way that many have set up what used to be called Facebook "fan" pages.
Google+ says it has fumbled business pages; blogs unhappy. After pulling the plug on Google+ pages set up for businesses on Thursday, Google laid out some details (and a bit of regret) on what it has done so far and hopes to do next to get companies, nonprofits, bands and other entities into the social network as soon as possible.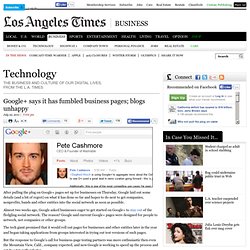 Almost two weeks ago, Google asked businesses eager to get started on Google+ to stay out of the fledgling social network. The reason? Google said current Google+ pages were designed for people to network, not companies or other groups. The Brilliance of Dwarf Fortress. More Signs of Google Plus Games Coming Soon: How Will G+ Gaming Differ From Facebook? Since the release of Google's new social network, there's been a lot of speculation about when and if Google Plus would get a gaming component.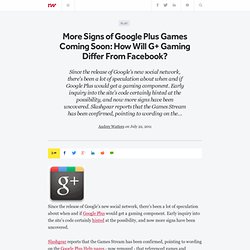 Early inquiry into the site's code certainly hinted at the possibility, and now more signs have been uncovered. Slashgear reports that the Games Stream has been confirmed, pointing to wording on the Google Plus Help pages - now removed - that referenced games and potentially a separate stream for finding game-related updates. That news may come as a relief for some of Google Plus's early adopters, many of whom cited their preference for Google Plus over Facebook, as the former is a Farmville-free zone, if you will. Google Deletes Last 7 Years Of User's Digital Life, Shrugs. "Happy Birthday to You" copyright: Does the most infamous and resented copyright in musical history hold up to scrutiny? - By Paul Collins.
Take pity on Florida musician Bobby Kent: He's a man trying to make a buck in the wrong era.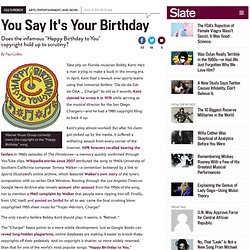 In April, Kent filed a lawsuit over sports teams using that immortal fanfare: "Da-da-da-DA-da-DAA ... Charge! " The Fall of Bebo and Rise of Google+ – Email is Social's Secret Weapon. By Ben Popper 7/22/11 9:09am Share this: "So if this doesn't work out, we can keep the money right?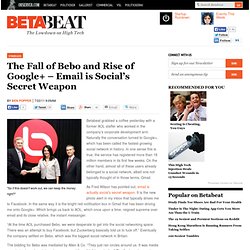 " Betabeat grabbed a coffee yesterday with a former AOL staffer who worked in the company's corporate development arm.
---