Best of Today (7/19)
Are you listening, Steve Jobs? « BirdAbroad. UPDATE #2: Click here for updates on the fake Apple store, with video footage.
UPDATE #1: To address the main issue that people have been getting all bent out of shape about: the stores I photographed do not appear to be authorized Apple sellers . The list of resellers in Kunming that Apple's website has published does not include the locations that I photographed. An employee at the main store photographed has confirmed that it is not an authorized reseller. The problem with following people on Google Plus and some suggestions for improvements. « Cejest. Google+ is the social backbone. The launch of Google+ is the beginning of a fundamental change on the web.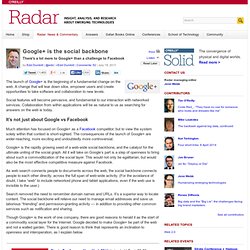 A change that will tear down silos, empower users and create opportunities to take software and collaboration to new levels. Social features will become pervasive, and fundamental to our interaction with networked services. Google Spending Millions to Find the Next Google - NYTimes.com (Build 20110713171652) Peter DaSilva for The New York Times David Krane, speaking, and Bill Maris, right, in blue, of Google Ventures.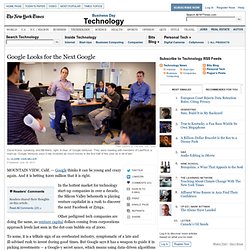 They were meeting with members of LawPivot, a start-up. Google Ventures says it has invested as much money in the first half of this year as in all of last. In the hottest market for technology start-up companies in over a decade, the Silicon Valley behemoth is playing venture capitalist in a rush to discover the next Facebook or Zynga. Other pedigreed tech companies are doing the same, as dollars coming from corporations approach levels last seen in the dot-com bubble era of 2000. How LulzSec hacked the Sun's website | Technology. The Sun's website was hacked by LulzSec The LulzSec attack on News International's systems to redirect readers from the Sun to a fake story, and to try to get at its internal email store, appears to have been two-pronged.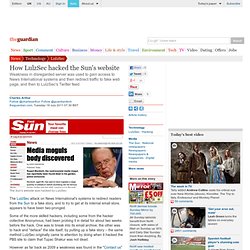 Some of the more skilled hackers, including some from the hacker collective Anonymous, had been probing it in detail for about two weeks before the hack. One was to break into its email archive; the other was to hack and "deface" the site itself, by putting up a fake story – the same method LulzSec originally came to attention by doing when it hacked the PBS site to claim that Tupac Shakur was not dead. Are AAA games too long? - News at GameSpot. Who Was There: The session was made up of a five-person panel of designers and story writers: Charles Cecil, famous for his work on Broken Sword; Adrian Hon, chief creative officer of story developer Six to Start; Alexis Kennedy, chief narrative officer at Fail Better games; Patrick O'Luanaigh, CEO of indie developer nDreams; and writer David Varela.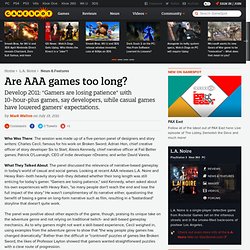 What They Talked About: The panel discussed the relevance of narrative-based gameplay in today's world of casual and social games. Looking at recent AAA releases L.A. Noire and Heavy Rain--both heavily story-led--they debated whether their long length was still enticing for today's gamer. "Gamers are losing patience," said Kennedy, when asked about his own experiences with Heavy Rain, "so many people don't reach the end and lose the full impact of the story.
" Reddit Co-Founder Charged with Data Theft. Frustrated judge pushes Google digital book deal. Meet Proust, a social network that digs deeper. Nowadays, a lot of information can be found online.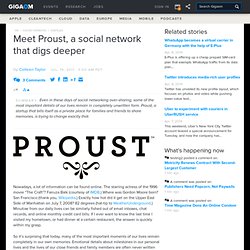 The starring actress of the 1996 movie "The Craft"? Fairuza Balk (courtesy of IMDB.) Where was Gordon Moore born? San Francisco (thank you, Wikipedia.) 7 days in the cloud: My week with the Samsung Chromebook. When I first agreed to write about a week working with nothing but a Samsung Series 5 Chromebook, I knew I was asking for trouble.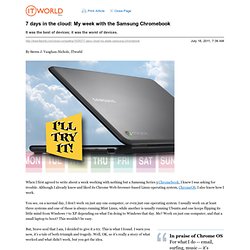 Although I already knew and liked its Chrome Web-browser-based Linux operating system, ChromeOS, I also know how I work. You see, on a normal day, I don't work on just any one computer, or even just one operating system. I usually work on at least three systems and one of those is always running Mint Linux, while another is usually running Ubuntu and one keeps flipping its little mind from Windows 7 to XP depending on what I'm doing to Windows that day. Eager to share, but doesn't quite know how: hands on with Spotify (Build 20110713171652) The long-anticipated US release of the music streaming service Spotify finally happened last week.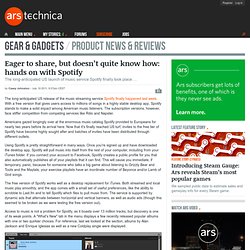 With a free version that gives users access to millions of songs in a highly stable desktop app, Spotify stands to make a solid impact among American music listeners. The subscription versions, however, face stiffer competition from competing services like Rdio and Napster. Americans gazed longingly over at the enormous music catalog Spotify provided to Europeans for nearly two years before its arrival here. Now that it's finally reached US turf, invites to the free tier of Spotify have become highly sought after and batches of invites have been distributed through different outlets. Using Spotify is pretty straightforward in many ways. Spotify and Our Degraded Music Culture | Digital | SPLICETODAY.com (Build 20110713171652) Spotify, a free streaming music service from Sweden that's already hugely popular abroad, launched in the U.S. last week, taking a cue from Google and letting invites to the service drip out while word of mouth and good will built.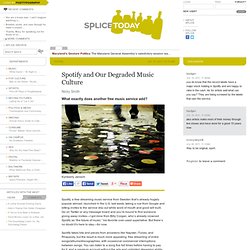 Go on Twitter or any message board and you're bound to find someone giving away invites—I got mine from Billy Corgan, who's already crowned Spotify as "the future of music," his favorite over-used superlative. But there's no doubt it's here to stay—for now.
---